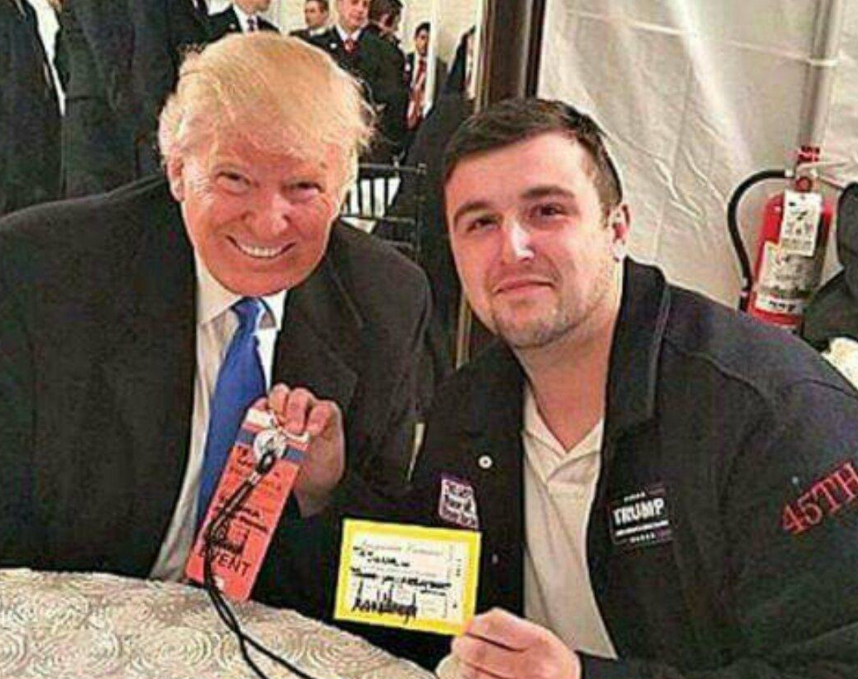 Donald Trump sends $10,000 check to former campaign volunteer
When Shane Bouvet was extended an invitation to an inaugural ball in Washington, D.C., he almost didn't believe it was real. In fact, he hung up on the woman who invited him — before finally realizing the invite wasn't just a scam.
The 24-year-old part-time FedEx courier from the small town of Stonington, Illinois, who volunteered as a social media coordinator for Donald Trump's 2016 campaign, headed to Washington with a group of friends ahead of Inauguration Day.
He was snapping pictures in front of Trump International Hotel when he got another phone call. This time, it was from a member of the president-elect's staff. The staff member explained that Mr. Trump read a profile about Bouvet in The Washington Post days earlier, and was "very touched" by his story. The article recounted Bouvet's commitment to the campaign and his financial struggles as a single dad whose father was fighting cancer.
"He really wants to talk to you," Bouvet recalled the voice on the other line saying.
The staff member offered to seat Bouvet and his friends in a VIP section at the welcome ceremony at the Lincoln Memorial.
Two hours after Bouvet took his seat at the celebration, he was pulled away by the Secret Service, who guided him into a large white tent where the Trump entourage was gathered.
"Everyone started clapping," Bouvet recalled.
The group included Mr. Trump, first lady Melania Trump and White House Chief of Staff Reince Priebus. Mr. Trump and Bouvet exchanged a few words and took a few pictures.
As Bouvet was about to exit the tent, the soon-to-be president tapped him on the shoulder and told an aide to send him $10,000.
"I'm still in a dream. You may have to wake me up," Bouvet said.
This Monday, Bouvet got the check in the mail, along with a handwritten note on presidential stationery that read, "You are a great guy - thanks for all of your help."
This isn't the first time a president has written a personal check to a U.S. citizen. In 2011, the author of "Ten Letters: The Stories Americans Tell Their President," Washington Post reporter Eli Saslo, revealed former President Barack Obama occasionally sent personal checks to average citizens who mailed letters to the White House.
"I mean, these stories sometimes are just these searing, detailed notes about what people are going through in their lives. And I think, in some ways, it's great that he's moved by them that way," Salso said. "In other ways, I think, if government is working in an ideal way, probably the president, the most powerful politician in the world, feels like there's more he can do than just write a check."
Jordan Libowitz, communications director for the watchdog group Citizens for Responsibility and Ethics in Washington, said it isn't unethical for a president to cut a personal check as long as the recipient isn't a federal worker.
"Generally, writing a personal check, there's no legal restrictions on that," Libowitz told CBS News.
Bouvet says he plans to give his dad the full $10,000 to put toward his 5-year battle with bladder cancer.
"[President Trump] gave my dad that extra fight," Bouvert said. "I'm just happy to wake up every day knowing that I'm blessed."
The White House has not yet responded to CBS News' request for comment on this story.
Thanks for reading CBS NEWS.
Create your free account or log in
for more features.