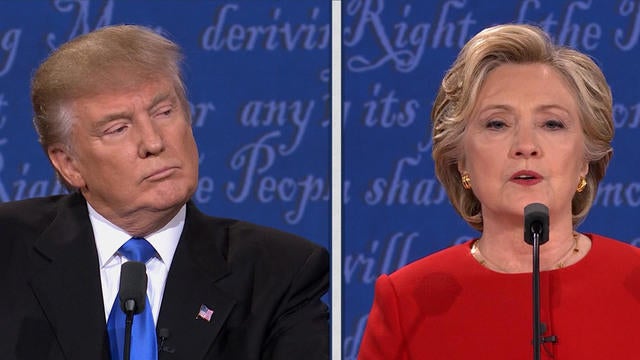 Donald Trump pushes back on past comments against Rosie O'Donnell, other women
Donald Trump hit Rosie O'Donnell Monday night at the first presidential debate of the general election -- all the while defending himself against Hillary Clinton's claims that he's made several sexist comments in the past.
"Rosie O'Donnell, I said very tough things to her and I think everyone would agree that she deserves it and nobody feels sorry for her," Trump said at the Hofstra University debate.
In the past, Trump has called the former talk show host a "true loser" and a "slob" -- comments he's been pressed on at a previous Republican primary debate.
The comments at Monday night's forum were a response to Clinton's charge that "this is a man who has called women pigs, slobs and dogs."
Clinton also pointed out that Trump called a former Miss Universe "Miss Housekeeping...because she was Latina."
And when Clinton said Trump had claimed pregnancy is an inconvenience to employers -- which he said in a 2004 interview with NBC News -- Trump charged: "I never said that."
Trump followed up Clinton's comments by jabbing back: "I was going to say something extremely rough to Hillary, to her family, and I said to myself, I can't do it. I just can't do it. It's inappropriate, it's not nice... "
During the debate, Trump also attempted to defend his comments about Clinton not having a "presidential look."
"She doesn't have the looks -- she doesn't have the stamina," Trump said. "I said she doesn't have the stamina and I don't believe she does have the stamina to be presidential."
Thanks for reading CBS NEWS.
Create your free account or log in
for more features.