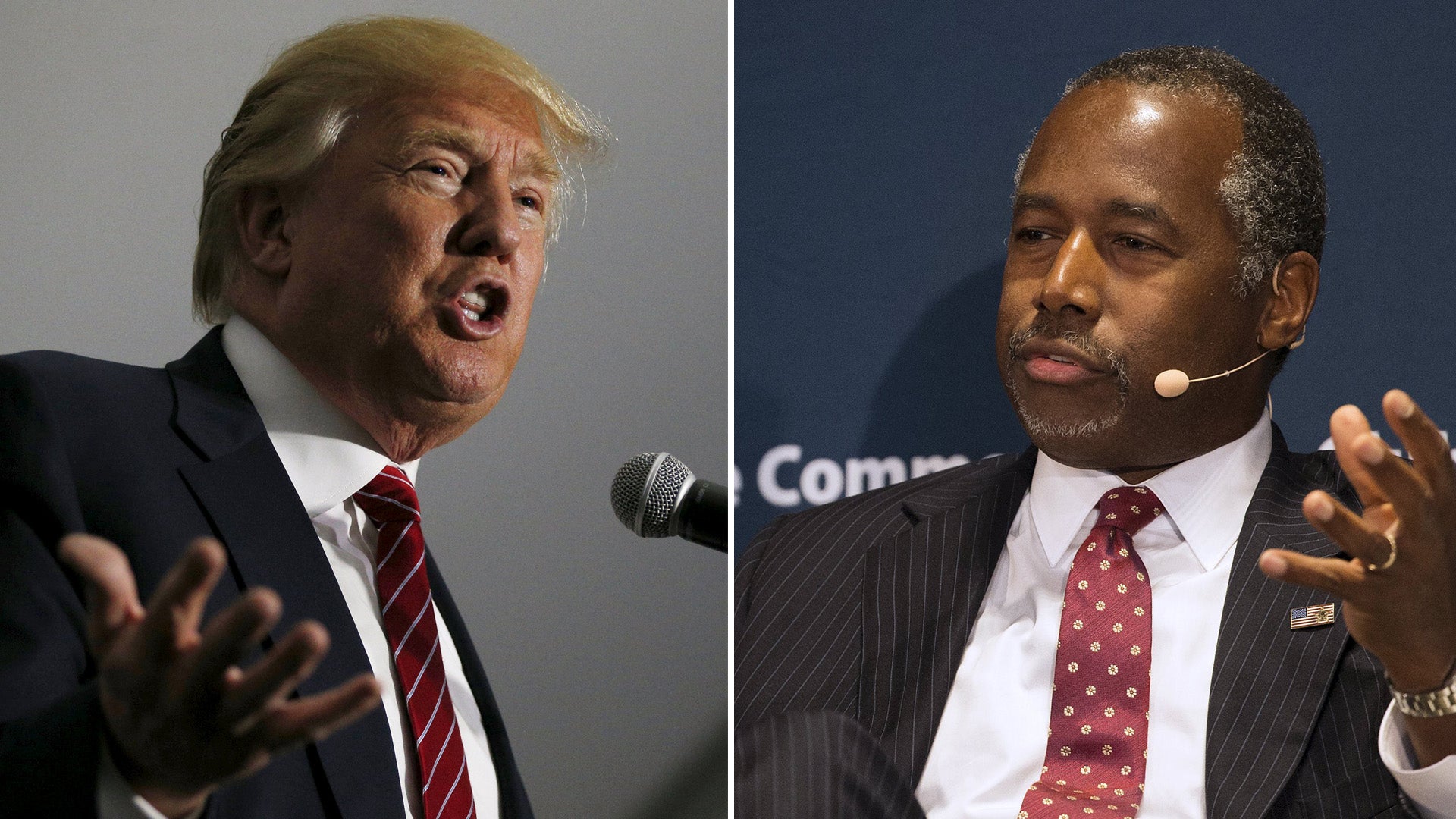 Donald Trump, Ben Carson trade barbs over religion
The two candidates leading the Republican presidential field are engaged in a new war of words after Ben Carson questioned Donald Trump's religious faith at an event in Southern California Wednesday.
When Carson was asked to identify the differences between him and fellow GOP hopeful Donald Trump, the retired neurosurgeon said that religion was key.
"Probably the biggest thing is I realize where my success has come from, and I don't in any way deny my faith in God," Carson told a crowd in Anaheim, California. "And I think that probably is a big differentiator."
When questioned on whether Carson believed that Trump is sincere about his religion, the doctor-turned-politician responded: "I haven't heard it. I haven't seen it."
"You know, one of my favorite Bible verses, Proverbs 22:4 - it says by humility and the fear of the Lord our riches and honor and life, and that's a very big part of who I am," Carson continued. "Humility and the fear of the Lord. I don't get that impression with him. Maybe I'm wrong, but I don't get that impression."
And though Carson does not identify his campaign as a "religious campaign," he said that "our country has a faith-based foundation, and there are many who would deny that."
Despite his claims that he is a practicing Protestant, Trump has struggled with wooing some in the religious right. At the Family Leadership Summit in July, when asked by conservative pollster Frank Luntz if he had ever asked God for forgiveness, Trump answered that "I'm not sure I have."
"I just go on and try to do a better job from there. I don't think so. I think if I do something wrong, I think, I just try and make it right," Trump told Luntz. "I don't bring God into that picture. I don't."
Carson on Wednesday also answered a question on Trump's conservative bona fides, saying that "he says he has changed his mind" on several issues.
"We have to take him at his word," Carson said. "He says he has changed his mind on a lot of things. Assuming he has, he would be a conservative."
Trump issued a rapid-fire response on Twitter, expressing his disbelief that Carson "just took a swipe" at the Republican frontrunner:
And phoning in to CNN early Thursday morning, Trump fired back at Carson, who he said "makes Bush look like the Energizer Bunny." Trump has in recent weeks made fun of Bush's "low energy."
"You look at Carson's faith, you look at his views on abortion, and I think that's why I'm leading with Evangelicals," Trump said.
He also suggested that his opponent's faith was a false front: "If you look at his past, all of a sudden he's become a man of faith. He's heavy into world of abortion... check out the past and now all of a sudden he's totally anti-abortion."
Trump added that "if you look back you'll find he's a very different Ben Carson."
The businessman also took a shot at Carson's professional life, saying "he was an okay doctor, I guess." (Carson was considered one of the finest pediatric neurosurgeons in the world and performed the first successful separation of conjoined twins attached at the head.)
"Who is he to question my faith? I don't know him," Trump said on CNN. "Now, because he's a doctor and he hired one nurse, he's going to be president of the United States?"
Carson does not back abortion -- in fact, he's supported measures that would ban women from terminating a pregnancy after 20 weeks -- but he recently came under fire from some conservatives when a blog found that he had onced used fetal tissue in medical research. The scientific use of such specimens drew heavy criticism from right-leaning groups after anti-abortion activists released undercover Planned Parenthood videos discussing the sale of fetal tissue.
Carson has since apologized for his attacks on Trump, saying in an interview with the Washington Post that "the intention was not to talk to him but about what motivates me."
"If he took that as a personal attack on him, I apologize, it was certainly not the intent," the doctor said Thursday.
"The media frequently wants to goad people into wars, into gladiator fights," Carson told the newspaper, but he was "certainly not going to get into that."
This week Carson has ramped up his attacks on the GOP's other first-time politician. On Tuesday, he took a jab at Trump's immigration policy, telling the Commonwealth Club of California that "it sounds really cool, you know, 'Let's just round them all up and send them back."
But, Carson added, "People who say that have no idea what that would entail in terms of our legal system, the costs -- forget about it. Plus, where you gonna send them? It's a double whammy."
The retired neurosurgeon has seen a steady rise in the polls in recent weeks. A new CNN/ORC poll out Thursday has Donald Trump gaining eight points over last month with 32 percent support among Republicans nationally. Ben Carson is in second place at 19 percent -- up 10 points from the last poll conducted. Former Florida Gov. Jeb Bush rounds out the top three with nine percent support.
Thanks for reading CBS NEWS.
Create your free account or log in
for more features.