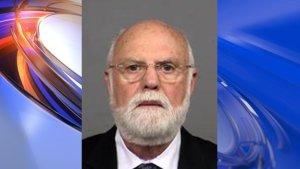 Fertility doctor who lied about using his own sperm avoids jail time
INDIANAPOLIS -- Some former patients of a retired Indianapolis fertility doctor expressed anger that he avoided jail time Thursday for lying about using his own sperm to impregnate as many as dozens of women after telling them the donors were anonymous.
Dr. Donald Cline was given a one-year suspended sentence after pleading guilty to two counts of obstruction of justice. No other charges were filed against the 79-year-old Clint because Indiana law doesn't specifically prohibit fertility doctors from using their own sperm.
Cline was charged after lying to investigators, and he faced up to three years in prison on each count. The charges stemmed from two confirmed cases of paternity, but children of women treated by Cline said DNA tests show he is likely the biological father of as many as 20 of them.
Matt White and his mother, Liz White, said Cline deserved far greater punishment. He said DNA tests showed that Cline was his biological father even though Cline told his mother decades ago that he used anonymous sperm donations.
"There's dozens of us," said Matt White, who is 35. "There's all of our mothers. He violated women's reproductive rights for close to a decade. ... There's no remorse, he knew what he was doing."
One of his biological daughters, Jacoba Ballard told CBS affiliate WTTV after the sentencing she doesn't think he's remorseful.
"When we met - myself and seven other siblings, or five other siblings - he was not remorseful and he sat there and said that he was. He still at that time could not admit to us how many times he had done it or anything else. When he read his letter today, and said he had apologized and was remorseful-- no," she said.
Some of the now-adult children of Cline's former patients filed a complaint with the Indiana Attorney General's Office in 2014, after they became suspicious while scouring online records to find biological relatives. Paternity tests performed the Marion County prosecutor's office determined Cline was likely the biological father of at least two of his patients' children, according to court records.
Cline, who retired in 2009, initially denied the allegations when he wrote to investigators, saying the women who filed the complaints were trying to slander him. On Thursday, he acknowledged that he had lied.
"Out of fear I acted alone and foolishly lied," he said during the hearing with a sometimes shaky voice.
But he mentioned only the two women who first filed complaints. He also didn't discuss his decision to use his own sperm in the 1970s and 1980s.
Court documents allege that Cline told six adults who believed they were his biological children that he had donated his own sperm about 50 times because he was trying to help his patients and didn't have access to fresh sperm.
Cline had told his patients they were receiving sperm from medical or dental residents or medical students, and that no single donor's sperm was used more than three times, according to court records.
The doctor walked out of the courtroom Thursday without speaking to reporters.
"His only remorse was being caught," said Julie Harmon, 35, who said she believed her mother's husband was her biological father until DNA tests linked her to numerous half-siblings fathered by Cline. "He has no remorse over the act at all."
Thanks for reading CBS NEWS.
Create your free account or log in
for more features.