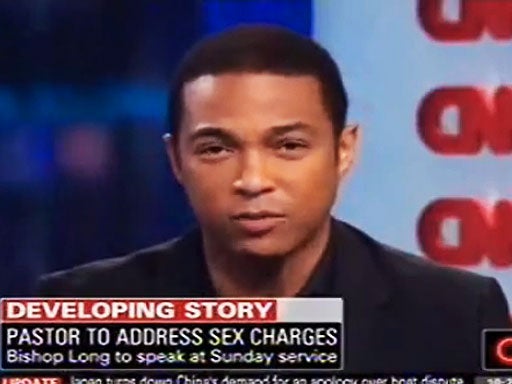 Don Lemon: "I Was a Victim of a Pedophile When I Was a Kid" (VIDEO)
(CBS) In America, nearly half a million children are sexually abused each year. Over the weekend, we found out CNN anchor Don Lemon was one of them.

The revelation seemed to surprise him as much as it did the panel of young people he was addressing on live TV.

It happened during the course of a CNN broadcast. Lemon was interviewing young members of the New Birth Church. They were staunchly defending their church leader, Bishop Eddie Long of Georgia, against allegations that Long sexually abused four boys.

The kids watched a news clip describing how Long related to a young man now accusing him of abuse. According to the boy's lawyer, Long allegedly started out by watching TV with the 17-year-old, laying his legs casually over him, asking for massages, explaining to him how special he was to get to enjoy Long's company in this way.

Four other young men have come forward with similar stories.


Nevertheless, after the clip, the church members seemed unmoved. One young man said that Long was a good mentor and that the things the accuser said amounted to "nothing."

That's when Lemon broke his silence.

"I am going to tell you something that I have never admitted on television. I was a victim of a pedophile when I was a kid, and these are the things that they do," Lemon said. Lemon went on to say that he didn't even tell his own mother he'd been abused until he was 30.


One in six boys is sexually abused before the age of 18, according to Darkness to Light, an organization that works with victims and their families.

According to the non-profit:
Sexually abused children who keep it a secret or who "tell" and are not believed are at greater risk than the general population for psychological, emotional, social, and physical problems often lasting into adulthood.
Children who have been victims of sexual abuse are more likely to experience physical health problems.
Victims of child sexual abuse report more symptoms of PTSD, more sadness, and more school problems than non-victims.

Victims of child sexual abuse are more likely to experience major depressive disorder as adults.

Adolescent victims of violent crime have difficulty in the transition to adulthood, are more likely to suffer financial failure and physical injury, and are at risk to fail in other areas due to problem behaviors
MORE FROM CBS NEWS
Thanks for reading CBS NEWS.
Create your free account or log in
for more features.