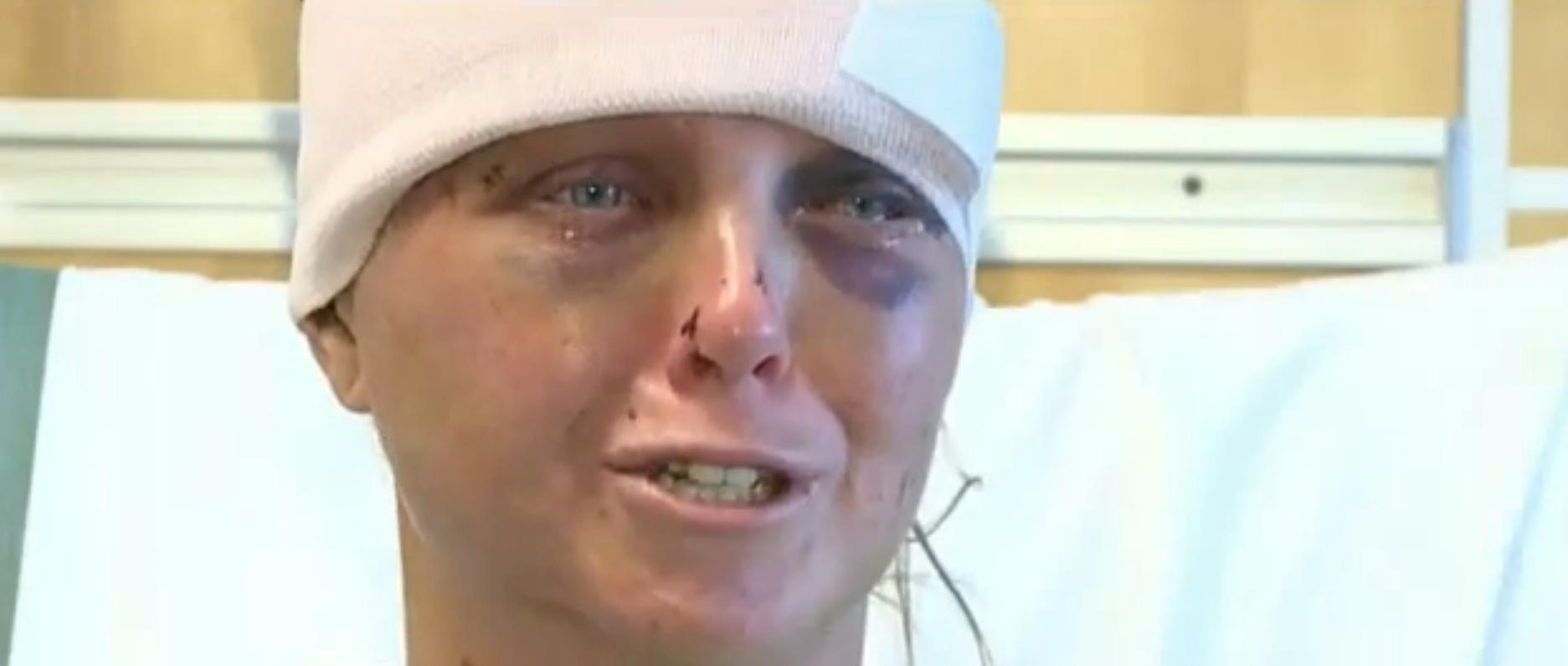 Strangers give domestic violence survivor big gift after hearing her story
A 25-year-old domestic violence survivor cried tears of joy on Tuesday when a local car dealer gave the brave woman a brand new set of wheels after hearing her painful story last week.
Indianapolis police say Carleigh Hager nearly died after she was brutally attacked by her now ex-boyfriend inside their home.
"And he tried to rip my tongue out with his bare fingers from here all the way up to here and he succeeded, halfway," Hager told CBS affiliate WTTV from her hospital bed. "He got the right side halfway. He got it halfway ripped out."
Hager says she had just returned home from a wedding she attended with 26-year-old Ryan Cameron, her boyfriend at the time, when an argument between the couple turned physical.
The very thought of that night traumatizes her. But it hasn't stopped her from sharing her story.
"You have to tell somebody. You can't be embarrassed. You can't be ashamed. You have to tell somebody because I almost died and it can happen," Hager said. She has now been released from the hospital and her family says she is safe at an undisclosed location.
After hearing her story, Christi Hubler Chevrolet in Crawfordsville, Indiana, decided they wanted to do something to help her. They offered up a shiny maroon 2016 Chevy Cruze.
Instead of simply donating the car, the company decided to pay for a 3-year lease; that way Hager's credit record will benefit from monthly, on-time payments. "This is a huge investment in Carleigh's future because she will have credit established for her next car and eventually a house one day," Eric Splichal, a registered nurse at the Rehabilitation Hospital of Indiana, explained in a Facebook post.
The dealership also says it will pay all maintenance costs for three years.
When Hager saw the new car, she teared up. She never imagined strangers would come together like this to support her.
Since Hager's brutal attack, a GoFundMe page in her name has raised more than $26,000 to go toward her recovery.
Thanks for reading CBS NEWS.
Create your free account or log in
for more features.