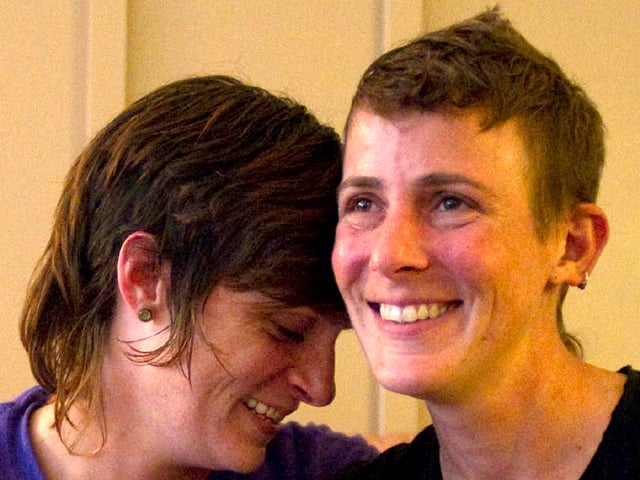 Dollywood to lesbian: Change gay-marriage tee
NASHVILLE, Tenn. - A lesbian couple is asking for changes at Dollywood after an employee asked one of the women to turn her T-shirt reading "marriage is so gay" inside-out to avoid offending others on a recent visit to the Tennessee theme park complex.
Olivier Odom and Jennifer Tipton said Tuesday they want the park to be more inclusive of lesbian, gay, bisexual and transgender families after Odom was asked to reverse her shirt when they visited Dollywood Splash Country next to the Pigeon Forge amusement park. The story was first reported by WBIR-TV in Knoxville.
Dollywood spokesman Pete Owens said on Tuesday that Dollywood is open to all families, but their dress code policy is to ask people with clothing or tattoos that could be considered offensive to change clothes or cover up.
Gay marriage opponents sue to overturn N.Y. law
Financial equality still eludes married gays
Couples celebrate first gay marriages in N.Y.
Owens said the couple was not asked to leave and complied with the rules to reverse the shirt when asked.
"The park is open every day to everybody," Owens said. "We try to provide an environment for families of all shapes and sizes to enjoy themselves.
Owens said park officials were discussing the matter and would speak with the couple directly.
Odom said that they visited the water park July 9 with friends and their friends' two children when she was asked by a person at the front gate to turn her shirt inside out because it was a family park.
Odom said she complied so as not to make a scene in front of the children, but felt offended.
"That's what we found so offensive — that he said it was a family park," Tipton said. "Families come in a wide range of definitions these days and we were with our family."
The two said they felt they needed to file a complaint with Dollywood because they believed it was important to stand up for their beliefs in marriage equality.
"If marriage equality is going to happen, it's not going to happen if people sit at home quietly," Odom said.
Odom said they understand the park can have dress code policies, but she felt Dollywood needed to make their policies clear and provide better training for employees when determining what is considered offensive.
Odom and Tipton are not legally married, but held a ceremony last year in North Carolina. They wrote an email to the park asking the park "to implement policies that are inclusive of lesbian, gay, bisexual and transgender people; conduct staff sensitivity training; and issue a public statement indicating that the park is inclusive of all families."
Owens said the couple's complaints have sparked discussion at the park about the dress code, a policy that park employees deal with frequently because of the thousands of visitors every year.
Thanks for reading CBS NEWS.
Create your free account or log in
for more features.