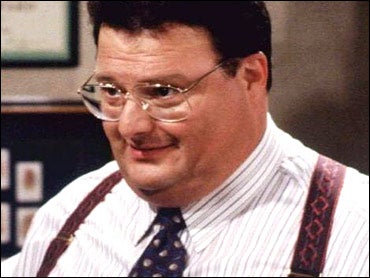 Doing It The Old-Fashioned Way
Actor Wayne Knight says people often act shocked when they see him. He is, after all, now a far cry from his former chubby self, and his most famous role as Jerry Seinfeld's hefty nemesis, Newman.
"He's the guy who's always trying to slip in the door and nobody wants him to come in," says Knight.
Since Seinfeld closed the door on Newman for the last time in 1998, Knight has shed nearly 100 pounds, not through gastric bypass, but the old-fashioned way.
He decided to exercise more and eat less. And he's had lots of help along the way. Correspondent Susan Spencer talked to Knight last spring.
---
"We've got my cardiologist. We have my trainer. We have my psychiatrist. We have my support group," says Knight.

Before his weight loss, Knight was always typecast as the fat guy. Weighing in at 327 pounds, he says, he was at his heaviest during the making of "Jurassic Park."

An obsession with food had plagued him since his childhood in Georgia. And even though he'd made a career in these larger-than-life roles, he realized he had a problem.

"I used to have a tan from the light in the refrigerator," says Knight. "I would just know there was something in there that will be the answer."

That problem, Knight says, really hit home during a taping of Seinfeld: "I was being fired at by a farmer having been with the farmer's daughter, running through a cornfield with my pants down, and at some point in the middle of shooting, I can't catch my breath."

That led to a visit with cardiologist Daniel Eisenberg, who confirmed Knight's worst fears. "I said, 'All the fame in the world isn't going to help you to prevent what most people get, and that's diabetes, heart disease, or strokes.'"

"You're heading towards death," says Knight. "And it scared me, literally to life."

Then came the diets. Knight said he went to a bookstore to check out all of the books. But he said he had no interest at all in surgery. It was too scary, and too risky.

"I believe that you can eat through a gastric bypass. I believe that, in my previous self, I might have tried," says Knight.

Dr. Eisenberg suggested he see fitness expert Marc Vahanian. Reluctantly, Knight agreed.

"We got started, like real easy, like coaxing a scared animal," says Vahanian.

And it took years of coaching. "When he first tried to get me to do one of these, I was like, 'Are you nuts,'" says Knight, who admits it took years of encouragement, too. "He just held up a mirror to each little bit of progress and gradually, you're doing more, and doing more, and doing more, and then it's like you're climbing a mountain, and he says, 'Look down, look how far you've come, wow!'"

Now, Knight thinks the biggest difference is not being thinner, but being healthier. But he also gives credit for his progress to a support group, where he's had to take a good hard look at himself.

"I was eating for reasons that have nothing to do with hunger. I was eating to numb myself, and when I began to have to look at the fact that I was eating as an addiction and treat it as such, that's when I turned a corner," says Knight.
---
Overeating may be a lot harder these days. Knight's food comes from a gourmet delivery service that keeps it to 1,500 calories a day.

"They're very good about adding little tastes of something," says Knight. "You might get a little tiny thing of pudding."

Knight concedes that not everyone can afford this elite team approach, but his message is, get what help you can. "Who would think I could do that? If I can, who can't?" he says.

He's so determined that, even in L.A., the land of the buff and the beautiful, he'll occasionally venture into treacherous territory – a fine restaurant where he analyzes every item on the menu.

Now, Team Knight is thrilled with his progress, and his weight hovers at just under 200 pounds. The new, svelte Wayne Knight is considering several screen and TV projects, and he recently appeared in "Cheaper By The Dozen."

"I was very pleased. It's great to be funny and not be fat funny," says Knight. "Actors are a commodity, just like pork bellies and orange juice. And I was pork bellies before and now I'm orange juice."

Is that a huge risk for him? "Yeah, it's a risk," says Knight. "But it's a bigger risk to die."

Of course, there's one guy, predictably, who is not pleased with all this: Newman. Now, he's gone and he'll never be back.

"Well, he will never be back. The porky guy who played him, I hope, will never be back," says Knight. "For me to stand before you and like anyone with any addiction and say, 'I'm done, I'm clean, and I'm going to stay clean for the rest of my life.' Let's hope."
Thanks for reading CBS NEWS.
Create your free account or log in
for more features.