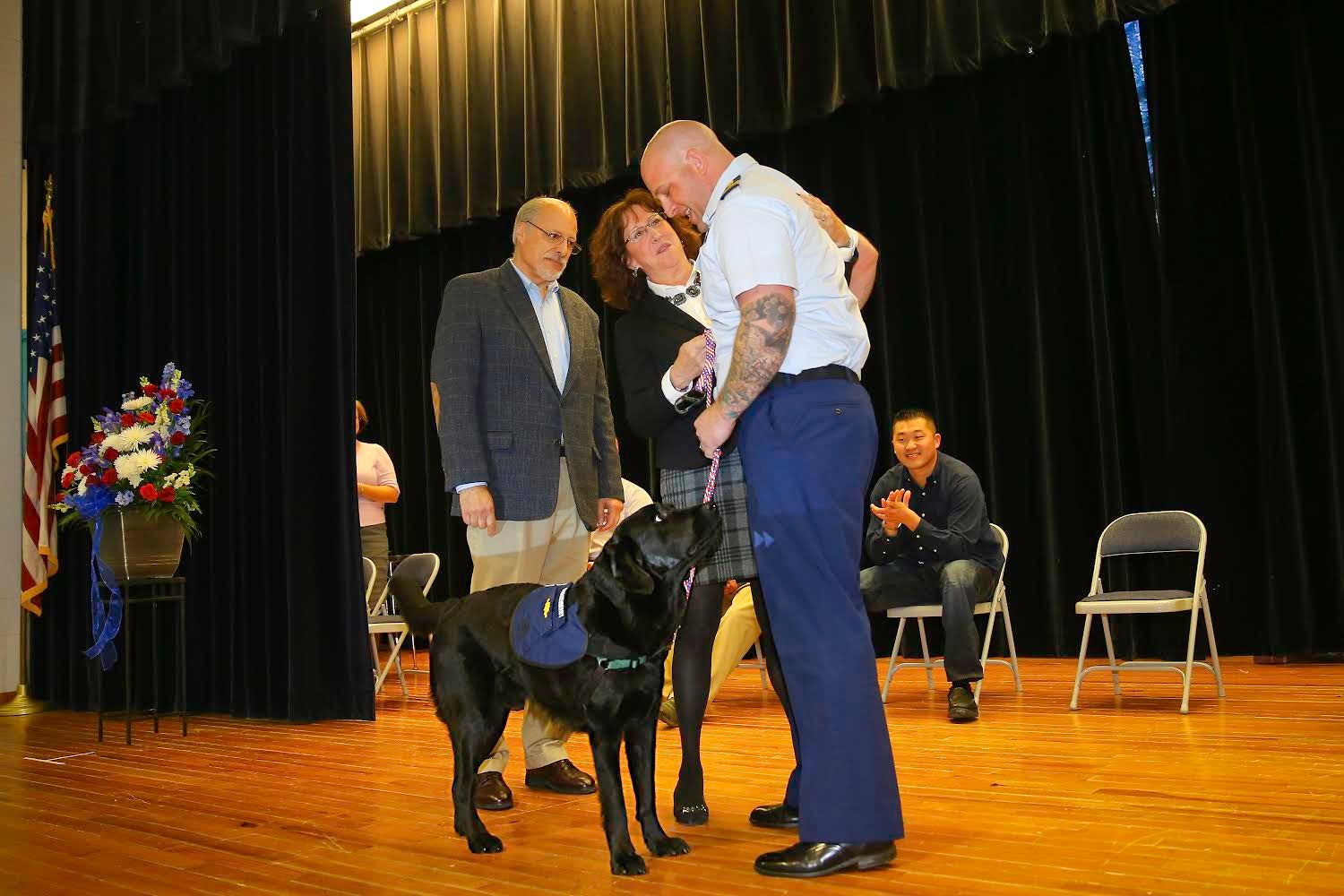 Veterans' therapy goes to the dogs
WASHINGTON -- When Lt. Tommy Faulkenberry came home to his wife and four sons in 2012, after 12 years at sea with the U.S. Coast Guard, he found his transition to civilian live especially difficult. He had contracted a rare form of muscular dystrophy, and as the physical toll on him mounted, depression, anxiety, and prescription drug dependence followed.
"I had actually planned on jumping in front of a train on my way to work one day, and instead of doing that I decided to seek help, went to Walter Reed," Faulkenberry told CBS News.
Among the available treatment options, he quickly seized on one that was a little unusual, a therapy regimen that was based on dogs. That's where the Warrior Canine Connection (WCC) came in.
WCC traffics in match-making, but it's not your average dating service. The three-year-old program, based just outside of Washington, D.C., pairs military veterans with service dogs, using puppy training as part of a physical and psychological therapy program for veterans.
Faulkenberry starting training service dogs and soon came to realize that he could also benefit from having a dog of his own. He met his match in Sam, a lovable black Labrador.
"I've got this 90 pound big black dude and he cuddles with me every night," Faulkenberry joked, though his wife noted that Sam prefers her side of the bed.
Last October, Sam and five other puppy pals graduated from Warrior Canine training in Brookeville, Maryland.
The so-called "doggy graduation" commemorated the day that Sam and the Faulkenberrys officially became a family, but it also put a capstone on a family's difficult healing process.
"I'm sure my kids will tell you - it's been a huge benefit to even the way that I parent," Faulkenberry said. "Instead of kind of being iron-fisted, or just having harsh correction, there is just a lot of love and a lot of praise and a lot of reward."
The Warrior Canine Connection was created in 2011 by Rick Yount, a licensed social worker. He said the seed for the idea was planted twenty years ago, while he was driving a traumatized 11-year-old boy who had just been separated from his mother to his new foster care home. He heard the boy's sobs subside as he stroked the head of Yount's four-month-old Golden Retriever puppy in the back seat of his car.
Yount thought dogs could offer the same benefit to recovering veterans -- and it occurred to him that training puppies could provide an even greater therapeutic benefit.
Today, the training sessions take place at Department of Defense and V.A. facilities around the country. A few hours a week of dog-training helps around 60 "Warrior Trainers" at a time.
"The key to mental health is having a sense of purpose," Yount told CBS News. "It's teaching that veteran how to interact and how to develop a relationship with that dog, how to be a benevolent leader with that dog, and then being able to generalize those techniques and skill they use in developing the relationship with the dog and then being able to use that with their family."
Coaching emotionally numb ex-Marines to speak to dogs in high-pitched voices - what Yount calls a "Richard Simmons voice" - is as hard as it sounds. But for many "Warrior-Trainers" struggling to break down a hardened facade built up through years of military training, pretending to sound happy eventually leads to feeling happy, Yount said.
"Folks are sullen and depressed, and all of a sudden, we give them this sense of purpose, you know, and connect them with this dog," Yount said. "We don't sit there and talk about their problems. They know all about their problems, their struggles. To me there is no benefit of us rehashing their challenges. We jump right into the skill-building."
Once the dogs are trained, they graduate and are then given as permanent companions to veterans in need like Faulkenberry.
"When Tommy and Sam met, their profiles matched," Yount joked. "It was a beautiful thing, and when that happens it really is magic. This really is like E-Harmony. It was love at first sight. He had them at 'Hello.'"
Thanks for reading CBS NEWS.
Create your free account or log in
for more features.