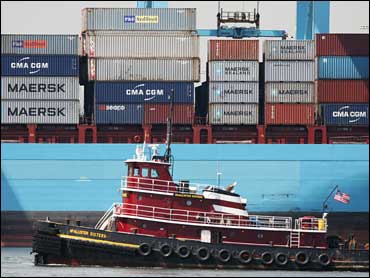 Does "Free Trade" Really Exist?
Leaders of 21 nations that represent half the global economy fear a raft of new protectionist barriers will strangle commerce as the world slides into a frightening recession.
There are growing signs that developing countries will erect protectionist barriers to weather the crisis, partly because they have seen that time after time, "free trade" agreements have focused chiefly on beating rivals to market.
Even free-trade disciples say many trade deals have been mishandled, limiting their ability to spread wealth and level the competitive playing field.
"These are not free trade agreements in any sense of the term," said Joseph Stiglitz, the Nobel Prize-winning economist. "They're really advantage-trade agreements. They're worse than NAFTA, which Obama says he wants to re-negotiate."
President-elect Barack Obama voiced distaste during his campaign for "unfair government subsidies to foreign exporters," said he'd cap subsidies to U.S. agribusinesses and promised treaties that would promote "trade that is free and fair for all." But he also sounded protectionist, saying he would "fix NAFTA so it works for American workers."
Economists generally concur that truly free trade erases inefficiencies and inequalities, rewarding innovation and benefiting everyone with cheaper goods and services. President George W. Bush and other leaders unanimously endorsed it at the Asia-Pacific Economic Cooperation conference this past weekend.
But many say that what the APEC leaders tout as "free trade" devalues and distorts that admirable goal.
Since the early 1990s, nearly 400 free trade agreements have been reached, covering about a third of global trade. The latest deal, between Colombia and the four-country bloc of Iceland, Liechtenstein, Norway and Switzerland was signed Tuesday.
Most such agreements have been nation-to-nation and, invariably, carry exemptions that protect domestic industries that politicians decided were vital.
All Canadian pacts, for example, protect Canada's milk, poultry and egg industries. The Peru-China pact signed last week exempts 10 percent of the Andean nation's industries, including clothing and shoes.
Even the 15-year-old North American Free Trade Agreement doesn't promote truly free trade. Among its protectionist provisions: 62.5 percent of an automobile's total parts must be made within the three member states - Canada, the United States and Mexico - in order for the car to cross a border.
President Felipe Calderon of Mexico has treated Obama's vow to renegotiate NAFTA like a sack of rotten fish, warning in Lima that if Obama is crazy enough to do it, it would set loose a tide of job-starved Mexicans that no U.S. border fence could possibly hold back.
Still, the agricultural subsidies by the United States and European nations represent huge infidelities to the free trade religion, and have paralyzed global trade talks since 2001.
"We are violating the rules all over the place with the subsidies that we're giving," said Stiglitz.
International food aid groups blame these subsidies - along with a conversion of farmland from food to biofuel - for increasing hunger across the developing world, where local food producers gave up growing crops that couldn't compete against subsidized imports. The imports then soared in price along with fuel costs, putting essential staples like rice and soy out of reach for the poor.
The United Nations predicts 130 million more people will join the chronically hungry population of 850 million by year's end.
"Full-scale trade liberalization with insufficient safeguards is the last thing these countries should be signing up for," Oxfam advocacy officer Romain Benicchio said of countries where subsistence farmers struggle to compete with subsidized food imports.
Since the global financial crisis struck in September, a few protectionist measures have been announced: India imposed a 20 percent duty on crude soybean oil last week and Ecuador announced new but unspecified tariffs on 800 "luxury goods" it did not name.
Indonesia's trade minister, Mari Pangestu, told The Associated Press that she expects her country - the world's fourth most populous - will need to put up some trade barriers, at least temporarily, to weather the downturn.
"You will have to end up protecting particular groups," she said. Three in five Indonesians are farmers and food price riots sparked the overthrow of the Suharto regime more than a decade ago.
(AP/Andrew Vaughan, Canadian Press)

The APEC leaders (pictured, left, wearing traditional Peruvian ponchos) agreed to send negotiators to Geneva next month to urgently try to revive stalled Doha trade talks, but any new regional agreements seem moribund in the meantime. There's no chance for an APEC-wide agreement, said Vinod Aggarwal, director of the APEC Study Center at the University of California-Berkeley, and it's naive to believe open trade among China, Japan, the United States and South Korea could happen before 2015.

President Bush proudly spoke in Lima of having more than quadrupled (to 14) the number of U.S. trade agreements. But they include no major economies - Bahrain, Jordan and Israel are the typical size - and the Democratic-controlled U.S. Congress has resisted passing agreements with Colombia, Panama and South Korea.

Korea agreed during the summit to open talks on a pact with Peru, but has had less luck lately getting FTAs with bigger countries with domestic auto industries to worry about. Seoul's trade pact with Washington is moribund - the Democrats were against it even before they began trying to fashion a rescue package for the axle-busted U.S. auto industry. The biggest fear at the APEC summit was of a return to the huge trade barriers of the Great Depression, when some U.S. import duties reached 70 percent, and world trade contracted by some 66 percent between 1929 and 1934.

Free-trade disciples wish the world had managed these treaties better.

"People now look at the financial crisis and the lesson they learn is, 'See, globalization doesn't work,'" Aggarwal said. "It's an unfortunate lesson but that's how they see it."
By Associated Press Writer Frank Bajak
Thanks for reading CBS NEWS.
Create your free account or log in
for more features.