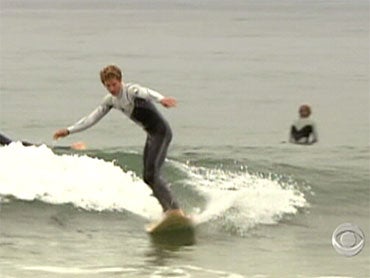 Doctor's Orders: Hit the Beach and Go Surfing
A new treatment is providing hope for some patients who suffer from a debilitating illness, not through drugs or surgery but a trip to the beach.
Though he hits the beach every opportunity he gets, Caleb Remington is not your average surfer dude. For him, surfing isn't a sport or a hobby.
"I now surf to live," says Remington.
The ocean helps him with breathing, something we all take for granted. Remington has cystic fibrosis. Nearly 30,000 Americans suffer from the disease, which causes thick mucus to build up in the lungs and the digestive track making it difficult to breathe and break down food, reports CBS News "Early Show" correspondent Hattie Kauffman.
Cystic fibrosis patients undergo a rigorous routine including breathing treatments and twice-a-day therapy in a vest that fills with air to help break up mucus in the chest.
There is no cure for the disease but the ocean is a natural treatment. Research has shown that the salty mist from the water can help break up thick mucus in the lungs and makes breathing easier.
"After surfing I can sit on the beach and take a deep breath," says Remington.
Doctors suggest that cystic fibrosis patients living near the coast line take advantage of the health benefits found in the saltwater air.
"Inhaling a high salt-containing liquid in the lungs helps draw fluid out of the tissue and create a surface lining that these children would not have," says Dr. Arnold Platzker.
The Cystic Fibrosis Foundation of Orange County puts on surf camps for kids suffering from the disease. Taylor Ross instantly fell in love with surfing. Her mom says it's a god-send.
"As a parent you don't know what its like for your kid to say, 'Ahhhhhhh, I can breathe,'" says Lindsay Ross.
Even just playing in the waves can help. "It feels like I was going to fly into the air," says Zoen Stewart.
Caleb Remington discovered the curative ocean air only a year ago when he moved from Illinois to California. Along with helping him breathe, he says surfing is an opportunity to show others how to overcome the disease while they wait for a cure.
"We're normal just like everyone else," he says. "We just have to start our day and end our day a little bit differently."
What better way to start than catching the perfect wave?
Thanks for reading CBS NEWS.
Create your free account or log in
for more features.