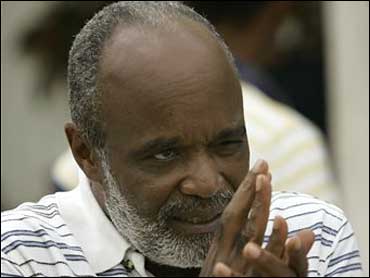 Doctor Knew Lewis Used Cocaine

A doctor defending himself against a malpractice suit in the death of Boston Celtics star Reggie Lewis said Lewis told him he had used cocaine, according to court records.
Dr. Gilbert Mudge said 16 days before Lewis collapsed from a heart attack in 1993, he acknowledged having used cocaine, but said he had stopped.
Mudge, who is being sued by Lewis' widow, Donna Harris-Lewis, said he confronted Lewis after reviewing test results that showed his heart condition had deteriorated.
"I asked again, 'Have you ever taken cocaine?' Mr. Lewis indicated he had," Mudge said in a written response to questions by lawyers for Harris-Lewis. "I responded, 'You have got to stop. Cocaine causes all this,' and at that point there was silence."
Lewis was 27 when he died in the team's practice gym at Brandeis University in Waltham on July 27, 1993.
Harris-Lewis contends in her lawsuit that Mudge made a "determined effort" to discount the opinions of a team of cardiologists who believed Lewis's heart was seriously damaged.
Lewis previously collapsed during a game, and a team of New England Baptist Hospital doctors said he had a life-threatening heart ailment and warned that his career was in jeopardy.
Lewis transferred to Brigham and Women's Hospital, where a team led by Mudge diagnosed him with a less-harmful neurological condition. Mudge said he was optimistic Lewis could play again.
Mudge now says he was prevented from making a proper diagnosis because Lewis concealed his cocaine use.
A motion filed Thursday by Mudge's lawyer, William Dailey Jr., seeks to force Northeastern University to turn over documents related to drug tests given to Lewis while he was a student in 1987.
A hearing on that motion was scheduled for Friday.
The motion includes a sworn deposition from a Northeastern student, Wayne Brown, who claimed he snorted and smoked cocaine with Lewis at his apartment "15 or 20 times" while Lewis was a student.
Robert Harley, an attorney representing Harris Lewis, dismissed the drug allegations as a diversion.
"They're trying to avoid facing the terrible medical mistake that was made by throwing in all this rumor and innuendo," Harley told the Boston Herald.
"What caused it, in the final analysis, was irrelevant to treating it. The point is if they want to, they can distract the jury with these kinds of accusations. They hope the jury won't pay attention to the medical negligence."
Mudge said in court papers that Harris-Lewis, who has denied her husband used cocaine, grew agitated when he asked Lewis about cocaine.
"I asked whether Mr. Lewis had ever taken drugs and Mrs. Lewis became very excited and stated, 'Drugs, drugs, drugs. That is all I hear. Just because he is not Bird. Don't insult my husband. They would never ask Larry Bird about drugs. They just can't get over that he is not Lrry,'" he said.
Harley confirmed that Harris-Lewis made the comment.
"You point to a black athlete and say cocaine. Now the onus is on him to say no," he said.
Unless there is a settlement, the malpractice case is expected to go to trial in May or June, according to The Boston Globe.
© 1999 SportsLine USA, Inc. All rights reserved
Thanks for reading CBS NEWS.
Create your free account or log in
for more features.