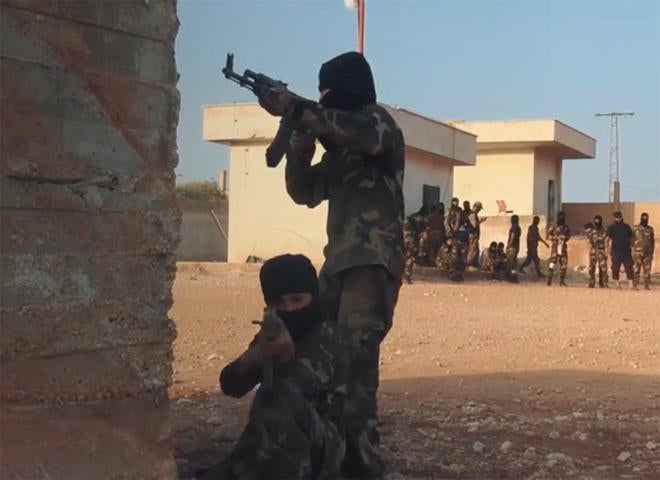 Real life takes center stage at 2018 DOC NYC documentary festival
Non-fiction is the star attraction on screens in New York City beginning this Thursday, with the start of the ninth annual DOC NYC Film Festival, America's largest documentary festival. Held November 8-15, the festival includes more than 250 features and short films (including many world, U.S. and NYC premieres), as well as special events, including panel discussions, appearances by noted documentary directors, and workshops for aspiring filmmakers.
Among the highlights of this year's festival is the Opening Night feature (a New York City premiere), "The Biggest Little Farm," the sweet story of a young couple, and a dog, who decide to chuck their lives in the city and start a 200-acre farm north of Los Angeles. Over seven years, filmmaker John Chester and his culinary writer-wife Molly Chester transformed an arid plot of land that had long ago seen any productivity into the lush, verdant Apricot Lane Farms, home of sustainable agriculture and a panoply of livestock. But it's not all sweetness, 'cause farmers have to deal with predators (coyotes and other varmints), pests (snails taking over their orchards), sick animals, drought, flooding and wildfires, and a million other things. A great introduction to young people who might want to grow up to be farmers, or at least better appreciate what farmers have to go through to grow our food. Screens Thursday, November 8. ("The Biggest Little Farm" will open in theatres April 5, 2019, distributed by Neon.)
Another highlight is the world premiere of "Amazing Grace," which features a 1972 performance by Aretha Franklin at a church service in Watts, the recording of which became her best-selling album and the most successful gospel album of all time. Footage of Franklin, intended for a companion documentary, was nonetheless locked away for 40 years, and is only now seeing the light of day. Amen.
Of the titles that have been previewed by press time, here are some of the most notable, and recommended:
---
"Beyond the Bolex" (World Premiere) is, yes, a film history about how a sturdy 16mm camera introduced in the 1920s revolutionized filmmaking for both amateurs and professionals, but it's also a detective story. Director Alyssa Bolsey delves into her family's archives to uncover the previously unknown story of her great-grandfather, Jacques Bolsey, a Russian refugee who emigrated to Switzerland before coming to America and designing cameras for the U.S. military during World War II, to understand why she was never told of her family's intimate connection to cinematic history. Featuring rare footage of and by Bolsey, and interviews with filmmakers whose careers were built on the Bolex. Screens Thurs., Nov. 8.
"Follow the money," they say – and there's certainly a lot of it in "The Kleptocrats" (World Premiere), in which investigative journalists from the Wall Street Journal, New York Times and Hollywood Reporter track some of the $3.5 billion that was swindled or laundered from a Malaysian government fund (1MDB), which was then used to finance everything from yachts and Manhattan real estate to a Martin Scorsese movie starring Leonardo DiCaprio. Political scandals and greed all spill out in this engrossing tale (which is still unfolding; last week the Justice Department announced a guilty plea and indictments against two Goldman Sachs bankers and Malaysian businessman Jho Low in connection with the 1MDB scandal). Screens Friday, Nov. 9.
"Fire on the Hill: The Cowboys of South Central" (New York City Premiere) tells the inspiring story of horsemen in inner-city Los Angeles who escape from gangs by riding, carrying on the traditions of black cowboys who have been pretty much invisible in the popular imagination of western lore. When the cowboys' stable, the Hill, is ravaged by fire, their displacement and effort to bring back the Hill becomes a unique story of urban renewal, with hay and oats. Director Brett Fallentine and DP Bradley Stonesifer both have great eyes for a story in which mythic western imagery collides with concrete, asphalt and steel. Screens Fri., Nov. 9, and Wed., Nov. 14. (Visit fireonthehill.la for more details.)
"Worlds of Ursula K. Le Guin" (New York City Premiere) – She was the grand dame of science fiction literature, though Le Guin, and her readers, would be the first to tell you her writing did not cater to a single genre, or to a preconceived notion of what science fiction is. This thoughtful up-close-and-personal documentary traces the life and career of Le Guin (who died last January), and her uncompromising willingness to speak out about the state of literature (and not just speculative fiction) in the era of Amazon. Screens Sat., Nov. 10. (Visit worldsofukl.com for details.)
"The Smartest Kids in the World" (World Premiere) builds on the bestselling book by journalist Amanda Ripley, who explored differences in educational practices around the globe to understand why the U.S. had fallen behind so many countries. This engaging film follows four American high school students who travel to South Korea, the Netherlands, Finland and Switzerland to advance beyond what their schools in the States were giving them, and are tested in ways they never expected. Directed by Tracy Droz Tragos (an Emmy-winner for the doc "Be Good, Smile Pretty"). Screens Sunday, Nov. 11, and Tues., Nov. 13.
"Exit: Leaving Extremism Behind" (New York City Premiere) is the powerful story of radicals who had been attracted to extremist and nationalist groups and then tried to break away, only to discover that, as with a mob family, it's not really an option. Filmmaker Karen Winther herself had joined a right wing group in Norway when she was a disaffected youth seeking a welcoming family. At first she was OK with the violence, but eventually decided to leave, and with no "exit programs" available for former group members, she had to depend on the kindness of a left wing extremist group member to escape. The film also shares the stories of people such as Angela, an American who sought to leave her white supremacist group behind after seeing images of a child victim of the Oklahoma City bombing; Søren, a Dane who joined a militant anti-Fascist movement, who today teaches courses on radicalization; David, a Frenchman who was jailed for his participation in an Islamist terror group; and Manuel, a German who can no longer legitimize kicking people in the face now that he is the father of an adorable toddler. An immensely valuable work for anyone wanting to understand the mindset of extremism and the possibility of rehabilitation. Screens Sunday, Nov. 11. (A Women Make Movies release.)
The subject of "Olympia" (World Premiere) is Olympia Dukakis, the gifted stage and screen actress who, under the watchful eye of filmmaker Harry Mavromichalis, proves herself to be as outspoken and funny as some of her most colorful characters (such as her Oscar-winning portrayal of an Italian matriarch in "Moonstruck"). Mavromichalis follows Dukakis (whose youthful vigor puts the calendar to shame) as she recounts her career (including co-founding the Whole Theatre Company in Montclair, N.J.), accepts honors, meets fans in a supermarket, performs a one-woman show, visits her ancestral home on the Greek isle of Lesbos, and talks of the lineage of female power. A thoroughly captivating film, befitting its arresting star. Screens Sunday, Nov. 11. (Visit olympiathefilm.com for details.)
"Hillbilly" (New York City Premiere) is one of the surprisingly few political documentaries in their year's festival, but it's perhaps the most pointed, on several levels. Co-director Ashley York, who grew up in eastern Kentucky before studying journalism in Los Angeles, returns to Appalachia to examine media misrepresentations of the region's people as ignorant, shoeless hicks, and the underlying class and racial divisions of those depictions. While such animus made her embarrassed about her background when trying to advance in her career (woe to whomever does not speak in the neutral, Midwest tones favored by broadcasters), York finds Appalachians proudly defiant about the views of outsiders, but overjoyed for the rare occasions (such as the film "Coal Miner's Daughter") when they're treated with dignity. York also seeks to understand why her family, Democrats for generations, had jumped on board the Trump train in the 2016 election, which can be partially explained by the very media and social characterizations of coal country residents that caused stark differences between Hillary Clinton's campaign and that of Donald Trump. Screens Mon., Nov. 12. (Visit http://hillbillymovie.com/ for details.)
There have been about 50,000 locals who served as interpreters for American military forces in Iraq and Afghanistan. Without them the Pentagon would have gotten nowhere. But such collaborations marked these men as traitors by ISIS and the Taliban, putting their lives in jeopardy. American lawmakers managed to pass special immigrant visas, to be granted to those who aided American troops, but bureaucracy has meant delays of years for permission to emigrate to the U.S. "The Interpreters" (New York City Premiere) follows several such men who are caught in limbo, trying to obtain a safe haven for their families, after risking their lives for a nation that, in the midst of a rancorous political campaign, looks increasingly less welcoming of them. Screens Mon., Nov. 12, and Tues., Nov. 13.
"Cracked Up" (World Premiere) is the harrowing story of former "Saturday Night Live" cast member Darrell Hammond, whose addictions led him to rehab, and to the growing realization that he was suffering from a mental illness (more accurately, a "mental injury") derived from his tortured childhood at the hands of an abusive mother. Filmmaker Michelle Esrick tails Hammond, as he revisits the "SNL" studio where for years he shared his gift for impressions with a delighted audience; goes on a book tour and, later, performs a one-man show adapted from his memoir; and finally revisits his childhood home, the scene of the crimes. Hammond is surprisingly unguarded in front of the camera when talking about highly personal and painful memories, and his candor makes them all the more shocking and distressing. What is more incredible than having survived is that he did so with his sense of humor intact. Screens Wed., Nov. 14. (Visit crackedupmovie.com for details)
Winner of the Grand Jury Prize for World Cinema - Documentary at this year's Sundance Film Festival, "Of Fathers and Sons" (New York City Premiere) is Syrian-born director Talal Derki's deep dive into the personal lives of radical Islamist fighters – men, he says, "who long for war." Posing as a journalist sympathetic to their cause, Derki was able to gain incredible access to the homes of members of the Al-Nusra Front (one of the competing Islamist groups fighting Syrian government forces). Over the course of two years Derki followed these fathers as they shape their young children into prospective warriors. The disconnect between parental tenderness and cold-blooded training in military-style camps is jarring, while scenes of the kids playing amid the ordnance and ruins of battle are crushing. Screens Thurs., Nov. 15. (Visit offathersandsons.com for details.)
---
The festival also offers a chance to catch up on some of this year's best documentaries already in release, including "Fahrenheit 11/9" and "On Her Shoulders" (both in theatres); "Three Identical Strangers," "RBG" and "Won't You Be My Neighbor" (also available via streaming); and "Shirkers" (available on Netflix).
Here are just a few of the more intriguing titles (which have not been previewed):
"Breslin and Hamill: Deadline Artists" (World Premiere), about two legendary New York City beat reporters, Jimmy Breslin and Pete Hamill, who made tabloid pages sing.
"Enemies: The President, Justice & The FBI: That's What Friends Are For" (World Premiere) Alex Gibney's Showtime series exploring the tense relationships between U.S. presidents and their chief law enforcement officials.
"The Ghost Of Peter Sellers" (New York City Premiere), the behind-the-scenes look at how the international movie star joined forces with an acclaimed young director (Peter Medak) and a comedy genius (Spike Milligan) in 1973 to make a pirate film, "Ghost in the Noonday Sun," which turned into a disaster.
"Harvest Season" (New York City Premiere), about wine making in California's Napa and Sonoma Valleys.
"Jane Fonda in Five Acts," an HBO profile of the Academy Award-winning actress and daughter of Hollywood royalty.
"My Perfect World: The Aaron Hernandez Story" (World Premiere), about the New England Patriot convicted of murder.
"Takumi: A 60,000 Hour Story on the Survival of Human Craft" (World Premiere), on Japanese artisans mastering their crafts.
"Teddy Pendergrass: If You Don't Know Me" (New York City Premiere), a biography of the R&B artist paralyzed by a car accident at age 31.
And that's only about 10 percent of what the festival has to offer. With a lineup this rich, discovery awaits the adventurous moviegoer.
Films will be screened at the IFC Center in Greenwich Village, and the SVA Theatre and Cinepolis in Chelsea. Check out the DOC NYC Fest website at docnyc.net for film descriptions and dates.
Also featured is DOC NYC Pro, a series of panel discussions with established and emerging filmmakers talking about both practical and technical aspects of documentary filmmaking, from pitching projects and fundraising, to storytelling, editing, and distribution.
Tickets to DOC NYC screenings can be purchased online or in advance at the IFC Center box office in Greenwich Village (or at any screening). There are discounted ticket packages and all-access passes. Rush tickets for sold-out shows are also available.
Thanks for reading CBS NEWS.
Create your free account or log in
for more features.