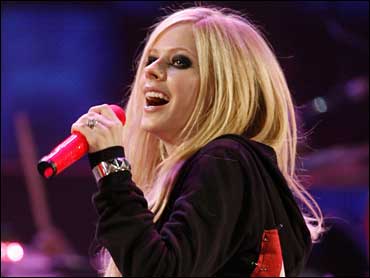 Do Pop Stars Really Write Their Own Hits?
Of all the names in music, Chantal Kreviazuk may be the least likely to appear in a headline. Though she recently released her own album, the songwriter usually stays behind the scenes to pen hits with artists such as Kelly Clarkson, Gwen Stefani and Avril Lavigne.
But earlier this month, Kreviazuk rocked the pop music world by suggesting that Lavigne was a collaborator in name only. Although she quickly retracted her comments and others defended Lavigne, the flap illuminated a long-standing fraud that has become more prevalent than ever: "singer-songwriters" who do much less songwriting than their publicists would have you believe.
"It's crazy!" exclaimed Grammy-winning songwriter Diane Warren, who has written for artists such as Whitney Houston, Celine Dion and Mary J. Blige. "How can someone look in the mirror and know they didn't do something and their name is on it? For money? For credit? It's a lie."
This being the music industry, money is, of course, a factor, since the writers of hit songs can earn more than the singer over the long term. But today's singers also press for writing credit because it gives them more of a cache, presenting them as more of a "real artist" in comparison with a star who doesn't write a note.
"It's a practice that's been going on, but now it's really prevalent in every situation," says songwriter Adonis Shropshire, who helped pen the hit "My Boo" for Alicia Keys and Usher, and has worked with Chris Brown, Ciara and others.
---

Photos: Gifted Women Songwriters

---
Shropshire says that many artists will only allow songwriters to work on an album in return for song credit, and "if they do write, they ask for more publishing than they honestly contributed ... it is the way it is."

The practice has been prevalent for decades. Elvis Presley's manager, Colonel Tom Parker, maneuvered to give the King songwriting credits on early hits like "Love Me Tender" even though he never wrote a word. James Brown was sued by an associate over song credits. Lauryn Hill settled a lawsuit by a group that claimed she improperly took sole production and writing credit on her Grammy-winning album "The Miseducation of Lauryn Hill." And Diddy seemed to acknowledge claims that he wasn't really writing his raps in the "Bad Boys for Life" song with the brushoff line: "Don't worry if I write rhymes, I write checks!"

The notion that serious artists have to write their own songs seems to have grown over the past two decades. Today, even the fluffiest of pop acts is credited as having written their own material.

"We as an industry ... don't look at someone who has an incredible voice as an artist, whereas having an incredible voice is artistry," says Jody Gerson, an executive vice president of EMI Music Publishing. "I think people place more of a value on an artist if they write their own songs. It gives them credibility."

Indeed, Lavigne's songwriting abilities have been touted since she broke out as a teen with the hit "Complicated." But how much she contributed to her music has long been scrutinized.

On her first album, Lavigne worked with the writing trio The Matrix, but ditched them on her second album when she felt they were taking too much credit for the songs. "I am a writer, and I won't accept people trying to take that away from me, and anyone who does is ignorant and doesn't know what they're talking about," she defiantly told The Associated Press in 2004.

She connected with Kreviazuk for her sophomore album and the two became close friends. Kreviazuk lauded her songwriting ability in an interview with The AP, also in 2004 — which made Kreviazuk's comments to Performing Songwriting Magazine all the more curious.

"I mean, Avril, songwriter? Avril doesn't really sit and write songs by herself or anything. Avril will also cross the ethical line, and no one says anything," Kreviazuk — who was not included on Lavigne's latest album — told the magazine before retracting her statement. The Matrix later came out to defend Lavigne's songwriting integrity.

Grammy-winning songwriter Dallas Austin says he's had a manager rave about a song Austin wrote all by himself, and then tell him, "We wanna know if we can get a piece of the pie on it because (the artist) wants to feel like she has a part ownership on the song.

"And I'll say, 'In all fairness, no. ... If you want to work with me at least sit here and put something into it, instead of coming after I've done everything and try and claim percentages on it.'"

Gerson calls the practice unfair but says it's "pretty prevalent in pop and R&B ... I think the way people now divide publishing splits is who was in the room. 'OK ... I changed the word 'the' to 'a,' and I deserve 10 percent of the publishing.'"

Sean Garrett, who has created smashes for Beyonce, Kelis, Fergie and others, says he gave up credit when he was just starting out, which is common for newcomers. "It bothered me but I knew it was just a price that I had to pay to continue my career and stay focused with the big prize," he says.

Ne-Yo, a true singer-songwriter who co-wrote Beyonce's "Irreplaceable," says early in his career he had to deal with the same thing. He says some artists feel they are doing a novice a favor by recording their song — especially if it becomes a hit — so they deserve a piece of the royalties.

"If you're an unknown songwriter and you are lucky enough to get on a superstar's album and you know that the song is going to be a single," Ne-Yo says, "and it means if it becomes No. 1 everyone is going to know your name because you wrote it, I think it's worth giving up a piece of publishing ... you are going to make your money back."

Shropshire recalls working with an A-list singer, whom he did not want to name, who wrote two words on a song and ended up getting a large piece of the publishing rights. But he couldn't complain when the song became a hit.

"It didn't really bother me that much. The song came out and it did wonderfully well," he says. "That's just the way the industry works."

That shouldn't be the case, says Warren. Although she had credit taken from her early in her career, she quickly put a stop to it. Later, one major superstar demanded some of Warren's royalties for the privilege of said superstar recording her song. But Warren refused.

"It's like, 'OK, you want some publishing? OK then, give me a piece of the money you're making touring for the next five years for the hit I just wrote you.'"

But now that songwriters like Warren, Garrett and Ne-Yo are established, they rarely find themselves taken advantage of any more.

"I give other people credit where credit is due, like Beyonce really did vocally arrange ('Irreplaceable')," Ne-Yo says. "So for someone to come in and take my credit because they are who they are? That doesn't work for me. I don't care who you are. ... I'm not going to give you something you don't deserve."

By Nekesa Mumbi Moody
Thanks for reading CBS NEWS.
Create your free account or log in
for more features.