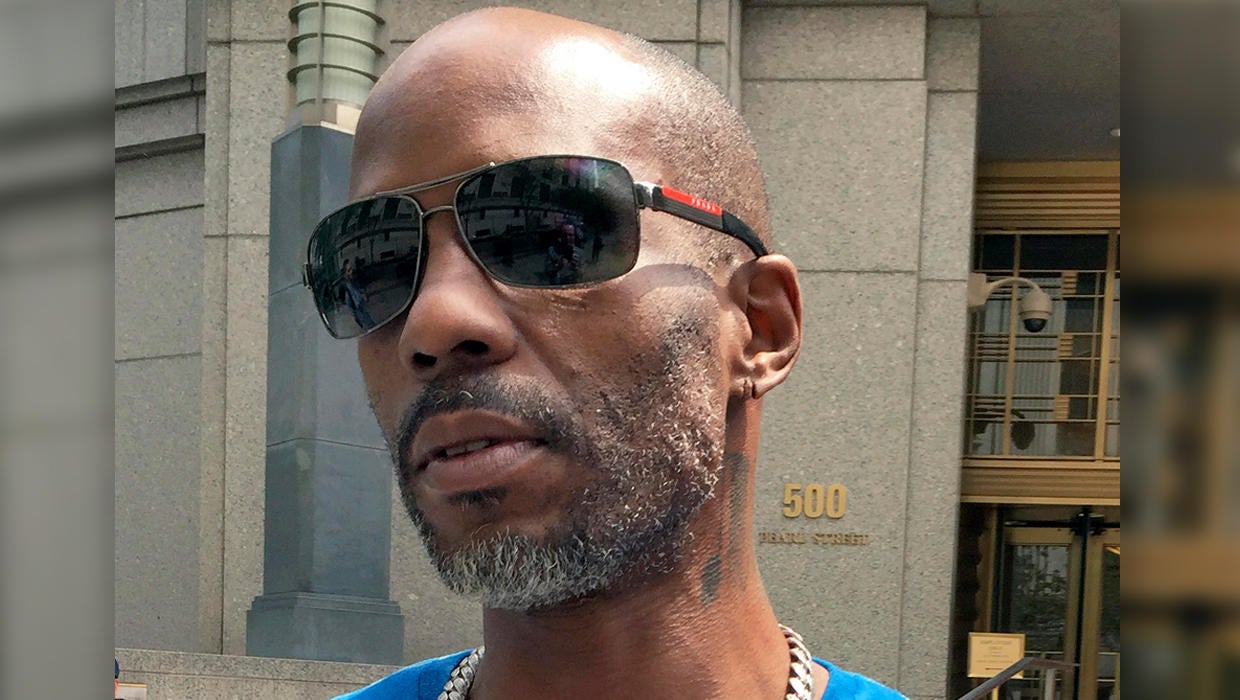 DMX sentenced to a year in prison for tax fraud, plays song in court
NEW YORK — DMX's attorney played the rapper's song "Slippin'" during his sentencing on Wednesday to help the musician express his struggles, but it was not enough to convince a judge to let the rapper off the hook. Instead, the judge ordered the rapper imprisoned for a year in a tax fraud case.
U.S. District Judge Jed Rakoff took requests, accommodating DMX's desire to hear his autobiographical hit "Slippin'" before DMX faced the music over his admission of guilt. The judge called DMX's fraud a "brazen and blatant" crime that could not go unpunished.
The 47-year-old, known to law enforcement and the courts as Earl Simmons, has been incarcerated since his bail was revoked in January. He sobbed during the proceeding as his lawyer Murray Richman recounted the rapper's nightmarish childhood.
As for the criminal charges, "I never went to the level of tax evasion where I'd sit down and plot ... like a criminal in a comic book," DMX said when given an opportunity to address the court.
He said, at times getting choked up, that he "wasn't following the rules."
DMX, whose albums include "It's Dark And Hell Is Hot" and "Flesh of My Flesh, Blood of My Blood," recalled that the judge ordered him imprisoned in January for failing to obey bail restrictions that had allowed him to continue performing concerts while he received treatment for drug addictions.
"It woke me up," he said.
Before that, he said: "I was in a cloud. I wasn't thinking straight."
Richman said DMX, who has appeared in movies such as "Last Hour" and "Romeo Must Die," has been a model prisoner. Still, prosecutors sought five years in prison for him, citing a lengthy rap sheet and drugs.
Assistant U.S. Attorney Richard Cooper said DMX engaged in tax fraud for six years after having paid taxes previously.
"He essentially went off the grid at a certain time," the prosecutor said.
In 2017, prosecutors said Simmons raked in millions from his songs -- including his 2003 hit "X Gon' Give it to Ya" -- and avoided paying taxes by setting up accounts in other's names and paying personal expenses largely in cash.
Richman said he wanted his client free to support his 15 children and pay back nearly $2.3 million in taxes that are part of a restitution order.
Another defense lawyer, Stacey Richman, called DMX's life "the American dream," saying he raised himself out of the ghetto with music that was so inspirational that a former homeless woman called the lawyers to say that hearing one of his songs stopped her from killing herself. The woman now is married and raising a child, Stacey Richman said.
As "Slippin'" played in the packed courtroom, DMX nodded his head slightly to the beat while some of his supporters nodded more enthusiastically. The lyrics to "Slippin'" include lines like, "I'm slippin', I'm fallin', I can't get up."
Murray Richman got choked up as he spoke of his client, saying he felt terrorized after listening to DMX describe his childhood to a probation officer for six hours.
"I've never seen a more horrific background in my life," he said, describing physical and psychological abuse that left DMX's teeth knocked out and led him to repeated encounters with the law at an early age.
The judge said that in the court's view DMX "is a good man."
"In many ways," the judge said, "he's his own worst enemy."
In 2017, DMX talked about his struggles during a surprise visit to a homeless shelter. The day marked the one-year anniversary of when the rapper was found unconscious and not breathing in a Yonkers hotel room.
The rapper talked about his addiction struggles and run-ins with the law and told the men in the room, "God showed what he was willing to do for me."
He also said to the men, "When I look across the room, I see myself. Don't look at this as a place you don't want to be or need to be."
Thanks for reading CBS NEWS.
Create your free account or log in
for more features.