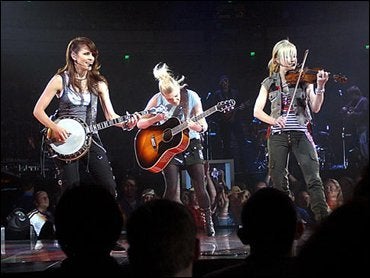 Dixie Chicks Recall Death Threat
The band that received death threats and whose reputation suffered for disparaging President Bush reveals that one of the threats was so specific and serious it required intense police intervention.
The Dixie Chicks tell 60 Minutes correspondent Steve Kroft about the threat and how it hasn't made them change their style this Sunday, May 14, at 7 p.m. ET/PT.
There had been threats ever since lead singer Natalie Maines told a London audience the band was ashamed that the president of the United States had come from their home state of Texas. This threat, in the summer of 2003, was different than all the others. "It was definitely scary because it seemed so it wasn't just somebody wanting to write a hate letter. It was somebody who obviously thought they had a plan," Maines tells Kroft.
"There was one specific death threat on Natalie. [It] had a time, had a place, had a weapon. I mean, everything," banjo player Emily Robison recalls. "This was at our show in Dallas. 'You will be shot dead at your show in Dallas' on whatever the date was," she says.
The FBI and the Texas Rangers were brought in, says Maines. "We flew in on a jet … and we went straight from the police cars to the stage and straight from the stage back to the police cars and back to the plane. So, you know, it was all surreal. But at that stage everything was surreal," she remembers.
A recent single the band released, called "Not Ready to Make Nice," speaks to the band's state of mind three years after what they call the "the London incident."
In the 60 Minutes segment, the band refuses to apologize to country music fans who were angered by Maines' remarks or to "make nice" to the radio stations that refused to play their music. When asked by Kroft why the band just doesn't try to make country music fans happy, Maines tells him that's not the way the Dixie Chicks work. "We don't make decisions based on that. We don't go, 'OK, our fans are in the red states, so I'm going play a red, white and blue guitar and put on my I Love Bush T-shirt,'" she says. "We're not like that because we're not politicians. We're musicians," Maines tells Kroft.
The album coming out May 23 with the new single straddles country and rock genres. "Since country music's turned into this redneck theme, it's become kind of a negative thing in my mind, where I didn't think it was negative before," says fiddle player Martie Maguire. "I think for a while, a lot of artists were doing a lot of great things … that were broadening the audience so that country was cool. So it makes me sad that it's kind of reverted back to a place that I'm not that proud of — and this is coming from a true country fan. I can't listen to the radio right now," Maguire tells Kroft.
Produced By John Hamlin
Thanks for reading CBS NEWS.
Create your free account or log in
for more features.