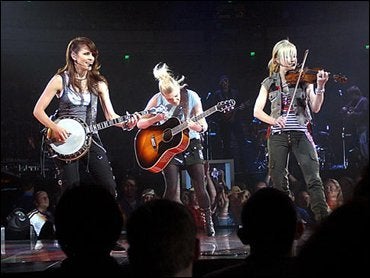 Dixie Chicks: Not Ready to Make Nice
Three years ago, the Dixie Chicks were the most popular female group in history. They had the No. 1 country single and were about to embark on a sold out worldwide tour, when lead singer Natalie Maines made an off-the-cuff remark in London. On the eve of the U.S. invasion of Iraq, she said she was ashamed that President Bush was from her home state of Texas. Not since Jane Fonda's trip to Hanoi had an entertainer enraged so many people with a political statement.
The uproar in the conservative country music clan drove their songs off the charts, their music off the radio and the Dixie Chicks into self-imposed exile. You haven't heard much about them, but that is about to change. Later this month they will release their first album in nearly three years — and as one of the songs says, they're not ready to make nice. As correspondent Steve Kroft found out, Natalie Maines and the Dixie Chicks have plenty to say about country music, the London incident, and, yes, even President Bush.
---

"And ultimately every time I start getting wrapped up in thinking about it, it comes back to what I said. I said that I don't like the president is from my state," says Natalie Maines.

She readily admits she said she was ashamed the president is from her home state and acknowledges her remarks were an insult.

"Oh, it was definitely meant as…an insult. But I'm just saying ultimately what I said is that I'm ashamed that he's from my state. I think that that is stupid," Maines says laughing.

Asked if she is sorry about her London comments, Maines says no. "Sorry about what? Sorry about what? Sorry about not wanting to go to war? And not wanting people to die?"

"You'd do it again?" Kroft asked.

"No. Yeah, I've said so much worse than that, I'm telling you," she replied, laughing.

About the only thing that has changed is that nearly 70 percent of the American public now agrees with her, at least to some extent. The question is whether that will be enough for the Dixie Chicks to resurrect their career.

Listening to Maines rehearse in Austin, Texas, with the other Dixie Chicks, sisters Martie Maguire and Emily Robison, and working up some of their past hits, you are reminded just how big they were.

They weren't political — just opinionated and a little rebellious. Their music resonated with millions of women across the country.

When things began to fall apart, they went home to the nest and turned their focus to family. "We've all just been having babies," says Maines, who has two children. "Emily has three. Martie has two," she explains.

All of the children were born in the last three years. "Emily and I each had a son on the last tour. And then there's been five more babies in the last two years," says Maines.

Their new CD, called "Taking the Long Way" chronicles all the things that have happened to them, but if you were expecting something just soft and maternal, guess again. One song in particular, a single released six weeks ago, sums up their current state of mind. It's called "Not Ready to Make Nice."

The song is powerful and unrepentant. The anger isn't directed at the war or the president — or at their many fans who deserted them. It's about the hatred, and narrow-minded intolerance they encountered for expressing an opinion.


As artists, they wanted to respond with music and a video to drive home the point.

"It was hard to write it because it was … we each felt the same way," says Maquire. "But it, we didn't want to make too much light of it. We didn't want to it to be too preachy, or too heavier than it was. And after we wrote this song, we felt like it was exactly how we felt."

"Now it kind of seems like you're picking the scab again," Kroft remarked, laughing. "You're picking the scab here. Like you're pouring salt on the wound."

"We didn't write the songs thinking about what other people wanted us to say, or what would be a hit on radio. I needed to make this record to be able to get past it," one of the women explained.

It's either a clever marketing ploy, or the Dixie Chicks have decided to commit career suicide. It's too early to tell which. Billboard Magazine called the single "beautifully layered, melodically crafty and refreshingly impetuous." But you won't hear it being played on a lot of country radio stations, because people call up and say they don't want to hear it.

The song fizzled on the charts — yet it's one of most downloaded country songs on the Internet.

"Well, how do you explain the fact that it's No. 37 on the charts and No. 1 in downloads? on iTunes," Kroft asked Maines.

"I think … that when you're in the corporate world, and when that's your livelihood, and when 100 people e-mail you that they'll never listen to your station again, you get scared of losing your job. And why did they need to stand up for us? They're not our friend. They're not our family. And they cave," she explained.

It's no surprise that the backlash is still there, given the demographics of country music — generally speaking, country's core audience resides in states where support for President Bush and the war is the strongest. So why risk insulting an audience that gave you fame and fortune in the first place?

"I think I know where your question's leading and it just goes back to the answer that we don't make decisions based on that. We don't go, 'OK, our fans are in the red states.' So I'm gonna play a red, white and blue guitar and put on my I Love Bush T-shirt and … we're not like that because we're not politicians. We're musicians," says Maines.

"Anybody ever tell you one of the big rules of the music business, or business in general, is never try to antagonize your customers?" Kroft asked, laughing.

"Well, that's what music is. That's what the music I always admired and liked was. I didn't like, I saw no honesty in people being safe or opinionless. Is that a word? I always loved the music that was about something," says Maines.

They have already paid a huge price for their outspokenness, and not just monetarily. A half-hearted apology for the London comments three years ago didn't help much, and neither did posing for a magazine cover several weeks later. The worst part was the threats.

"There was one specific death threat on Natalie. [It] had a time, had a place, had a weapon. I mean, everything," banjo player Emily Robison recalls. "This was at our show in Dallas. 'You will be shot dead at your show in Dallas' on whatever the date was," she says.

"So this wasn't paranoia? This was well-founded concern?" Kroft asked.

"Yes. And you just — you don't know what people are capable of," Robinson says. "We had a radio station say they had our picture on the side of one of their vans. They were just driving down the highway. And a car pulled up with a shotgun and pointed at him out the window. Just because our picture was on their van. And it's just … it's very real. You know, it only takes one cuckoo person.


"It was definitely scary 'cause it seemed so, it wasn't just somebody wantin' to write a hate letter. It was somebody who obviously thought they had a plan," says Maines.

Maines says the police, the FBI and the Texas Rangers knew about the threat. "We flew in on a jet. We got ready in San Antonio and then flew in on a jet and we went straight from the police cars to the stage — and straight from the stage back to the police cars and back to the plane. So, you know, it was all surreal. But at that stage, everything was surreal," she remembers.

"Thank goodness nothing happened. But we, Martie and I, joke that we stayed in the round last tour so we were in this huge — a lot of real estate to cover onstage. So Martie and I just stayed as far away from Natalie as possible," Robison says, laughing. "Kidding, of course."

In fact, Emily and Martie could not be more supportive of their lead singer. They share her politics, and back up her candor — even when she disses country music, which has been their bread and butter.

"I've never pretended to be country to the core," says Maines, laughing. "I've always been very honest about my influences and where I came from."

"Isn't that kind of biting the hand that feeds you?" Kroft asked.

"I don't think so. I think it's honest which I never have a problem with," she replied.

Asked if ever said or wanted to say to Natalie to "shut up," Maguire says no. "I thought it was, I think it's great that she speaks her mind."

Instead of mending fences, they seem to be burning bridges, saying that too much of the country music audience fits a stereotype — a stereotype they say doesn't apply to their fans.

"When I looked out in the audience, I didn't see rednecks," Maquire says with a chuckle. "I saw a more progressive crowd."

Maquire says she is not trying to say the country music audience is mostly rednecks. "But over the years, and especially, since country music's turned into this redneck theme, it's become kind of a negative," she says. "I think for a while, a lot of artists were doing a lot of great things. It was that were broadening the audience. So that country was cool. Because I always thought it was cool. So it makes me sad that it's kind of reverted back to a place that I'm not that proud of. And this is coming from a true country fan. I can't listen to the radio right now."

They are clearly trying to reposition themselves as a crossover group between country and rock, as their new album has plenty of rock-and-roll moments.

It is a risky strategy, but the Dixie Chicks don't seem to care. They are betting on their talent, their music, and a loyal following of women from the cities and suburbs to carry them through, with no apologies required. Some think it's their best album ever. The question is whether anyone will listen.
---

The Dixie Chicks CD "Taking the Long Way" will be released on May 23, and look for them on tour this summer.
Produced By John Hamlin
Thanks for reading CBS NEWS.
Create your free account or log in
for more features.