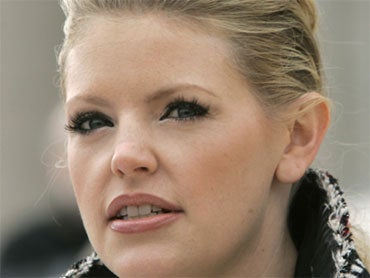 Dixie Chicks' Natalie Maines Wins "West Memphis Three" Defamation Suit
LITTLE ROCK, Ark. (CBS/AP) A federal judged has ruled Dixie Chicks singer Natalie Maines didn't defame a father mourning for his murdered stepson and has ordered the man to pay the singer's legal fees.


Nearly two decades ago, Terry Hobbs' stepson Stevie Branch was murdered and three boys were convicted of the crime.

But ever since, there has been a parade of celebrities fighting for the freedom of the convicted killers known as the "West Memphis Three."


In 2007, Dixie Chicks singer Maines joined the cause, but Hobbs felt she went too far and tried to pin the murder on him.

He sued for defamation and now a federal judge says not only is Maines innocent, but Hobbs must pay her legal fees amounting to $17,590.


Branch was one of three 8-year-old boys slain in 1993. Hobbs claimed Maines accused him of the killings in a letter posted on the band's Web site and in comments she made at a Little Rock rally in 2007 in support of the three men convicted in the deaths.


Maines, who's from Lubbock, Texas, had become convinced that Damien Echols, Jason Baldwin and Jessie Misskelley, known as the "West Memphis Three," were innocent after watching documentaries on the case. Her letter seeking donations for the trio's legal defense fund mentioned a DNA test that found a hair belonging to Hobbs on a shoelace used to bind one of the murdered boys.

"I am confident that you will see the DNA evidence is irrefutable and that these three men did not get the kind of trial that is promised to us - as Americans," Maines' letter said.
Echols was sentenced to death for the killings, while Baldwin and Misskelley were sentenced to life in prison. Courts have repeatedly rejected their appeals for a new trial.
Hobbs' lawsuit claimed the letter "when taken as a whole, accused (Hobbs) of committing the murder of Steve Branch, Christopher Byers and Michael Moore."
The lawsuit, filed in Nov. 2008, claimed Maines' comments were "malicious, libelous, slanderous and false" and sought damages.
But in December, U.S. District Judge Brian Miller dismissed the suit, saying Hobbs had voluntarily injected himself into a public controversy over whether three teenagers convicted of killing the three 8-year-old boys had been wrongfully condemned.
WATCH 48 HOURS | MYSTERY
"A Cry for Innocence": Johnny Depp and the full story of the "West Memphis Three"
MEDIA
PICTURES: Star Support for the WM3
MORE ON CRIMESIDER
February 24, 2010 - Exclusive: Johnny Depp Says Release "West Memphis Three" from Triple Murder Conviction
Thanks for reading CBS NEWS.
Create your free account or log in
for more features.