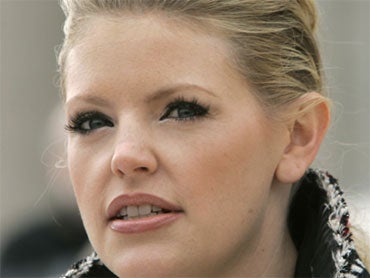 Dixie Chicks Libel Suit Dismissed
The Dixie Chicks can't be sued for libel by the stepfather of one of three 8-year-old boys killed in Arkansas 15 years ago because singer Natalie Maines based her statements on legal documents she believed were true, a federal judge ruled.
The band was sued by Terry Hobbs, whose stepson Stevie Branch, was one of three 8-year-old boys slain in 1993. Hobbs claimed Maines accused him of the killings in a letter posted on the band's Web site and in comments she made at a Little Rock rally in 2007 in support of the three men convicted in the deaths.
Maines, who's from Lubbock, Texas, had become convinced that Damien Echols, Jason Baldwin and Jessie Misskelley, known as the West Memphis Three, were innocent after watching documentaries on the case. Her letter seeking donations for the trio's legal defense fund mentioned a DNA test that found a hair belonging to Hobbs on a shoelace used to bind one of the murdered boys.
"I am confident that you will see the DNA evidence is irrefutable and that these three men did not get the kind of trial that is promised to us - as Americans," Maines' letter said.
Echols was sentenced to death for the killings, while Baldwin and Misskelley were sentenced to life in prison. Courts have repeatedly rejected their appeals for a new trial.
Hobbs' lawsuit claimed the letter "when taken as a whole, accused (Hobbs) of committing the murder of Steve Branch, Christopher Byers and Michael Moore."
The lawsuit, filed in November 2008, claimed Maines' comments were "malicious, libelous, slanderous and false" and sought damages.
But U.S. District Judge Brian Miller ruled Tuesday that Hobbs couldn't establish "actual malice" - that Maines knew the statements were false or that she made them with "reckless disregard" of the truth.
Miller noted Maines rejected changes to the letter she posted on the Web site because she didn't want to stray from information she'd received from the West Memphis Three's attorneys.
"All of the legal stuff is copied directly from the court filing and legal papers that were written by the defense team," Maines wrote to an e-mail to her manager, which was included in the court record. "I don't want to put any of that in my own words."
Miller also pointed out that Hobbs has spoken publicly about the DNA test.
"Hobbs admits that he wanted the public to know that if the victims had his hair on them, it was because the boys played with Stevie pretty regularly, not because Hobbs committed the murders," Miller's order said.
Hobbs' attorney, Cody Hiland, didn't immediately return a call for comment Wednesday, nor did an attorney for Maines.
By Jill Zeman Bleed
Thanks for reading CBS NEWS.
Create your free account or log in
for more features.