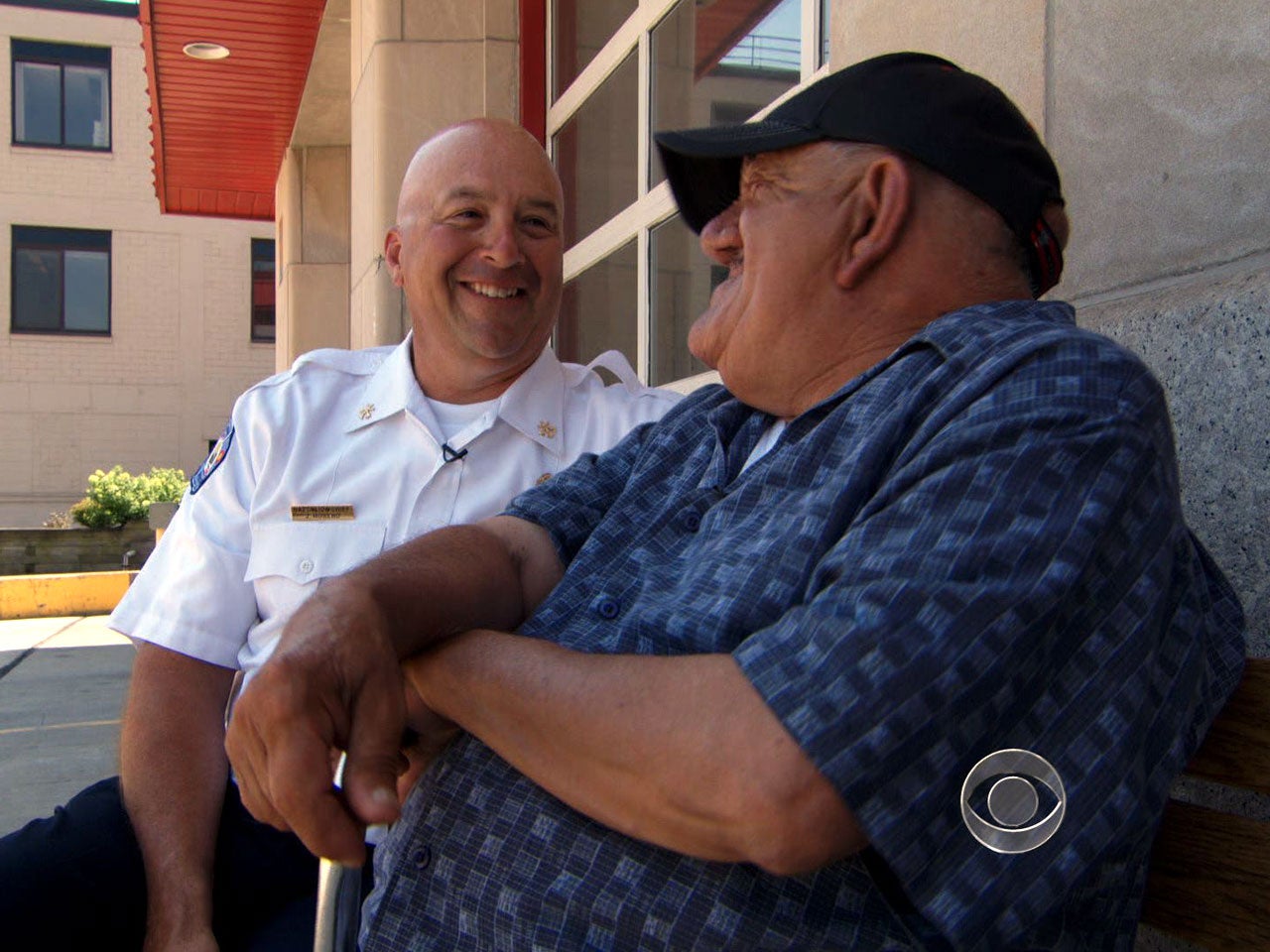 Disabled man finds home at Michigan firehouse
(CBS News) LANSING, Mich. - A firehouse is a special place, where the crew becomes one big family.
But you don't have to answer the fire alarm to be part of it.
Fire Station One in Lansing, Michigan is not a restaurant -- but it does have a regular customer.
Tony Tumminello has a mental disability, but not an eating one. He never misses a meal here. And why should he? The firemen all pitch in to pay for his food and even provide transportation to and from.
And that's just a small sampling of the service they provide him.
Tony has his own place, but he pretty much just sleeps there. He also has his own job at a local flower market, but he pretty much just works there. Otherwise, he's at the station -- and has been about 6 hours a day, nearly 365 days a year, for almost 60 years now.
It was 1953 when, at the age of 13, Tony went up to some fireman in his neighborhood. Speaking short sentences, Tony happily replied with a simple "Yeah" when asked if the firefighters invited him back to the station. And he never left? "Nope," Tony replied.
Over the years, things have changed, however. What started as one act of kindness for a kid has clearly evolved into something much more.
"It's really special," one firefighter said. "I really can't put into words."
A lot of the guys either couldn't put it into words, or used the same word.
"He's like family," another firefighter said. Another repeated, "He's just family." A third firefighter agreed: "I would definitely use the word family."
And they treat him exactly as such. No coddling here. They play jokes on Tony -- as brothers do -- like take his cane.
And Tony will tease them right back, like when he calls Battalion Chief Jim Marino his assistant.
"Oh, I just got demoted again," joked Marino.
Although the brotherly teasing continues, the guys have started to play another role as Tony ages.
Like the children of an aging parent, the firefighters do his laundry, clean his hearing aids and even bath Tony now.
If these guys weren't here, what would Tony's life be like? "Oh, I don't know," he replied. He said he doesn't like thinking about it.
Fortunately, he never will have to think about that.
"Tony has got a place forever, yea," Marino said.
All firefighters are heroes. But at Station One, they are before they ever leave the building.
To contact On the Road, or to send us a story idea, e-mail us.
Thanks for reading CBS NEWS.
Create your free account or log in
for more features.