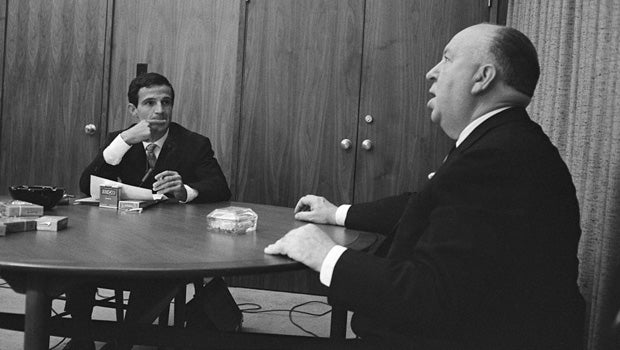 Directors on directing in documentary "Hitchcock/Truffaut"
Francois Truffaut was not unlike a student to the director Alfred Hitchcock when the two met for a series of interviews in 1962. Truffaut, a bright young figure in the French New Wave, had directed three acclaimed films by that point ("The 400 Blows," "Shoot the Piano Player" and "Jules and Jim"); Hitchcock had directed 48 features, including "The 39 Steps," the Oscar-winning "Rebecca," "Notorious," "Shadow of a Doubt," "Rear Window," "Vertigo," "North by Northwest" and "Psycho."
The two shared a passion for cinema, although their sensibilities (and the industry standards under which they toiled) were markedly different. Hitchcock was the Master of Suspense, who excelled at stories of ordinary people caught in extraordinary, usually threatening circumstances. Truffaut had demonstrated his affinity for stories about lives caught at emotional crossroads, in which conflicts of the heart upend any notions of conventional happiness or equanimity.

That the two were able to communicate so clearly was not surprising -- their common language was film. Their conversations, recorded over the span of a week in Los Angeles, formed the basis of what became an invaluable book on moviemaking, "Hitchcock" (originally published in 1966). Those interviews are now the subject of a new documentary, "Hitchcock/Truffaut," which explains how this meeting of minds help elucidate the particular qualities of each filmmaker's best work.
Directed by Kent Jones (who heads the New York Film Festival), "Hitchcock/Truffaut" includes audio recordings from the interviews, which were documented by photographer Philippe Halsman. Supplemented by illustrative clips, we hear Hitch explain the psychology behind his tenets of cinematic storytelling -- undercurrents of threat, or the very nature of suspense -- and the technical exactitude with which he photographed his actors (which he not-so-ironically deemed "cattle").
Truffaut's early output lacked the studio sheen and glamour of Hitchcock's Hollywood films, but they were emotionally compelling and romantic, and even playful in their tweaking of American movie conventions (The endearing "Shoot the Piano Player" riffs on Hollywood gangster films). Truffaut was perhaps less Hitchcockian than other young French directors, like Alain Resnais, but what he brought to the relationship was what Hitch loved best: an eager audience. And Hitchcock's understanding of how to play an audience (as evidenced in "Psycho") was beyond anyone else's in the industry. He provides pure gold to the interviews, and Truffaut mines it with exquisite taste for the 20th century's most vital art form.
Much as the New Wave filmmakers had lionized the output of under-appreciated American directors such as Hitchcock, Howard Hawks and John Ford, Truffaut's book helped boost Hitchcock's critical standing. It also augured a long-standing friendship between the two, who regularly corresponded and even traded script comments up until Hitchcock's death in 1980. (Truffaut would pass away four years later.)
The documentary also includes interviews with some of the most noted filmmakers working today, including Wes Anderson, Olivier Assayas, Peter Bogdanovich, Arnaud Desplechin, David Fincher, James Gray, Kiyoshi Kurosawa, Richard Linklater, Paul Schrader and Martin Scorsese. As enlightening as these interview clips are (Nobody doesn't want to hear Scorsese talk about film), they detract a bit from what came out of that 1962 conversation (how Hitchcock inspired Truffaut, and what Hitch found intriguing about Truffaut's early work), by focusing more on how the two inspired the obsessions of later generations of filmmakers. At some points we forget (as do they) that the subject of the documentary is a film book published nearly five decades ago.
The inclusion of contemporary views does allow the documentary to include clips from movies made after the interviews took place, but that's a mixed bag. In Hitchcock's case, aside from "The Birds," his post-1962 films were not successes; and while Truffaut created some certifiable classics -- "Day for Night," "Small Change," "The Story of Adele H." -- his work rarely reflected the camerawork or narrative obsessions that Hitchcock employed.
But these are minor quibbles in an otherwise entertaining and engrossing look at how two of the most talented men behind the camera helped shape contemporary film language.
"Hitchcock/Truffaut" (Cohen Media Group) is now playing in New York and Los Angeles, and opens across the U.S. beginning December 10. (Click here for playdates.) This film is not rated. 80 mins.
For more info:
To watch a trailer click on the player below.
Thanks for reading CBS NEWS.
Create your free account or log in
for more features.