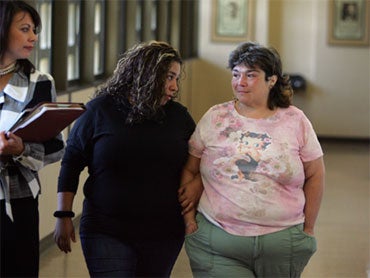 Dire Retribution For Spreading SARS
China on Thursday threatened execution for people who knowingly spread the SARS virus and cause death or serious injury, as the government attempted to force compliance with quarantines and other measures to stop the disease.
The warning from the country's Supreme Court came as the Health Ministry reported 52 new cases of SARS infection on the mainland - the lowest daily increase since April. Four new fatalities were also reported, raising the mainland's death toll from severe acute respiratory syndrome to 271.
Taiwan, however, marked its biggest yet one-day jump in infections: 26 new cases announced Thursday. Two more hospitals on the island - one in Taipei and one in the south - were forced to seal off wards to contain outbreaks.
Taiwanese officials have already issued stay-at-home orders to 10,000 people because of contact with SARS patients - and have installed video cameras in some residences to make sure they comply.
As the worldwide death toll climbed to 602, the flu-like illness continued to wreak havoc on businesses in Asia.
At a meeting in the Philippines, travel executives said SARS has caused more damage to the global airline industry than the Sept. 11 attacks and the war in Iraq combined. The industry expects to lose $10 billion this year, they said.
"At no time in the history of aviation have we ever seen declines of the magnitude that we are now seeing in the Asian region," said Thomas Andrew Drysdale, regional director for the International Air Transport Association.
The travel industry around the world will lose 6.9 million jobs this year because of SARS fears coupled with economic gloom, predicted the World Travel and Tourism Council, which represents some 1,000 businesses worldwide. The United Nations has predicted 5 million tourism job losses.
More than 7,600 people worldwide have been infected by SARS.
China reported the first person known to be arrested for spreading the disease: a doctor accused of breaking quarantine and bringing the virus from Beijing to his home city of Linhe in northern China, starting an outbreak that infected more than 100 people.
"He is just irresponsible and a bad man," a health official in the region, who identified himself only as Chen, said, when asked if he believed Dr. Li Song acted deliberately. Li's father died in the outbreak.
China is trying to prevent its outbreak - the worst in the world - from spreading from the capital, Beijing, to the vast, poor countryside, where many of China's 1.3 billion people live but where so far only a fraction of the country's more than 5,100 SARS cases have arisen.
The Supreme Court warning, reported by the official Xinhua News Agency, appeared to be an effort to force compliance with quarantines and other restrictions. It cited existing laws, many of which include a possible death penalty for even nonviolent offenses, though it often isn't imposed.
The court said people who violate quarantines and spread the virus can be imprisoned for up to seven years, according to Xinhua. Those who cause death or serious injury by "deliberately spreading" the virus can be sentenced to prison terms of 10 years to life or might be executed, Xinhua said.
Chinese authorities frequently threaten harsh punishments, including possible execution, during emergencies.
Dr. Li was to be charged under a law that has a maximum sentence of three years, a police officer in Linhe said - and it was not immediately clear if the tougher penalties would apply to him.
"We haven't seen a major spread into the countryside, but we can't tell whether that might change in future," Qi Xiaoqiu, director of the Heath Ministry's Department of Disease Control, said at a news conference. "We must enhance our efforts to put SARS under control in order to contain its spread and eliminate any hidden perils."
Most of China's 100 million migrant workers have remained at their city jobs, and health officials are monitoring 8 million migrants who have returned to their hometowns, the officials said. In hopes of keeping migrants from returning home, urban employers have been told not to fire them and will be given tax breaks for keeping them employed, said Liu Jian, vice minister of agriculture.
SARS has focused attention on the decrepit state of China's rural health care system, which has far fewer doctors and hospitals than cities. The government has promised $240 million in emergency aid to rural health care.
The World Health Organization announced five more Chinese regions added to the list of areas affected by the SARS outbreak, bringing the total number of affected areas in China to 10.
The new additions are the northern province of Hebei, which surrounds Beijing, the central provinces of Hubei and Shaanxi, Jilin in the northeast and the eastern province of Jiangsu.
The U.N. health agency removed Canada from its list of affected areas on Wednesday. Ontario Health Minister Tony Clement called the decision "an absolute vindication of our public health officials."
Canada suffered 24 deaths, all in Toronto, before containing the flu-like disease.
The WHO also issued new recommendations for blood safety precautions, saying anyone who has been in contact with a SARS patient or been in a SARS-infection region should not give blood for at least three weeks. No one is known to have contracted the disease through contaminated blood, but WHO officials say they cannot yet rule out the possibility.
By Audra Ang
Thanks for reading CBS NEWS.
Create your free account or log in
for more features.