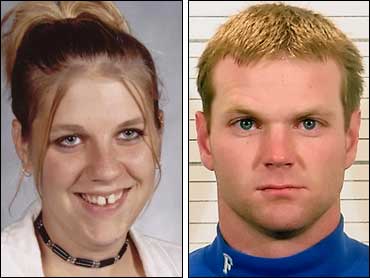 Did Teacher Strangle Teen, Go Dancing?
Seventeen-year-old Ashley Reeves was found paralyzed, covered in insect bites and near death in a densely wooded park just miles from her home and school.
Police say she had been lying there more than 30 hours, after having been left there to die by a former teacher Thursday evening.
But what the teacher — 26-year-old Samson Shelton, who has been charged with attempted murder — is accused of doing next has become a disturbing part of the case, John Mills of St. Louis CBS affiliate KMOV-TV reports for CBS News' The Early Show.
Police have identified Shelton on a videotape shot the night Reeves disappeared. In it, he is line dancing at a well known local country music club, just as he did on many Thursday nights, as if nothing unusual was going on.
"It's hard for me to believe that he would drag her out in the woods to die and then go to a place and go dancing," St. Clair County Sheriff Mearl Justus told KMOV-TV. "He's even lower than I thought he was."
Shelton reportedly frequented Wild Country, a dance club in a nearby St. Louis suburb, especially Thursdays when the television show "St. Louis Country" is taped.
---

See the accused teacher dancing at Wild Country.

---
Police say earlier Thursday evening, Shelton broke Reeves' neck with his forearm and tried to strangle her with a belt before leaving her in the woods. Reeves' vehicle was found in another park where she and Shelton may have met.

Sheriff's department investigators say friends of Reeves have said the teen had befriended the teacher a couple months ago, and the pair had been playing basketball often. Reeves was last seen by her family around 3:30 p.m. Thursday when she told them she was going to a job interview at a shoe store.

Reeves is hospitalized in serious condition.

Andrew Lehman, superintendent of Freeburg Community School District 77, where Shelton teaches, told a local TV station that Shelton is a well liked driver's education teacher and assistant baseball coach. He has been employed by at least three separate schools around St. Louis and its suburbs since he graduated college. He also wrestles professionally under the name "The Teacher" in the mid-Missouri wrestling association.

Kristi Baumgartner, Reeves' best friend, speculated Reeves tried to end her relationship with Shelton and he attacked her.

Investigators would not confirm a motive, but said Reeves and Shelton had a relationship, the Belleville News-Democrat reports.

Shelton's MySpace profile lists his interests as "baseball, pro-wrestling, badminton, line dancing, ladies, and teaching." Plenty of his online "friends" are men his age and members of the wrestling community around Smithtown, Ill., but there is no shortage of young, blonde women with suggestive photos. Most are 17 or 18 years old and some post regularly on his site.

Although Shelton has not logged in for a week, he has dozens of comments waiting on his blog citing recent news articles and calling him a "sick f***" and "a disgusting, cruel man."

Sheriff Justus told KMOV-TV: "He probably doesn't have a conscience. He can't have to do something like this."

But Gary Huwer, the principal at a school Shelton worked for in the past, called Shelton a "model" employee whom both students and teachers liked well, the St. Louis Post-Dispatch reports.

"He seemed like the perfect boy next door," Huwer said.

Huwer, like others who know Shelton, say his alleged crime seems inconsistent with the friendly and outgoing person they know. An online wrestling profile cited by the Post-Dispatch says Shelton worked out often, bulking his 6-foot-1 frame to 205 pounds.

Shelton is being held on $1 million bail in a Belleview County jail. Lt. Steve Johnson is working to build up the case against Shelton. Police are still puzzled by the tape of Shelton line dancing. They're wondering how a school teacher could commit a crime so awful and show so little remorse, Mills reports.

But investigators already have a success in the case.

"This is the first time for me, in 17 years, we were successful in finding someone alive," said Johnson. "It's a tremendous feeling."

Thanks for reading CBS NEWS.
Create your free account or log in
for more features.