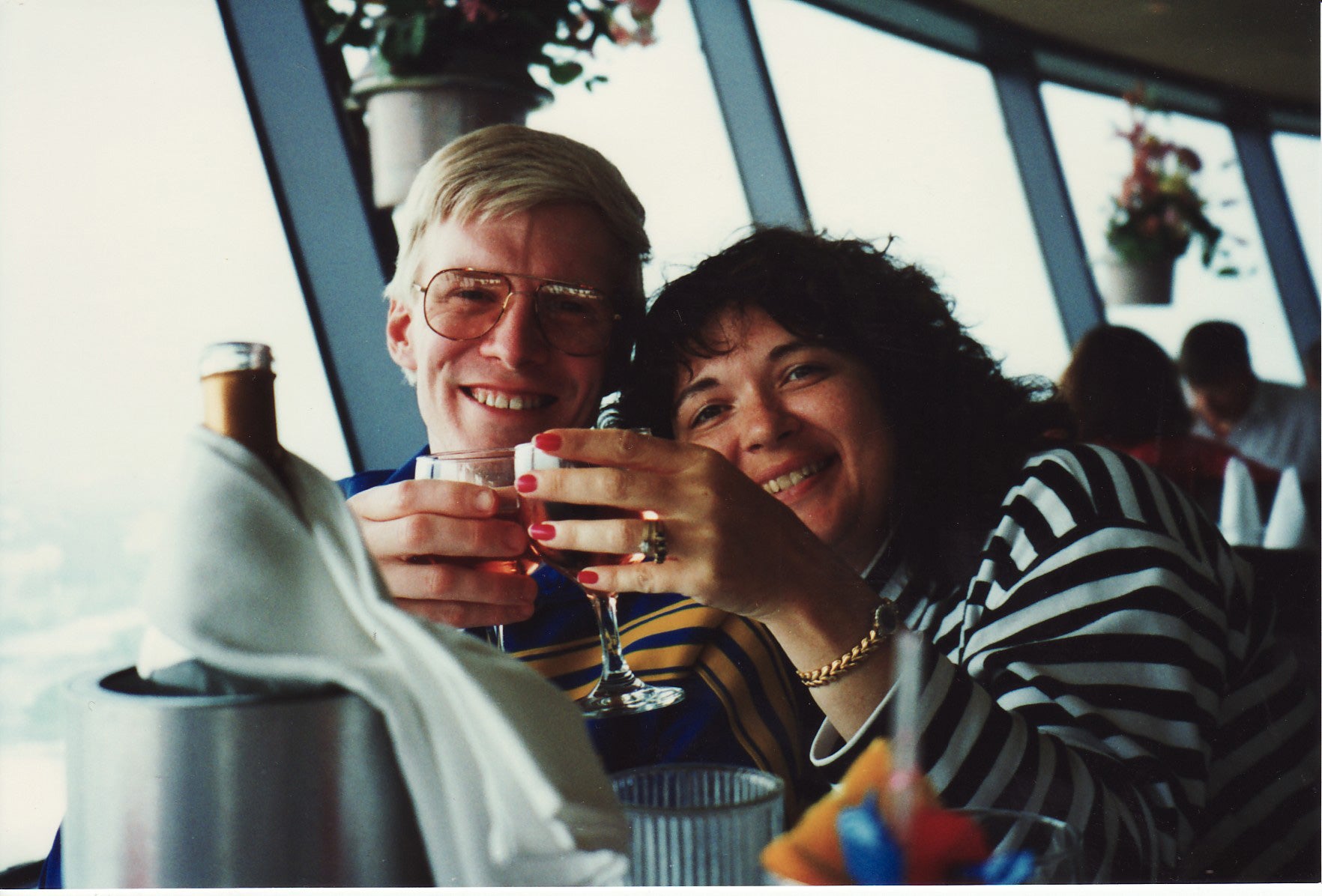 Did Ohio anesthesiologist gas his wife to death?
Produced by Alec Sirken, Clare Friedland and Avi Cohen
[This story was originally broadcast on May 20, 2011. It was updated on June 16, 2012.]
(CBS) LIMA, Ohio - As Dr. Mark Wangler mourned the death of his wife, Kathy, he found comfort in his church. He also found comfort in an old friend, Esther Erkman.
"At first, it was just lonely and devastating," he tells "48 Hours Mystery" correspondent Peter Van Sant. "The thing with Esther and I was--we had known each other for a long period of time, not romantically, you know, we had just known each other."
In fact, Esther and her husband had been friends with Mark and Kathy for years.
"Yeah, I saw them many times; they would go out with us, my husband and I on many occasions," says Esther.
Esther, a psychologist with a Ph.D., had great respect for Mark, a top anesthesiologist in Lima, Ohio.
"He's a good doctor. He's a requested doctor. He practiced for, you know, 29, 30 years with, you know, never losing a patient, never being sued for malpractice," she says.
They were brought together by an odd twist of fate. Esther had lost her spouse as well, when he underwent a gender change operation and began living life as a woman.
"Some of my friends tell me I should write a book," Esther says. "But then, I challenge them and ask, 'would it wind up in the autobiography or the fiction section,' because nobody would believe it."
The couple began seeing each other and soon fell in love.
"As people sail through life, you know, in a sense he's the anchor that I need and I'm the wind in his sails," Esther explains.
But Mark was still haunted by what he has always said was a bizarre accident when Kathy was killed by carbon monoxide poisoning Labor Day weekend in 2006.
"It happened to be a Sunday. So Kathy and I got up and went to church together," says Mark.
On that night the two were sleeping in separate bedrooms.
"I would go to bed earlier because I get up earlier to go to work and Kathy was a night owl," he explains.
Mark was sleeping on the first floor in the master bedroom.
"The next thing that I remember is waking up - or being woken up by an alarm," he tells Van Sant. "We had the carbon monoxide alarm down in the basement."
Mark says his natural gas water heater had malfunctioned, sending poisonous carbon monoxide into the duct work of the house.
Kathy was sleeping on the second floor. And horribly, with her door closed, it became a gas chamber.
Mark says he began staggering around, feeling strangely woozy and disoriented - the classic signs of carbon monoxide poisoning.
"I was nauseated. I remember vomiting somewhere along the line as I was going through the house," he recalls. "And I then go up to check on Kathy. ...She was sleeping on one of those inflatable mattresses."
Asked if she was breathing, Mark replies, "I guess she was at that point. ...I couldn't wake her up."
Mark quickly calls 911: My carbon monoxide detector is going off and my wife is having a seizure! ...I'm going to start opening all the windows and stuff, please get here quickly.
Video: Mark Wangler's 911 call
"I did do CPR on her," Mark tells Van Sant.
The paramedics rushed in, but just 38 minutes later, Kathy was pronounced dead at the hospital. Their youngest son, Aaron, who was away at college, received a call with the tragic news.
"I just cried the whole time...and it was very like...I can't believe this is real, you know like, you can't believe that your mom's gone or that even one of your parents - and especially I was 21 at the time. You don't expect to lose a parent so young."
Aaron and his older brother, Nathan, rushed to Lima to be with the family.
"Just devastating...we just sobbed on each other's shoulders," Mark says. "We bawled and bawled."
The only reason he survived, Mark says, is blind luck. He says Kathy caused the toilet in the master bathroom to overflow. Mark had opened a window and turned on a fan to air the room out.
Mark was questioned by police, but not charged.
With Esther by his side, he slowly moved on with his life and returned to work.
"You know just having somebody, an anchor to point to sanity in my life, was such a blessing," says Esther.
Fourteen months after Kathy's death, they were married. They settled into a life focused on each other and their church, traveling to Zambia on aid missions.
"We've been providing the means to have water wells drilled in that country, which just has a huge impact," says Mark.
But back in Lima, the newlyweds lived under a cloud of suspicion.
"You've talked about insinuation and you know there's sort of a whisper campaign out there - that suggests you and Mark were having an affair prior to Kathy's death. Is that true?" Van Sant asks Esther.
"No," she replies. "He didn't even hold my hand, Peter, until after my divorce was final. That's the kind of man he is."
While Mark believed the investigation was over, Allen County Prosecutor Jurgen Waldick never closed the case - always troubled by Mark's story.
"On the very night that your wife is killed by carbon monoxide, you happened to be sleeping in a bedroom with the window open and a fan going," says Waldick.
911 Operator: OK, is she still conscious, I mean is she breathing?
Mark Wangler: No, I think she stopped breathing.
And Waldick was bothered by Dr. Wangler's behavior on the 911 call.
"...at the insistence of the 911 operator only does he go back and checks to see whether she has a pulse or whether or not she is breathing," he says.
911 Operator: Sir, I need you to check for me.
Mark Wangler: No, she's not breathing!
911 Operator: Does she have a heartbeat?
Mark Wangler (screaming): No, she doesn't!
Video: Mark Wangler's 911 call
"If things looked so fishy, why wasn't Dr. Wangler charged with the crime?" Van Sant asks Waldick.
"We continued the investigation. We had our suspicions," he replies.
"Is there a part of you that wonders, 'Could he have done this?'" Van Sant asks Aaron.
"No. Never. That's never even crossed my mind," he replies. Aaron says he "never once" doubted his father.
Asked if he murdered his wife with carbon monoxide, Mark tells Van Sant, "Absolutely not. No."
Van Sant asks Esther, "Are you living with a killer?"
"No - no," she says. "You know, I - I - if I was living with the evil genius, I think I might be one of the first to know," she says.
"In fact, you have a Ph.D. in psychology?"
"Yes. I do."
"And as part of that, you can read people pretty well I take it?"
"I'd like to think so."
Kathy's family is convinced Mark has everybody fooled. That the man trained to put people to sleep had come up with a textbook murder.
Before her bizarre and tragic death by carbon monoxide poisoning, Kathy Wangler touched many lives.
"She looked right into your heart," her friend, Sherry Miller says. "And if you were a good person she was gonna pull you right into hers, and she was gonna love you with everything she had."
"There are people in this world that just naturally glow with life, and Kathy was one of those people," says friend Heidi Frederick.
She was the oldest of five siblings in a tight-knit Ohio family.
"She was always looking out for everybody," Kathy's sister, Joanne says. "She was a good sister, everybody was really close."
Kathy married Mark Wangler when they were both in their early 20s and she worked to help put him through medical school. Each summer, as a volunteer at the Allen County Fair, Kathy raised thousands of dollars for the local school district.
In her 30s, she went back to school at Ohio State University, to get a degree in business. Rodney Null was one of her professors.
"She honestly wanted to learn, grow and do more things with her life," says Null.
But most of all, Kathy was a dedicated mother.
"A very loving person, always there for my brother and I through thick and thin, always pushed us to excel, support us nonstop, supported my father," says son Aaron.
Her husband, Mark, says they were opposites.
"She was very outgoing and bubbly...I tend to be much more introverted," he says. "...a lotta people say I'm awkward around other people, and that's a fair assessment. I am rather awkward."
The early years with the children were happy ones, enjoying holidays and traveling the world. But the couple drifted apart after their sons went to college.
"For example," Mark explains, "sometimes she would come home from Walmart and pop a bag down and I'd say, 'Oh what did you get at Walmart?' And she would say, like, 'Why do you need to know?' And I'm like, 'Well, I guess I didn't need to know, I was just curious.' So little things like that."
Mark says he and Kathy never talked about separation or divorce. But by 2006, they were sleeping in separate bedrooms.
"Kathy had gained quite a bit of weight," he says. "And as she gained a lot of weight, she snored violently.
Mark was also upset by her lack of attention to housekeeping and the amount of money she was charging on credit cards...tens of thousands of dollars worth of jewelry.
"I came to find that there was about another $60,000 worth of credit card debt that I had not been aware of," says Mark.
He also discovered she had opened a secret bank account with $16,000 from their joint account.
"The fact that Kathy had set up a separate bank account, isn't that an indication, isn't that evidence that she was heading into a new and separate life away from you with her own finances?" Van Sant asks.
"Yeah, it was," Mark replies. "And we were in counseling at the time."
"Would you say that the two of you were falling out of love?"
"No, I wouldn't say falling out of love - I didn't consider that. And, you know, I loved Kathy."
But Kathy's family became concerned after Joanne witnessed a disturbing incident between them.
"They were literally having a wrestling match over a checkbook," she tells Van Sant.
"Did it upset you when you saw it?"
"Yes," she replies. "I was physically shaking ... and I don't know what made me say it, but I looked at Kathy and I said, 'Is it safe to leave you here?' And she said, 'Yes, I'll be fine.'"
Soon after, the marriage hit rock bottom.
"She kinda got emotional and broke down and told me things were bad," Kathy's sister, Diane, says. "She said if I could imagine everything awful that could have ever been done to her, other than being beaten or raped, Mark had done it to her. And she said when the time was right, she would sit down and explain everything to me, but we never got that time."
But Mark tried to blame Kathy, making a stunning comment to her mother, Sara Schlarman, a year before Kathy's death.
"He said, 'First place, I want to tell you one thing, 'Your daughter's a monster.' I said, 'In what way is she a monster?' 'Well, she doesn't do what I tell her to do.' I said, 'That's a monster?'"
Kathy's mother suggested a divorce.
"'Oh,' he says, 'I can't get a divorce.' Then he quoted a couple of doctors that had gotten divorces and how much it cost them," says Sara.
But Kathy told her sister, Joanne, she was reluctant to get a divorce, too.
"I said, 'Why can't you?' and she said, 'He will cut off the boys.' And I said, 'What's wrong with that, they're in their 20s, they're out of the house.' And she goes, 'I can't leave, he'll cut the money off to the boys.'"
With tensions escalating in the summer of 2006, Kathy told various friends about her fears.
"She had told me that her husband was out to destroy her - financially, emotionally, psychology, in the community, at her church. That he was in the process of working to destroy her," says Sherry Miller.
Rodney Null remembers his last conversation with Kathy.
"And I say to her, 'Well, take care of yourself' - the usual getting-ready-to-say-bye kind of comment. And she says, 'Oh, I will,' says, 'you have to when somebody's trying to destroy you.' And she says, 'I mean that literally.' And three days later she's dead. I gotta tell you, that leaves a feeling in the pit of your stomach, your gut, that something sinister, something evil's happened."
By early 2007, four months had passed since Kathy Wangler died from an apparent accidental carbon monoxide poisoning. Somehow, while sleeping in the same house, Dr. Mark Wangler had escaped death.
Kathy's mother, Sara Schlarman, and her family were convinced Mark was getting away with murder.
"I know we all felt Mark did it," says Kathy's sister, Diana.
The police investigation seemed to be going nowhere, so Sara and her daughters launched their own plan. They stayed close to Mark, pretending they believed his story.
"That's what we wanted him to think," says Diana.
"Keep you friends close, keep your enemies closer. That was the philosophy," comments Van Sant.
All the while, they were writing down Mark's actions after Kathy died, hoping to build a case against him.
"The fake crying. Getting rid of her stuff right away," Diana reads from her notes. "He kept giving different stories about how she died."
Video: Kathy's family on Mark's behavior after her death
"He didn't want to be buried beside her and he didn't care where we buried her," says Sara.
"In the limo on the way to the grave site in Celina, Mark was kind of short with my mom," Joanne recalls. "He told a joke about how people were dying to get in the cemetery."
Convinced Mark was responsible, Sara called the Allen County Sheriff's Office with an ultimatum.
"And I said, 'You people have never returned our phone calls. ...We have now decided that we're going to the media,'" she says.
Soon after, the Sheriff's Department assigned Clyde Breitigan, a veteran investigator, to the case.
"The family had some doubts but the family wanted answers," says Breitigan, who had questions of his own.
"What did kill her? They were looking for the answer.... was it the hot water tank? ...Was it something inside that home?" he says. "I conducted like 80 or 85 interviews with different people."
Breitigan quickly learned from Kathy's family that the Wangler marriage had become a disaster.
"Mark and Kathy treated each other equally evil, and that they would do things to each other just to get under each other's skin," he says.
And Mark's story of a faulty water heater that emitted carbon monoxide wasn't quite adding up. Breitigan interviewed gas company workers who had been at the Wangler house after Kathy's death.
"And they examined and tested the water heater, the furnace, the vent-free fireplace," Breitigan says. "They could not find anything malfunctioning on the morning of the 4th."
And Mark's behavior - his lack of anger - struck Breitigan as odd.
"From my point of view, if my wife had died in our home and there was any suspicion from an appliance I would be...yelling and screaming 'OK, who installed this, and what did you do wrong?' None of that ever took place here," he says.
And there was that seemingly strange coincidence - an anesthesiologist whose wife dies from being gassed.
"As an anesthesiologist, you know about carbon monoxide," says Van Sant.
"Not really," Mark replies. "Carbon monoxide isn't something that comes into play as an anesthesiologist."
But Breitigan learned from one of Mark's medical partners, that simply wasn't true.
"He had told me Dr. Wangler was a master with gases and that he had been trained in the old-style anesthesiologist techniques and knew all about gases, knew all about carbon monoxide," explains Breitigan.
But where exactly would the carbon monoxide have come from? Breitigan figured right in Dr. Wangler's own garage, which held two cars and a generator... with a camper in the driveway.
"By that point I had formulated a theory that, a mobile source of carbon monoxide - one of the cars, the generator, whatever, had introduced carbon monoxide into the home," says Breitigan.
Police performed tests on the camper.
"...and either by using - and I can't prove or disprove this - but use of a hose, introduced, the carbon monoxide into the furnace with the furnace motor running," Breitigan continues.
The poisonous gas traveled through the duct work of the house into Kathy's bedroom, two floors above, killing her.
Mark's defense attorney, Chris McDowell, says the hose theory is nonsense.
"Crazy. Wrong. Speculation," he tells Van Sant. "The hoses that were in this house were the hoses that were in anyone's home - a garden hose. And tests were performed on the garden hose, and there's no residue of this hose ... the hose theory is totally debunked."
In fact, McDowell says any theory involving gas from a motor is impossible, because that hot gas would have had to travel downward - from the first floor garage into the basement.
"According to the prosecution, the gas then goes down these steps and into the basement. It defies the laws of gravity, the laws of what gas does," McDowell explains as he walks down the steps and into the Wangler's basement. "According to them, it goes into the furnace area... and then he somehow unscrews all of these screws. ... It's absolutely bogus. It's science fiction."
But Breitigan acted on his theory. The detective got a search warrant and removed sections of the duct work from the Wangler home. He had it tested at a lab for the presence of microscopic exhaust residue.
"Their conclusions were that something had been introduced into the ductwork, and at a very high rate of speed over a short duration of time," says Breitigan.
McDowell says that's "crazy, because had that really occurred, they would have found him dead right here."
What really happened, McDowell says, was a tragic accident caused by a defective vent connected to the water heater. "And gas from this water heater that ordinarily would go outside is now trapped inside the home. And it ... eventually makes its way up to the bedroom where Mrs. Wangler is sleeping."
But police don't buy that. Three years after Kathy's death, they finally arrest Mark Wangler and charge him with murder.
"Just in a nutshell, horrible. I just had a real sick feeling," Mark tells Van Sant of his arrest. "You just feel all that energy drain out of you."
"You've gone from being a valued member of this community to, in some people's eyes, an evil genius who killed his wife," Van Sant remarks.
"Yeah. I guess that would be a correct assessment of the situation."
While awaiting trial, Dr. Wangler takes comfort in his religion.
Kathy's loved ones hope that judgment day is near.
Four-and-a-half years after Kathy Wangler's poisoned, lifeless body was discovered in her home, her husband goes on trial for her murder.
"Did you hook up a hose..." Peter Van Sant asks Dr. Mark Wangler.
"No I did not!" Mark interrupts.
"...to your motor home..."
"Absolutely not," Mark insists.
"...and gas your wife that night?"
"Absolutely not."
Kathy's family is at the courthouse to absorb every detail.
"He needs to be found guilty for everybody's sake," says her sister, Joanne.
In her opening statement, assistant prosecutor Jana Emerick cuts to the heart of Mark Wangler's motive.
"The defendant, as deeply obsessed with religion," she tells the court. "And a divorce would cause him to lose his standing and reputation in the church ...and of course, a divorce after nearly 30 years of marriage would cost him a small fortune."
In his opening statement, Wangler's attorney makes his strategy clear.
"Mark Wangler is innocent," Chris McDowell tells the court. "This case has been brought as a result of a poor police investigation."
The prosecution begins as jurors watch Mark listening to himself on the 911 call. The courtroom is riveted.
Video: Mark Wangler's 911 call
"Well, first of all, he's an anesthesiologist and he shouldn't need prompting from a 911 operator to check to see whether his wife is breathing, to see whether she has a heartbeat," says lead Prosecutor Jurgen Waldick.
But McDowell says any odd behavior is because Mark Wangler, himself, was overcome by carbon monoxide.
"...because your brain is starved of oxygen. You become very confused. You become disoriented," he explains.
But the prosecution argues that Mark's efforts to give Kathy CPR were all an act anyway, because Kathy was most likely dead before he dialed 911. An emergency room doctor testifies that Kathy's body was already cold.
"What I can say is that it seemed to me, from my experience of 22 years, that she'd been dead for much longer," Rena Stein testifies.
The prosecution then introduces photos taken shortly after Kathy's death, showing soot marks above the vent in her room. They say it's tell-tale evidence that engine exhaust was used to kill her. They believe Dr. Wangler closed all the vents in the house except the one in her room.
"People will testify that those stains had been on the wall years before," McDowell says.
"Those marks were actually there before I moved to college," Aaron Wangler testifies.
He tells jurors he should know, because that used to be his room.
"So that was back in '04," he continues. "I never really cleaned my room that much at all, to be honest."
Older brother Nathan Wangler testifies the soot marks are just residue from burning candles.
"We enjoyed candles," Nathan says on the stand. "We burned a lotta candles....throughout the entire house there's actually discoloration on the walls, on the ceiling."
Investigators were never able to test those soot stains. Mark had painted the wall in the months after Kathy's death.
Yet it's not soot marks, but secrets that prosecutors hope will sway the jury - journals written by Mark Wangler... evidence Breitigan uncovered during a search of the Wangler home after a tip from Kathy's mom.
"And then I said to him, 'When they got the search warrant ... did you find the journals?' Sara Schlarman recalls. "And he said, 'What journals?' I said, 'There' journals,' because Kathy always told me that every morning he'd get up and write something in his journal."
The entries are damning. For the first time, Mark Wangler's most private, secret feelings about his wife and marriage are publicly revealed as Breitigan reads them in court:
Lord, Satan has found a weak area to attack me. My marriage and family.
Five things I have asked Kathy to improve but she has not: number one keep the house, cook, clean, make bed. Two, lose weight - she has gained around 80 pounds in the past 20 years.
The entries are extremely personal:
I feel judged and rejected by Kathy.
Kathy thinks I am boring in bed.
Kathy doesn't really listen to me.
I do not trust Kathy; I feel picked on and put down.
"I just went home after reading them every night depressed... I felt sorry for the guy," Breitigan tells Van Sant.
But Mark Wangler says the marriage counselor had told him to write down his feelings and to be brutally honest.
"We were in counseling. I was trying to reconnect," he says. "I loved Kathy."
As time goes on, the entries get increasingly desperate:
Sometimes I feel rage.
I feel trapped with no escape.
I pray that I can endure life.
Please cast Satan and his demons attacking me out from my life for a time.
"I think he thought Kathy was evil and that Satan was working through her," Kathy's sister, Joanne, says. "His mind was twisted to the point that he thought that's what God wanted him to do, to rid the world of the evil one."
I see that I am sensitive and that I tend to keep anger inside until I explode.
Dr. Wangler even wrote about taking his own life in a way that startled investigators:
Thoughts of suicide are a little strong again. Satan is attacking in a new way, this time using car exhaust.
And then on Sept. 1, three days before Kathy's death, an ominous plea to God:
Dear Lord, I place our marriage on your altar. Please act in a powerful way.
Then in November, two months after her burial, Mark writes:
And I prayed for God to act in a powerful way that night. Little did I know that, three nights later, our marriage would be changed forever.
The diaries are powerful, circumstantial evidence - but are they enough to convict the doctor of murder?
Prosecutor Waldick still has one big hole in his case. He hasn't explained to the jury exactly how the carbon monoxide got into the duct work or what engine was used.
"But as we talk now, you can't say definitively what the source of the carbon monoxide was, right?" Van Sant asks.
"No," says Waldick.
"That doesn't trouble you?"
"No."
And Chris McDowell is counting on those missing facts to set Mark Wangler free.
"There is not a single theory the government has come up with that makes any sense whatsoever," he says.
As Dr. Mark Wangler's freedom hangs in the balance, he and his wife, Esther, find strength in their faith.
"If the Lord calls me to serve him in prison, you know, as an inmate, that's what it's gonna have to be," says Mark.
"You know, we just have to be prepared for whatever happens and to accept whatever happens," adds Esther.
"This is the day of days for you, do you have some optimism?" Peter Van Sant asks Mark on the steps of the courthouse
"Yeah, the way the evidence is, it's just absolutely overwhelming so yeah, I've got a great deal of optimism," he says.
Final arguments begin with Prosecutor Jana Emerick zeroing in on Mark's suspicious behavior the morning Kathy died.
"The problem with lying is that it's the little details that catch up to you - that trip you up," she tells the court. "The defendant started to head into his own house because he wanted to take a shower. Now, if you really thought that a faulty hot water heater had just killed someone in that potentially unsafe home, the last thing you're going to do is go in there and take a shower."
Emerick dissects Mark's 911 call, saying it, too, points to his guilt:
"...consider the defendant's tone of voice and demeanor," she continues. "Does it sound a little staged, a little phony to you? Red flag."
911 Operator: Is she breathing?
Mark Wangler: No, I think she's not breathing!
Video: Mark Wangler's 911 call
But defense attorney Chris McDowell has a different take on that 911 call.
"When you listen to the tape, you can hear the panic in his voice," he says.
And he insists the prosecution never offered a clear explanation of how Dr. Wangler might have murdered his wife with carbon monoxide.
"It's their theory that it came from an internal combustion engine. If that's the case, there would be the strong smell associated with that gas. The gas and the vehicle exhaust fumes are intertwined. If you have one, you have the other," McDowell tells jurors. "The lack of the exhaust smell is strong evidence of accident."
"He thought he had a perfect crime," says Sara.
As the case goes to the jury, Kathy's mother and siblings wait and pray for a verdict of guilty.
"We're gonna put it in the hands of God... there will be justice with Kathy's death," Sara tells Van Sant.
"What is this wait like for you?"
"Terrible. No words can describe it."
But Kathy's son, Aaron, is praying for an acquittal.
"What if the verdict goes against your father?" Van Sant asks.
"I'll be devastated," Aaron replies. "I've already lost one parent. And to lose another would be - it'd be a lot."
On the second day of deliberations, "48 Hours" is with Mark Wangler at his home when he receives the call that the jury has reached a verdict.
"What are you thinking?" Van Sant asks Mark.
"[I'm] just praying that, you know, for an acquittal. That's all I can say, Peter."
In the courtroom, Kathy's mother and siblings gather on one side; her two sons on the other.
The verdict: Guilty of aggravated murder.
There are tears of relief and tears of sorrow. Mark Wangler appears stunned.
Then, Judge Richard Warren has some scathing words as he sentences him to life in prison.
"You violated the Ten Commandments: Thou shalt not kill," Judge Warren says. "You also violated the Hippocratic Oath. As a doctor, which is the first thing: You shall do no harm."
This courtroom drama isn't over. Kathy's mother is about to have the last word.
"We know you have always been a very selfish person who really did not care about our beautiful daughter, only yourself," Sara Schlarman says.
It's a moment she's been waiting for for almost five years.
"Mark, you senselessly robbed Kathy of her many most precious moments; her two sons, Nathan and Aaron. She worshipped them, did everything in the world for them."
Then, the man once revered for saving lives is led away to prison... for taking one.
"Justice has been served," Sara whispers in court.
Video: Juror talks about the 911 call
Esther Wangler vows to keep fighting to free her husband.
"He is innocent of these charges. He will be out on appeal," she tells reporters following the verdict. "We will stop at nothing to get him out on appeal. This is a cruel, cruel, biased investigation."
But it's clear this fight has taken its toll, as Esther retreats to her home, comforted by her son.
"It's just gonna be shock for a long time, just figuring out what to do day by day," she says.
For now, the case is closed. But for Detective Clyde Breitigan, there is no celebrating - only thoughts of a family destroyed.
"I feel sorry for everybody involved in this," he says. "Kathy's gone. Her family lost Kathy. The two boys, Aaron and Nathan, lost their mother. Nobody won in this case. Nobody won. It's just sad."
"She loved life ... was always happy, loved family," Joanne says. "I miss that laugh."
Mark Wangler will be eligible for parole in 25 years; He will be 80 years old. Wangler is appealing his conviction.
Kathy's $600,000 life insurance policy was split between her two sons.
Thanks for reading CBS NEWS.
Create your free account or log in
for more features.