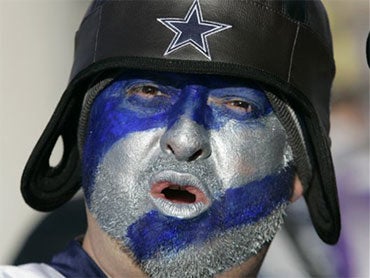 Did Giuliani Really Clean Up Times Square?
Times Square is crammed with tourists, and not just for New Year's Eve. These days, they're eager to gawk at the glittering lights of Broadway and visit attractions like Madame Tussauds Wax Museum and the MTV studios.
But 15 years ago, the place was considered a cesspool, overrun with crime and home to sex shops and peep shows. Drug addicts shot up on the street. Locals avoided the neighborhood.
The man who has taken the credit for revitalizing Times Square is GOP presidential hopeful and former Mayor Rudy Giuliani. He has made Times Square a symbol for how he tamed the evils of an out-of-control city and turned it into a tourist-friendly destination.
"It's called getting things done," he said at a fundraiser this year.
It's not that clear-cut, a closer examination of the Times Square renaissance shows.
While even his critics will say Giuliani deserves praise for his part in redevelopment of the area, the finished product was the culmination of decades of work that came before he was elected, according to lawmakers and urban planners.
"State agencies had plans in place to develop 42nd Street well before Giuliani," said Ethel Sheffer, an urban planning expert who led a quality-of-life study on Times Square during the redevelopment. Any large-scale redevelopment "takes a long time to unfold," she said.
The Times Square plan was in the works during the 1980s, when state officials and then-Mayor Ed Koch used eminent domain to condemn and take control of decrepit buildings.
But there was no legal way to control businesses until the City Council initiated a study during the administration of David Dinkins, who preceded Giuliani as mayor, that would allow them to pass rezoning laws if they could prove sex businesses were harming residential areas.
Walter McCaffrey, a former City Council member, said the idea to rezone wasn't even related to Times Square at first. It started with a neighborhood in Queens near the Queensboro Bridge that had suffered when topless bars and porn shops moved in. After the study, the City Council drew up stricter zoning laws that prohibited sex-oriented theaters, bookstores, massage parlors and dance clubs from operating within 500 feet of homes, houses of worship, schools or one another.
The law passed in 1995 - about two years after Giuliani took office.
By this time, the area was already changing, urban planning experts say. The paced quickened after the legal challenges to the zoning laws were defeated and Giuliani bore down.
Says Charles Millard, a former City Councilman and head of the city's Economic Development Corp: "I drafted the law that allowed us to do this constitutionally when David Dinkins was mayor, but until Rudy became mayor and pushed it through his planning commission, and pushed it through the city, not a thing had happened."
Others say Giuliani was in the right place at the right time, as the economy boomed in the 1990s and shifted toward tourism, real estate and Wall Street. The proliferation of Internet porn also made many sex shops obsolete.
"It was kind of like a perfect storm for him," said Arturo Ignacio Sanchez, a City and Regional Planning professor at Cornell University. The process started with Koch, picked up speed under Dinkins and really accelerated under Giuliani, he said, adding: "It fast forwards with warp speed under Bloomberg, and you have the city today."
Times Square has always lived a double life - even a century ago the 10-block stretch of busy Midtown streets was home to upscale splendor as well as hidden brothels and fetid hotels. With the invention of neon and the rise of Broadway shows, the area slowly became the entertainment center of the city.
But by the time Giuliani took office, the area had fallen into decline. In 1993, nearly 4,000 incidents of crime were reported in the area, according to the Times Square Alliance, a business group.
Part of the revival was the arrival of upscale hotels, theme stores and restaurants - businesses that Giuliani helped lure with a private-public team of developers.
Disney received a low-interest loan from the city to give a facelift to the New Amsterdam Theater on 42nd Street, considered by some to be the crown jewel of the new Times Square. The renovated theater soon drew in other businesses, such as MTV, ESPN and other media companies.
Giuliani talks on the campaign trail about the eradication of porn shops from Times Square and about declining crime rates during his tenure.
"It didn't happen by accident, it didn't happen by wishing they went away," Giuliani said in a speech in October. "It happened based on a very well-organized campaign, a study demonstrating the impact of pornography on neighborhoods, an intense battle in court that nobody thought we would win, and we won. And most importantly, the pornographers lost and they were chased out of Times Square."
There are still some sex shops in Times Square, but the majority of them disappeared long ago. Some simply relocated.
Former City Councilman Thomas Duane was among the few who voted against the rezoning laws in the 1990s, in part because he was not eager to see the sex shops simply switch neighborhoods.
"He didn't get rid of them from New York City, he dispersed them from Times Square, mostly to the industrial waterfront areas of the city," Duane said of Giuliani.
"And as Manhattan became a more attractive place to live, people started moving into those communities and now the same problem exists," he said. "It just doesn't exist much where the tourists go."
Thanks for reading CBS NEWS.
Create your free account or log in
for more features.