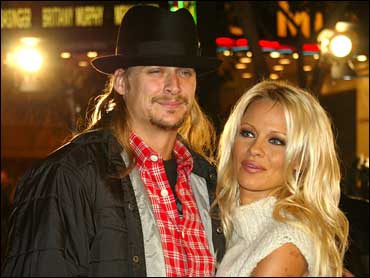 Did 'Borat' Cause Pam And Kid's Split?
After less than four months of marriage, and a handful of wedding ceremonies, Pamela Anderson and Kid Rock's marriage is already over.
A pal tells the New York Post that Rock's "male insecurity and major anger issues," are to blame and that a big fight over her participation in the film "Borat" caused tension between them.
"(Universal Studio chief ) Ron Meyer held a screening of 'Borat' at his house for a bunch of people, including Pam and Bob (Rock's real name is Robert Richie)," the model's pal tells the Post. "It was the first time Bob had seen the movie, and, well, he didn't like it."
In the film, Sasha Baron Cohen's character, Borat, falls for the "Baywatch" actress and travels the U.S. on a quest to ask her to marry him.
---

Photos: Pamela Anderson & Kid Rock's nuptials
Photos: Splits

---

"Bob started screaming at Pam, saying she had humiliated herself and telling her, 'You're nothing but a whore! You're a slut! How could you do that movie?' — in front of everyone. It was very embarrassing," the source said. "Pam thought he could have a sense of humor about the movie. She was in on the gag from the very beginning and loved doing the movie. And on the eve of what was supposed to be a very positive thing, he made it an awful night."

Ever since the outburst, things cooled down between the couple.
"Bob is just a very unhappy and angry man. Pam is very disenchanted and sad. You know, there are reasons why she never married him before. Those reasons disappeared while they were together on a boat in St. Tropez, but she knows now that they never went away. The reality is he is an insecure, angry man," the source told the Post.
The newspaper reports that Anderson left her Malibu home Sunday so that Rock could pack up his stuff and leave. She took her sons, Brandon, 10, and Dylan, 8, with ex-husband Tommy Lee, to Santa Monica. "Pam is just very happy to not be in the same house with so much passive-aggressive hostility in it," the friend said.
Rock's rep didn't return calls, and Anderson's manager declined comment on the story to the newspaper.
Meanwhile, People magazine reports that friends of the couple are shocked at the split.
"Maybe it's a spat," Richie Rich, one of the designers behind the fashion line Heatherette, told the magazine. "They're so in love, and I'd be surprised if it was over forever. I don't think she'd let her prince go."
Anderson and Rock cited irreconcilable differences as the reason for the dissolution of marriage. On her Web site Monday, Anderson posted a message that said, "Divorce Yes, it's true. Unfortunately impossible." A picture of the pair appeared next to the statement.
Earlier this month, Us Weekly magazine reported that Anderson had suffered a miscarriage.
"Reportedly, Kid never liked Pam's friends. He was still very jealous of her ex, Tommy Lee. They really were just having a really bumpy ride. The most recent of which, unfortunately, Pam did suffer a miscarriage and sources say that was the end of it. She was done trying. And that's it," Katrina Szish, a contributing editor for Us Weekly magazine, said on The Early Show Monday.
"They've been on and off, engaged before, the engagement has been off before," says Szish. "It seems like this time it's really over because they actually had time to be together and clearly they were not compatible."
Thanks for reading CBS NEWS.
Create your free account or log in
for more features.