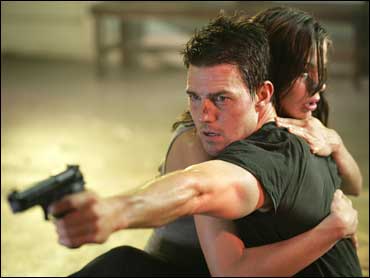 Did Bloggers Doom 'M:i:III'?
With millions of sites floating through the blogosphere, who really has time to peek at even a fraction of them? Blogophile reads them for you and presents a weekly roundup of the buzz on must-read blogs. Blogophile appears new each Wednesday, and is written by CBSNews.com's Melissa P. McNamara.
---
Did bloggers hurt the box office debut of "Mission: Impossible III"? Some think so. Plus, the government offers some employees handy tips on how to address progress in Iraq while talking about agriculture...and liberal bloggers are loving it. And, check out Neil Young's blog below.
Mission Aborted?
Nicole Kidman may still love Tom Cruise, but the same can't be said of some bloggers. "Mission: Impossible III" debuted with $48.025 million, well below industry expectations and almost $10 million lower than the franchise's previous installment, according to studio estimates. Industry analysts had expected the movie to open in the range of "Mission: Impossible II," which debuted with $57.8 million in 2000, and "War of the Worlds," which premiered with $64.9 million over the July 4 weekend last year.
The popular gossip blog Perezhilton.com proclaimed, "You read it here first. Mission: Impossible III underwhelms at the box office." Perezhilton.com had encouraged "concerned Americans" to boycott the movie. "If you believe that good should triumph over evil...If you believe in the power of the people, democracy, free speech and popping pills...Then join the campaign!," Perezhilton.com wrote. Instead of viewing "Mission: Impossible III," he encouraged readers to support Hoot, which also opened last weekend.
And other bloggers were not far behind. One blogger drummed up support for an online boycott petition and another blogger created an entire MySpace profile urging a boycott.
Tom at The Last Reel was on board. "I plan to go ahead with my theatrical boycott of the film anyway, sending a very small message to Tom Cruise, that regardless of how good the movie may be---his shenanigans of late do have consequences," he wrote.
Alley Cat had no plans to see it either. "I am sure that it's going to be a great movie. But I am 'voting' with my wallet and Tom Cruise is not going to get anymore of my $$," Alley Cat blogged. "This boycott applies to Risky Business, Top Gun, Jerry McGuire, previous MIs and a slew of other movies that I would normally watch again. If it weren't for viewers like me, he wouldn't have the visibility and celebrity power he has today to broadcast his views/beliefs."
Even political blogger Andrew Sullivan encouraged a boycott of the movie, based on claims that Cruise allegedly forced Comedy Central to censor a South Park episode about scientologists. "Make sure you don't go see Paramount's 'Mission: Impossible III,' Cruise's upcoming movie," Sullivan blogged. "I know you weren't going to see it anyway. But now any money you spend on this movie is a blow against freedom of speech. Boycott it. Tell your friends to boycott it."
But surely there are some who won't be able to stay away from the much-hyped film, right? Well, Dominique Francon has a unique way to stick it to the star. "If it is M:i:III that you want to see, then see it. You shouldn't change anything you want to do for him," she writes on VoxPopulix. "But when you buy your ticket this weekend, pay your money to any other film playing and sneak into his film. Just ask for a different film. Then, he doesn't get the money."
Crops, Trade, Bird Flu...and Iraq Progress
About 60 career appointees at the Department of Agriculture were rather surprised to receive an e-mail detailing instructions to include Bush administration talking points about the president's "strategy for victory in Iraq" in every speech they give for the department, Washington Post columnist Al Kamen reported.
"The President has requested that all members of his cabinet and sub-cabinet incorporate message points on the Global War on Terror into speeches, including specific examples of what each agency is doing to aid the reconstruction of Iraq," said the May 2 e-mail from a USDA speechwriter.
If you're wondering how to discuss Iraq amid a speech about agricultural issues, the White House offers some handy tips as well, Kamen notes. For example, they suggest this sample introduction:
"Several topics I'd like to talk about today -- Farm Bill, trade with Japan, WTO, avian flu...but before I do, let me touch on a subject people always ask about...progress in Iraq."
And if officials need to speak about the productivity of American agriculture, they can transition into Iraq this way:
"But, before I begin discussing the productivity of American agriculture, I'd like to take a moment to talk about a nation that is just beginning to build its own agricultural production. Iraq is part of the 'fertile crescent' of Mesopotamia. It is there, in around 8,500 to 8,000 B.C., that mankind first domesticated wheat...."
The e-mail (and column about it) was a gift to liberal bloggers.
"It would be hilarious if it wasn't so scary at the same time. It's propaganda at its finest...or most absurd. Can't decide which," Musings of the Great Eric blogs.
Jamie at Stygius thinks "If there's any way to undermine your own agriculture policy, it's got to be trying to link it to Bush's Iraq adventure."

Steve Benen at the Carpetbagger Report offers his own speech-making tips. "The Department of Agriculture? In every speech? I can see it now," he blogs. "Ladies and gentleman, we've seen a 4% increase in the demand for food stamps over the last year, and, by the way, stay the course, don't cut and run, we'll fight them there so we don't fight them here. Thank you for your attention."
But other bloggers are troubled that experts would have to be informed about the link between agriculture and terrorism in the first place. "If I were at the level I would find it as an insult," Native Son writes. "Our high ranking government agency officials are supposed to be subject matter experts in that particular field and if there are any positive or negative links between agriculture and terrorism, shouldn't they all ready known about them?"
A Sign Of The Times
How much have times changed? Well, Neil Young has a blog and yes, a MySpace profile.
To help promote his new album, "Living with War," Neil Young's record company launched a fairly extensive online campaign, spreading the anti-war message permeating his songs. And the method appears to be working. His blog was recently the 12th most cited. One of the top posts included a link to an affiliate site where users can link to the entire album and play it free on their own sites.
The blog includes resources like concert schedules, song lyrics, a production timeline, interviews, and a Showbiz Tonight video on YouTube. Young and his marketing team are so techno-savvy that fans can even send Young an Instant Message on his MySpace profile and add him as a "friend." (He's already a popular guy, with 23,729 friends.)
The singer's method appears to be attracting even young bloggers who may not have been tuned in to some of his earlier work. For example, John Boy Walton writes on Young's MySpace comments, "hey neil u absolute legend man i love ur music so much and im 17 and from the isle of wight ur awesome man much love."
Tell Brojo encourages young listeners to give the singer a try. "He might be Neil Old to some of you, but he is a real artist who can still really bring it. And I think he really tells it like it is with this one," the blogger writes.
Young's decision to offer free streaming of his album seems to have attracted some new fans as well. "As a musician Neil Young has never been my 'style' so to speak," Semiexpat writes. "But, I have to say that his new album "Living with War" that is streaming for free on his website has moved me."
Not surprisingly, many liberal bloggers champion his song "Let's Impeach the President" online. "He sticks it to the, uh, man behind the curtain. I played the free download all day at work Monday, listening in with my subversive ear phone," John Hamilton blogs.
John Sarvey writes on Buttermilk & Molasses that he is a fan. "Neil Young threw together an album recently to gnash his teeth about the war in Iraq and the general crapshoot we call the Bush administration. It rocks. It honestly does," John blogs.
Reading Blogs Is So Yesterday
If simply reading political bloggers' words is not enough for you, you are in luck. Several political bloggers have begun creating video-blogging sites with political discussions you can view on line.
Bloggingheads is one popular example that is generally politically liberal, but features conservative pundits as well. Started by Robert Wright, a senior fellow at the New American Foundation, and Mickey Kaus, who writes Slate's Kausfiles, the site has a very simple premise. It offers viewers an opportunity to see some well-known political pundits debating issues on the computer screen. Mr. Wright and Mr. Kaus appear to talk to each other from their home offices.
The site is a no-thrills forum, featuring the pundits and their guests sitting in their homes or offices discussing the political issue du jour. As a caveat, you have to really, really love politics – and I do – to enjoy an entire "diavlog," as the site calls its video discussions.
This week's discussion was a 30-minute chat about FDR (Is Roosevelt like Bush? How would FDR have handled Katrina, Was Eleanor Roosevelt a lesbian?) between Newsweek's Jonathon Alter and Kaus. Other recent discussions included Harvard author Kaavya Viswanathan's alleged plagiarism and Stephen Colbert's Correspondents Dinner comedy routine.
Guest pundits have included the National Review's Jonah Goldberg and Atlantic Monthly's Ross Douthat (who may own a bird, judging by the chirping audible in the background of his diavlog.)
Michelle Malkin has also started a new videoblogging venture for conservatives, called Hot Air. She describes it as "the world's first, full-service conservative Internet broadcast network." Malkin's broadcasts feature video clips of people in the news, ranging from Bush impersonator Steve Bridges on "Meet The Press" to CNN's broadcast of Porter Goss' resignation as CIA chief. Malkin's vblog is able to draw in viewers from her regular blog as well
Atlas Shrugs is another conservative political video blog, though smaller in scale. Atlast Shrugs features the video blogger mostly discussing her views of political issues in a way a blogger might write it. Lorie Byrd at PoliPundit describes it as "like sitting with a friend listening to her chat about the latest headlines." "I can easily envision an all Vlog cable channel one day. If I had the money I would start one myself," Lorie writes.
John Hawkins at Right Wing News says you can "absolutely" expect to see "a lot more video blogging. "But, will video blogging replace blogging as we know in the foreseeable future?," he asks rhetorically. "It seems unlikely. But still, vlogging is a great addition to the quiver for bloggers."
Perhaps good news for those less video-savvy bloggers.
By Melissa McNamara
Thanks for reading CBS NEWS.
Create your free account or log in
for more features.