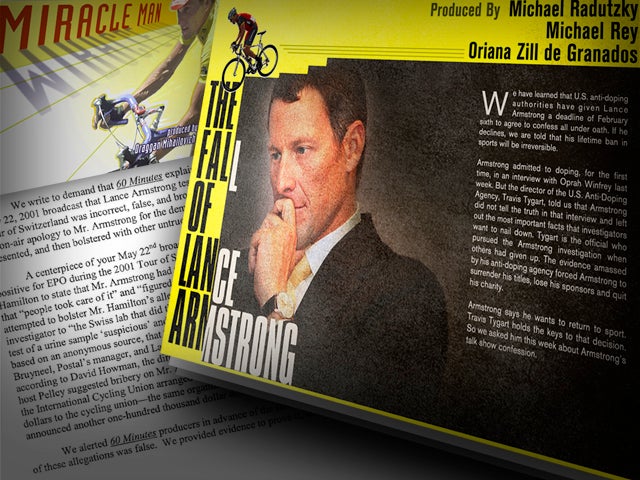 Did 60 Minutes help create the myth of Lance?
Thirteen years ago, 60 Minutes aired its first story on Lance Armstrong, called "Miracle Man." And miraculous, it was. A cancer survivor wins the Tour de France, beats back critics, and gives hope to...just about everybody. With that first story in 2000, did 60 Minutes help create the great myth of Lance Armstrong?
"We absolutely helped create the myth," CBS News Chairman Jeff Fager told Overtime. "We put him on our broadcast in front of millions and millions of people, called him Miracle Man-- we wanted to believe it. Who didn't? It was an unbelievably inspirational story. But we were duped."
Back then, almost everyone was duped by Armstrong's claim that he rode a clean race to the top, but 60 Minutes stayed on the story, and over the next 13 years, the reporting team would produce four investigative reports that exposed a grand doping and cover-up scheme with Armstrong at the center of it.
"In the end, as much as we were duped, we played a huge role in bringing this story to the public, says Fager, who oversaw all of 60 Minutes' reporting on Armstrong and performance-enhancing drugs in the sport of cycling.
Fager's lead reporter on the story was Michael Radutzky, a veteran 60 Minutes producer who describes his behind-the-scenes interactions with Armstrong in the above Overtime video: "He just outright threatened us if we move forward with the [doping] story and told me that there was gonna be hell to pay for me personally" if the story slandered Armstrong.
How did Radutzky respond? "When someone threatens you, generally you're onto something," he says.
Radutzky's team aired their latest story this week, called "The Fall of Lance Armstrong." It features an interview with U..S Anti-Doping Agency director, Travis Tygart, who doggedly investigated Armstrong for years and, last October, issued a 1000-page report concluding that Armstrong had run the most sophisticated doping program ever seen in sport.
"You look for people like Travis Tygart in the world," says Jeff Fager. "I really think he's an American hero. He's the one who caused the fall of Lance Armstrong all by himself. He never gave in, he never backed down, under relentless pressure." Tygart's investigation led to a long-overdue confession by Armstrong in a televised interview with Oprah Winfrey.
Now that Armstrong has publicly confessed to cheating, you might think the Lance saga is finally over. But Fager says there's still more reporting to be done. "It's not over," Fager said. "I think he'd like to think it's over, but it's not."
Photos of Jeff Fager and Michael Radutzky courtesy of Matt Richman/CBS News
60 Minutes Book Art courtesy of Robert Corujo and Bruce Jensen
Thanks for reading CBS NEWS.
Create your free account or log in
for more features.