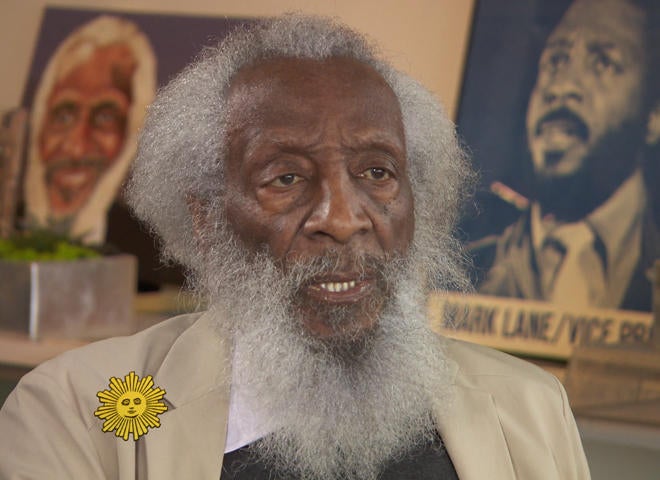 Dick Gregory, comedian who found humor while confronting racism, dead at 84
Legendary comedian and civil rights icon Dick Gregory, who overcame a biased system all the while marching for civil rights, has died, his family announced Saturday. He was 84.
"It is with enormous sadness that the Gregory family confirms that their father, comedic legend and civil rights activist Mr. Dick Gregory departed this earth tonight in Washington, D.C.." his son, Christian Gregory, announced on social media. "The family appreciates the outpouring of support and love and respectfully asks for their privacy as they grieve during this very difficult time. More details will be released over the next few days."
The cause of death is still unclear.
Gregory first made his name, along with contemporaries Bill Cosby and Richard Pryor, by focusing his wit on something that was no laughing matter: Racism in America.
Gregory began performing comedy while in the Army, but got his first big break in 1961, with a 15-minute tryout at Hugh Hefner's Playboy Club in Chicago.
In an interview with "CBS Sunday Morning" in June, Gregory said he "pushed that white boy out of the way and ran up there and go up on stage. Two hours later, they called Hefner. And Hefner came by and they went out of their mind. Out of their mind!"
But white comics had an advantage where it really mattered: At the career-making "The Tonight Show with Jack Paar," he said "white comics could sit on the couch; a black comic couldn't."
Gregory said that when Paar's producer called him a few months later with an invitation to appear on "The Jack Paar Program," he hung up.
"Hung up!," he told "Sunday Morning. "And then the phone rang again. It's Jack Paar. 'Dick Gregory, this is Mr. Paar. How come you don't wanna work my show?' I said, ' 'Cause the Negroes never sit down.' 'Well, come on in, I'll let you sit down.' And that's how it happened. I came in, did my act, went to sit on the couch. It was sitting on the couch that made my salary grow in three weeks from $250 working seven days a week to $5,000 a night."
He didn't just fight racism in the comedy industry, he wanted to fight for change in America, too. He joined the civil rights movement, telling Ed Bradley of "60 Minutes" in 1989 that he "chose to be an agitator." His wife, Lillian, and their ten children join in.
His oldest daughter, Michelle, now a college professor, recalled to "CBS Sunday Morning" that she was first arrested at age five.
"We would sometimes see the news footage of our father being beaten," said Michelle. "And sometimes it was the police beating him, and sometimes it was folks who were upset about the protesting he was doing. But we always saw our father come home. And I think it was important for him, for his kids to see, 'I'm okay. And this is important, what I'm doing.'"
Son Christian Gregory, a chiropractor, says he was arrested six or seven times before the age of 12.
Summer vacations, Christian says, were filled with marches, voter registration drives, and a lot of humor. "It felt odd sometimes to be laughing when you were involved with something that was so life-altering and difficult," he told Moriarty. "But laughter, it was healing for us."
In Gregory's book, "Defining Moments in Black History: Reading Between the Lines," he said Rosa Parks told her the reason she gave up the seat on the bus wasn't because she was tired.
"She sounded almost like she was in a trance: 'I just couldn't get Emmett Till off my mind,' she said," Gregory wrote.
In 1968, when segregationist George Wallace ran for president, Gregory decided to jump in the race too. He won nearly 50,000 votes as a write-in candidate for the Peace and Freedom Party.
In 2017, when the presidency of the first black president had ended, Christian Gregory said his father is "honored" to have been part of the trajectory in the nation's history to Mr. Obama.
Thanks for reading CBS NEWS.
Create your free account or log in
for more features.