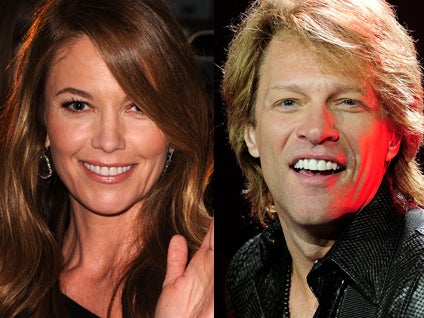 Diane Lane "a Little Fuzzy" on Relationship with Bon Jovi
NEW YORK (CBS) Diane Lane isn't saying much about her relationship with rocker Jon Bon Jovi - but a new book is.
The actress says she's "a little fuzzy" on the details of her relationship and breakup with the rocker in the '80s.
Pictures: Diane Lane
Pictures: Jon Bon Jovi
In the book "Sex, Drugs and Bon Jovi," the band's former tour manager Rick Bozzett claims that the couple's relationship fell apart when Bon Jovi caught Lane partying with guitarist Richie Sambora.
Lane "was young and wild and loved to party. But she loved to party so much that Jon caught her partying with Richie Sambora," Bozzett writes in the book, according to the Daily News. "That wasn't a good day for Jon's relationship with Diane, to say nothing of Jon-Richie relations."
When asked about the relationship, Lane told the newspaper that the relationship took place "a quarter of a century ago, so I'm a little fuzzy."
"Some people will just try and sell a book, and I can't blame them," Lane said, adding, "They can make up what they like. What was that line from the Cars' song, 'Let the Good Times Roll'? 'Let them say what they want, baby!'"
While she admits to being a "a little rough-and-tumble" back then, she says, "it got me in much less trouble than would even show up on today's radar."
Lane has been married to actor Josh Brolin since 2004. Bon Jovi married his high school sweetheart, Dorothea Parker, in 1989.
Thanks for reading CBS NEWS.
Create your free account or log in
for more features.