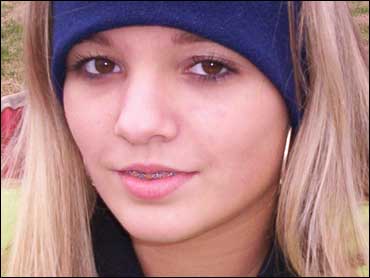 'Devastated' Teen Back With Family
Kara Beth Borden, the 14-year-old girlfriend of David Ludwig, 18, the teen accused of killing Borden's parents and fleeing with her to Indiana, was reunited with her family in Pennsylvania.
But, as CBS News correspondent Sharyn Alfonsi reports, it remains unclear what part Borden may have played in the crime.
Police are now calling Borden a victim, Alfonsi says. She is not under arrest. But they say they're not closing the door on the possibility that she may have had some role in the events that unfolded. Since she is 14 years old, there is also the question of possible statutory rape charges for Ludwig.
Warwick Township Police Chief Richard F. Garipoli Jr. tells CBS News, "Kara's upset, she's crying. She's a 14-year-old child and we seem to forget that. She's devastated."
A prayer service is planned Wednesday night for the slain couple in their hometown.
Monterey Chapel church elder George Landis says "only God knows the purpose" of their deaths. He adds that "Mike and Cathy are in a better place."
Ludwig did not fight efforts to return him to Pennsylvania Tuesday. A Pennsylvania judge ordered him held without bail. He was not represented by a lawyer at the arraignment. A preliminary hearing was set for Nov. 23.
Indiana police captured Ludwig on Monday after the car he was driving slammed into a tree during a chase. He is suspected of shooting Kara's parents, both 50, in their Lititz home early Sunday after an argument over the teens' relationship.
Ludwig and Borden were both home-schooled teenagers from Lititz, a small town in Amish country about an hour west of Philadelphia. Garipoli told The Early Show co-anchor Julie Chen that murder suspect David Ludwig was "being very quiet" Tuesday, and appeared to be in a state of shock.
Police say Ludwig killed Borden's parents, Michael F. and Cathryn Lee Borden, early Sunday after an argument about her curfew when she came home late. The shootings happened at the family's home near Lititz, Pa., about 60 miles west of Philadelphia.
He faces preliminary charges in Indiana of criminal recklessness and resisting law enforcement, authorities said. Police in Pennsylvania issued an arrest warrant on charges of criminal homicide and kidnapping.
Few details were known about the pair's trip. Authorities said they don't know the route they traveled, if they had family or friends in Indiana or if they were simply passing through the state.
The Bordens, both 50, were apparently shot once each in the head, authorities said. Mike Borden worked for a printing company, said neighbor Tod Sherman.

"It's totally changed the fabric of our community," one neighbor of the Borden's murder told CBS News. "They were wonderful people and they will be very sadly missed."
Kara's 13-year-old sister, Katelyn, told investigators her parents were shot after they argued with Ludwig for about an hour, according to court papers.
Katelyn said she saw Ludwig shoot her father, and then ran into the bathroom, where she heard a second shot, presumably the one that killed her mother, court papers said. Ludwig then ran through the house calling for Kara, she told investigators.
The couple's 9-year-old son ran to the neighbors, who called 911.
"It's completely insane, completely insane," Lancaster County, Pa., Coroner G. Gary Kirchner said. "This isn't a Romeo-and-Juliet deal. This is far worse than that."
Both Ludwig and Kara maintain Web sites. Hers refers to interests in soccer, art and her Christian faith; his says he enjoys "having soft air gun wars" and claims expertise in "getting in trouble."
"(Cathryn) was concerned that Kara was boy crazy like many young teens, but she was e-mailing back and forth and she poured her heart out to me, 'What should I do,' and 'What a situation,' you know, trying to avoid tragedy," family friend Reba Zimmerman said on CBS News' The Early Show.
An alert for the girl was issued across the East, and police in Pennsylvania and Indiana investigated reported sightings of the pair as they made their way west in a red Volkswagen Jetta.
Authorities received a report Monday morning of a vehicle matching that description at a truck stop near Fort Wayne. Troopers went to the area, but the car was gone.
Information about the car was broadcast to police statewide and troopers spotted it around midday on I-70 in Belleville, Bursten said.
Ludwig got off the interstate and led them on a five-mile chase at speeds of 90 to 95 mph on a two-lane state road, police said. Trooper David Cox said Ludwig was "very reckless and very dangerous at that point," meeting vehicles head-on and running them into a ditch.

Thanks for reading CBS NEWS.
Create your free account or log in
for more features.