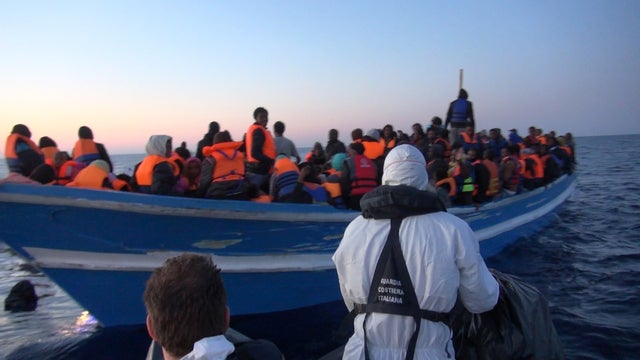 Desperate migrants dying in effort to reach Europe
Syrian Ahmad Zaid al-Abdu knows he and his family could have died like hundreds of migrants did off the Libyan coast last week when their overcrowded boat capsized and sank. But he says staying in Aleppo would have meant certain death. Clarissa Ward speaks to him and his family before they were smuggled by rubber boat from Turkey to Greece. She also reports from aboard an Italian ship like the ones those who died off Libya last week were hoping to be rescued by. Her story, about the rising number of migrants trying to reach Europe, will be broadcast on 60 Minutes Sunday, April 26 at 7 p.m. ET/P/T.
Ward spoke to the family in a Turkish port where smugglers operate. Al-Abdu's pregnant wife, Fatima, cannot swim. "I am afraid...for my children...my husband... myself that we will drown...we are throwing ourselves into danger," she tells Ward. "God will protect us, but I am afraid."
The trip would cost $12,000: $6,000 each for her and her husband. Their four children were young enough to not be charged. Al-Abdu says he got the money by selling their home in war-torn Aleppo, where starvation could kill them if bombs or bullets did not. "It's better than staying in my own country," says al-Abdu. "There might be a chance of dying on the way, but in Syria, death is guaranteed."
He thought he was lessening the risk for his family by choosing a larger boat, but last-minute problems forced them to take a crowded rubber raft for the nighttime crossing. Fatima suffered a miscarriage along the way, but the family was able to reach a Greek Island. Footage shot for 60 Minutes by another Syrian refugee making the same trip by day documented the experience al-Abdu and his family endured.
So far, up to 2,000 migrants have already died this year counting the estimated 800 who perished last week off Libya. Many of those saved were rescued by the Italian Coast Guard. Overcrowded boats make distress calls to the Italians after leaving the African Coast because a rescue by the Italians means they get to go to Italy, which has become a gateway to Europe.
The Italian Coast Guard allowed Ward and her camera crew onboard one of their ships from which they were able to record a rescue at sea and speak to the migrants. Italy is bearing most of the burden in this humanitarian crisis mostly due to its proximity to Africa. Critics charge the reason rescue efforts are limited is because the deaths in the Mediterranean serve to lessen the numbers of migrants willing to take the risk.
That's not the way Italian Coast Guard Captain Leopoldo Manna sees the situation. "I believe that they are so desperate that nothing will stop them," he says, standing in a control room from which he and his team coordinate the rescues. "It's difficult to explain that we sometimes have 25 boats asking for rescue. We don't exactly know where they are." He tells Ward he feels alone. "Alone because I have my guys, my ladies," he says, gesturing to the staff around him. "But I don't have other help and I need to be helped," says Manna.
Thanks for reading CBS NEWS.
Create your free account or log in
for more features.