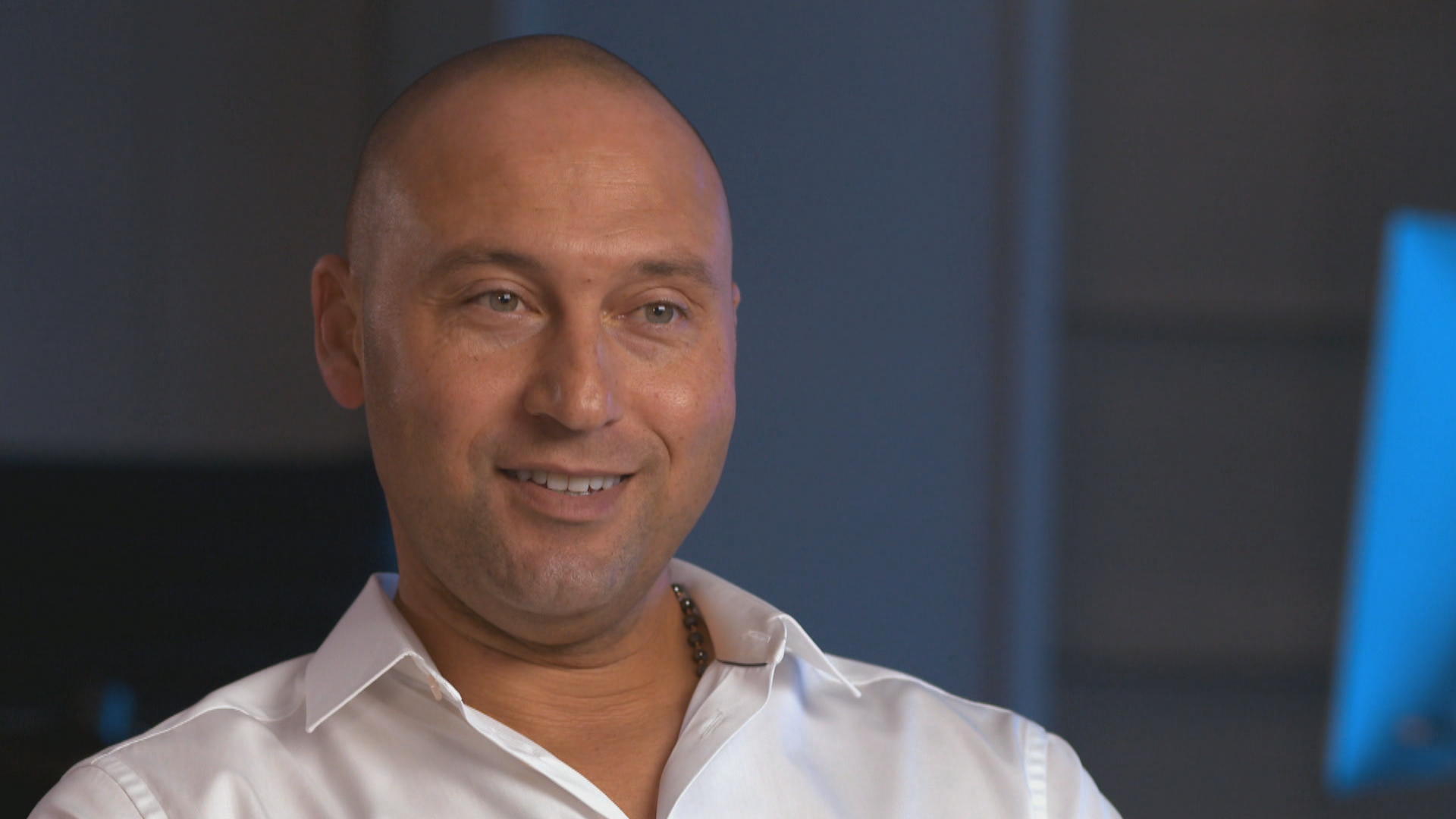 Derek Jeter on his new role as Marlins CEO, criticism over his controversial player trades
The Miami Marlins are looking very different this season, including at the top of the franchise where Derek Jeter now sits as co-owner and CEO. But the onetime New York Yankees captain is facing more than just a new challenge. He's been dealing with some rare and harsh criticism for reducing the team's payroll by trading several of its top players, including national league MVP Giancarlo Stanton to his former team.
"CBS Evening News" anchor Jeff Glor spoke with the future Hall of Famer to talk about this next chapter in his life, and what's ahead both on and off the field.
Jeter has taken the field thousands of times, but doing so as an owner is a different ballgame. A generation ago Jeter stepped into the most storied franchise in sports and won five World Series championships in 20 years.
In Miami, he's essentially starting over. He traded away national league MVP Giancarlo Stanton to his former team and removed a number of longtime employees. It has not been an entirely smooth transition.
"Honestly, I don't really pay much attention to it, man. I – I'm an optimist. You know, I'm positive by nature and I try to look at the fact that we do have an end game here," Jeter said of the criticism his actions have garnered. "Everyone gets criticized."
But this criticism is different than what the former player has fielded before.
"Well, I think it's easier to criticize, we haven't even played a game yet. Right? The bottom line is we're trying to fix something that's been broken," he said.
Jeter did retain the team's manager, another Yankee legend, Don Mattingly. The two played together briefly in the 90s.
"I think we're probably fairly aligned as far as, you know, the way we think and about going about it," Mattingly said. "People are like, 'it's all Yankee stuff.' Well, it's not such a bad example. You know, it's not such a bad place to have come from and to have learned from."
Ironically, the last time the Marlins made the playoffs was in 2003 when they went all the way, against the Yankees. Jeter says he's still a fan of his former team -- unless the Marlins are playing them.
"I mean, this is an organization where I owe everything to. And you know, I have a great relationship with the Steinbrenner family, I will continue to do so," he said. "But it's, yeah, it'll be strange when we play the Yankees because there hasn't been a day in my life that I've rooted against them."
Jeter has little idle time these days. He and his wife Hanna just welcomed daughter Bella six months ago.
"It's by far, the most gratifying thing I've ever been a part of," Jeter said. "Because regardless of how your day went at work, when you get home, and you see a smile on your daughter's face, it makes it all worthwhile."
It is his daughter's generation that he seems focused on – building baseball for the future and being exceedingly careful about discussing baseball's problems of the past.
"Roger Clemens, Barry Bonds, those whose names have been associated with PEDs. Should they be in the Hall of Fame?" Glor asked.
"It's a tough question, right? It's, you know, a question for if someone is accused, or someone has proven to do.... You know, some opinions change over time. Some people are bullish on their opinions. It's tough."
"You're dancing around this," Glor said.
"Well, yeah, I am, you know why? Because, you know, I've played with players, you know, you play with guys that you built relationships with over time and you get close to them, and you develop a bond, and people make mistakes. Not saying you can condone those mistakes. People do make mistakes, but yeah, you're right, I mean, it is a tough question. And you know, I don't make those decisions," Jeter said.

Of his legacy as an owner, Jeter's committed to Miami.
"That we made this a fun place to come. That we built something that they can be proud of," he said. "I didn't get into this to have an exit strategy. I'm here to do it….in Miami."

The Marlins are scheduled to play the Yankees in spring training on March 11. It'll be worth the price of admission to see the former Yankee captain on the opposite side of the field.
Thanks for reading CBS NEWS.
Create your free account or log in
for more features.