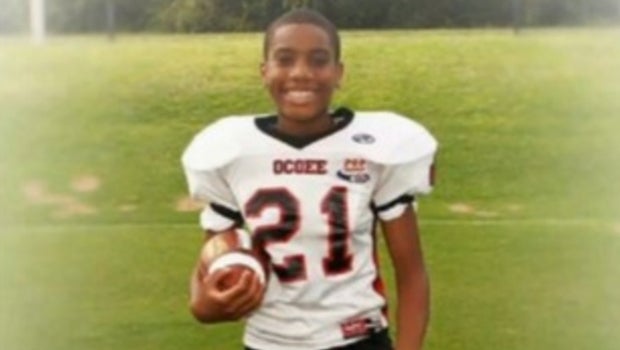 Cops: Teen fatally shot by cousin on hoverboard
ORLANDO, Fla. -- Authorities in Florida say an 18-year-old lost his balance on a hoverboard and accidentally shot his 13-year-old cousin in the back of the head.
The shooting happened Sunday in Orlando. His family told CBS affiliate WKMG Lavardo Fisher died Monday night.
The Orange County Sheriff's Office said Lavardo was visiting a relative's home with two 18-year-olds when one of the older teens found a gun in a bedroom and started playing with it.
According to an incident report, one of the older teens had the gun and was on a hoverboard when he lost his balance and the gun went off, striking Lavardo.
Authorities said he wasn't breathing when first responders arrived. He was taken to the hospital in critical condition.
Tony Snellings, who lives next door, told WKMG he had just arrived home when he heard a gun go off.He spoke with Fisher's father moments after the shooting.
"He's pretty devastated. He called me and I just told him he needed to get home, and told him what was going on and about five minutes later I saw him running down the street, and he was pretty messed up about it," said Snellings.
The cousin told deputies he didn't mean to shoot the gun. He hasn't been charged.
The gun was owned by 35-year-old Walter Morame. He wasn't at the home when the shooting occurred but was arrested later Sunday on charges of possession of a weapon by a felon.
WKMG reporters heard Morame saying "I love my nephew" as he was placed in handcuffs. Records didn't say whether he's hired a lawyer.
Football coach Lo Wood, who coached Lavardo for several years, described him as a smart teen who excelled at academics and was very close friends with his children.
"You has everything you can ask for, you know from the home front, you know to the brains to the academics to the athleticism. He had it," Wood told WKMG. "He strived to be the best, so they knew when he came around he always was, we have this motto called the Four H's. Stay humble, stay hungry, keep your head up when things get tough and have fun. That was Lavardo."
Snellings said it was a "close knit family, well-rounded. I think it's a case of kids goofing off and playing with guns, not knowing what can happen."
Thanks for reading CBS NEWS.
Create your free account or log in
for more features.