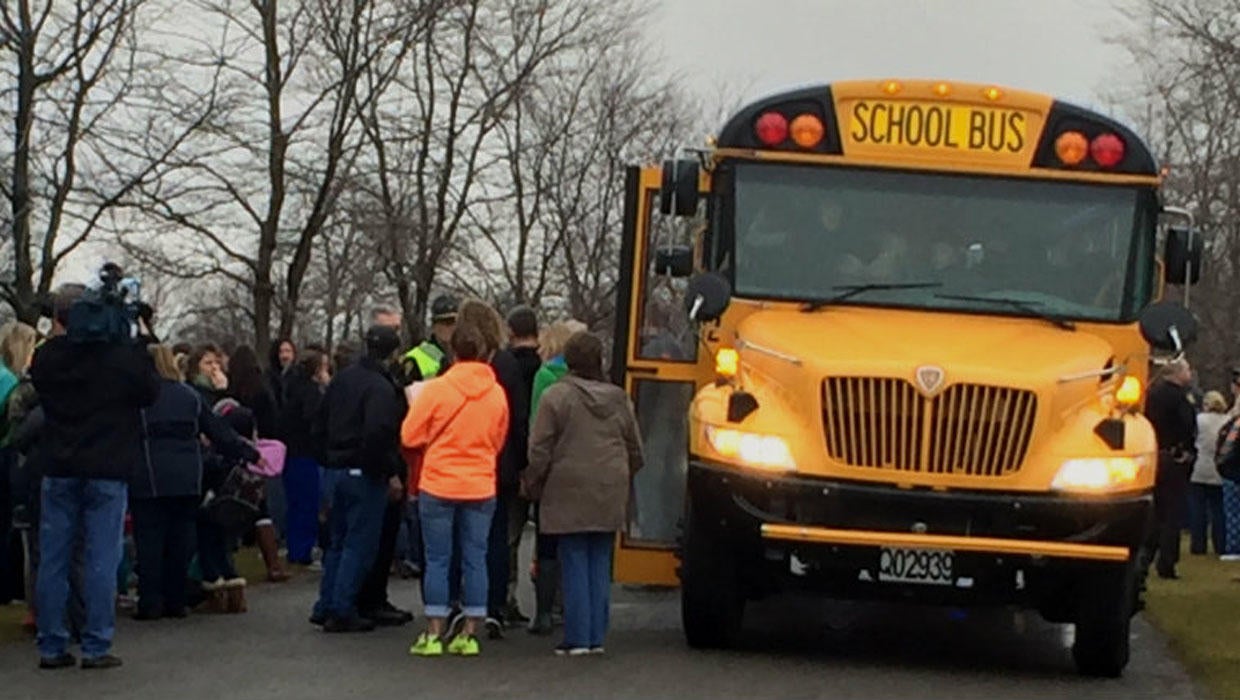 Officials: Staff pinned down gunman in school shooting that injured student
WEST LIBERTY, Ohio -- A male student who was shot and critically wounded at an Ohio school was hospitalized Friday, and another student suspected in the shooting was in custody, officials said.
The shooting happened at West Liberty High School, located on an education complex about 45 miles northwest of Columbus that houses both high school and elementary students, reports CBS affiliate WBNS.
West Liberty-Salem Local School District Superintendent Kraig Hissong said the shooting occurred just as classes were getting underway. Sheriff''s officials told the station the incident happened in a school hallway.
Family identified the victim to WBNS as 16-year-old Logan Cole, a junior. Logan was shot multiple times with a shotgun and is reportedly in critical, but stable, condition.
Authorities haven't released information about the shooter. Staff had reportedly pinned him down by the time deputies responded, possibly preventing further injuries, the station reports.
Champaign County Sheriff Michael Melvin says more people would have been wounded at the West Liberty school building on Friday morning without the intervention because the shooter's intent was to harm more people.
The shooter, 17, is expected to face a felonious assault charge in court Monday, and could be charged as an adult, according to WBNS.
In a statement released to the station, Cole's family said they were "thankful for the Lord's protective hand on our son" and asked for prayers for Logan, as well as for the suspected shooter and his family.
"We are certain they have been deeply hurt as well," the statement read. "We are confident that God has a purpose and plan through this tragedy."
Senior Ashley Rabenstein told local TV reporters that she was in class down the hall at the time, and when students first heard an odd noise, they weren't sure what it might be because construction has been occurring at the property. She said her teacher checked the hallway, then ran back and said there was a shooter and threw desks against the door to block it. Students fled through the windows and ran through a cornfield to regroup at nearby houses, Rabenstein said.
"Especially in ... such a small town like this where you pretty much know everyone who lives in the town, you just never think that stuff like this is going to happen," she said.
Hissong said teachers and students followed their emergency training.
"This is one of those things that you always see happen in places that aren't near you, and you don't think it's going to occur," Hissong said. "Of course when they happen closer, such as some of the shootings that occurred within the last year, it helps you take notice and remember that you need to be prepared for a moment like this."
Students were being bused away from the site so that they could be picked up by their parents. Hissong said administrators would have to further evaluate the situation before decided whether classes resume Monday.
Thanks for reading CBS NEWS.
Create your free account or log in
for more features.