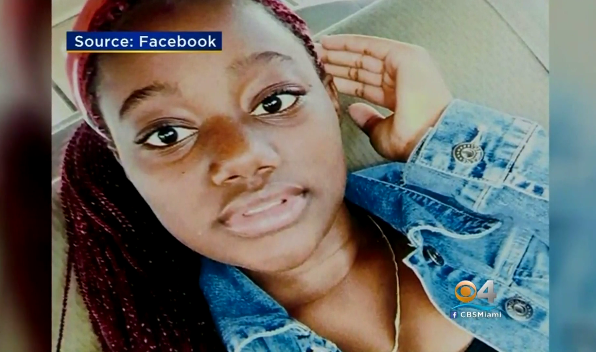 Fla. agency alleges mom watched, did nothing to stop daughter's online suicide
MIAMI, Fla. -- A little less than seven weeks ago, Gina Caze gave an emotional interview at her attorney's office, CBS Miami reports. She criticized the Department of Children and Families for not doing enough to prevent the public suicide of her daughter, Naika Venant, who hanged herself on January 22 while posting it on Facebook Live.
Now, the Department of Children and Families is alleging in a report that Caze watched the suicide and did nothing to stop it.
The report, released late Monday afternoon, alleges that Caze, who also uses the name Gina Alexis, "was following Naika while she was on Facebook Live for the two hours that preceded her suicide and, during that time, she wrote things that could be considered mentally injurious to her suicidal child and failed to seek help for her daughter."
Specifically, DCF cited a post on the Facebook feed allegedly from Venant's mom.
It reads, in part, "...u keep crying wolf u dead u will get buried life goes on after a (young person) that doesn't listen to their parents trying to be grown seeking boys and girls attention instead of her books."
Stacie Schmerling is one of the attorney's for Venant's mother. She takes issue with both allegations -- that Naika's mother was watching the Facebook feed and that she commented on the feed before her daughter killed herself.
"The report contains inaccurate information," Schmerling said. "The mother was absolutely not online at any time during her daughter's suicide."
"The statement that is attributed to Naika's mother was made after Naika was already deceased, but Naika's mother was told that it was all a hoax -- that the suicide was a hoax and her daughter was not deceased," Schmerling said.
The allegations from DCF are in stark contrast to the emotion we saw from Venant's mother in the days after her daughter died.
"I have trusted Florida's foster care people to care for my baby, instead she kill herself on Facebook," Caze told reporters at a news conference.
Venant and her mom had a complicated history. Her mother lost custody of Venant, got her back and then lost custody again.
The report released Monday reveals page after page of the traumatic incidents that Venant encountered in her short life -- allegations of sexual abuse, corporal punishment at her mother's hands and other problems.
There are allegations that Venant was sexually abused in foster care by a teenage boy and began acting out sexually.
Schmerling said Venant's mom routinely told Venant's case manager that her daughter was using social media in violation of a court order but it was to no avail.
The report stated Venant told a case worker prior to her suicide that her mother no longer wanted her, but Schmerling said that's not true.
"At no point would she have said she doesn't want to have any type of relationship with her daughter," Schmerling said.
The attorney for Venant's mother said Venant was shuttled between 14 different foster homes in nine months and that none of those homes provided the type of care Venant needed.
In addition, Schmerling said the pair was supposed to undergo therapeutic visitation under a court order, but that never happened.
DCF is trying to learn from Venant's case. They said they are increasing mental health training for DCF employees, training foster parents on the use of social media by kids in their care and making sure there are enough specialized therapeutic foster homes in the area.
Thanks for reading CBS NEWS.
Create your free account or log in
for more features.