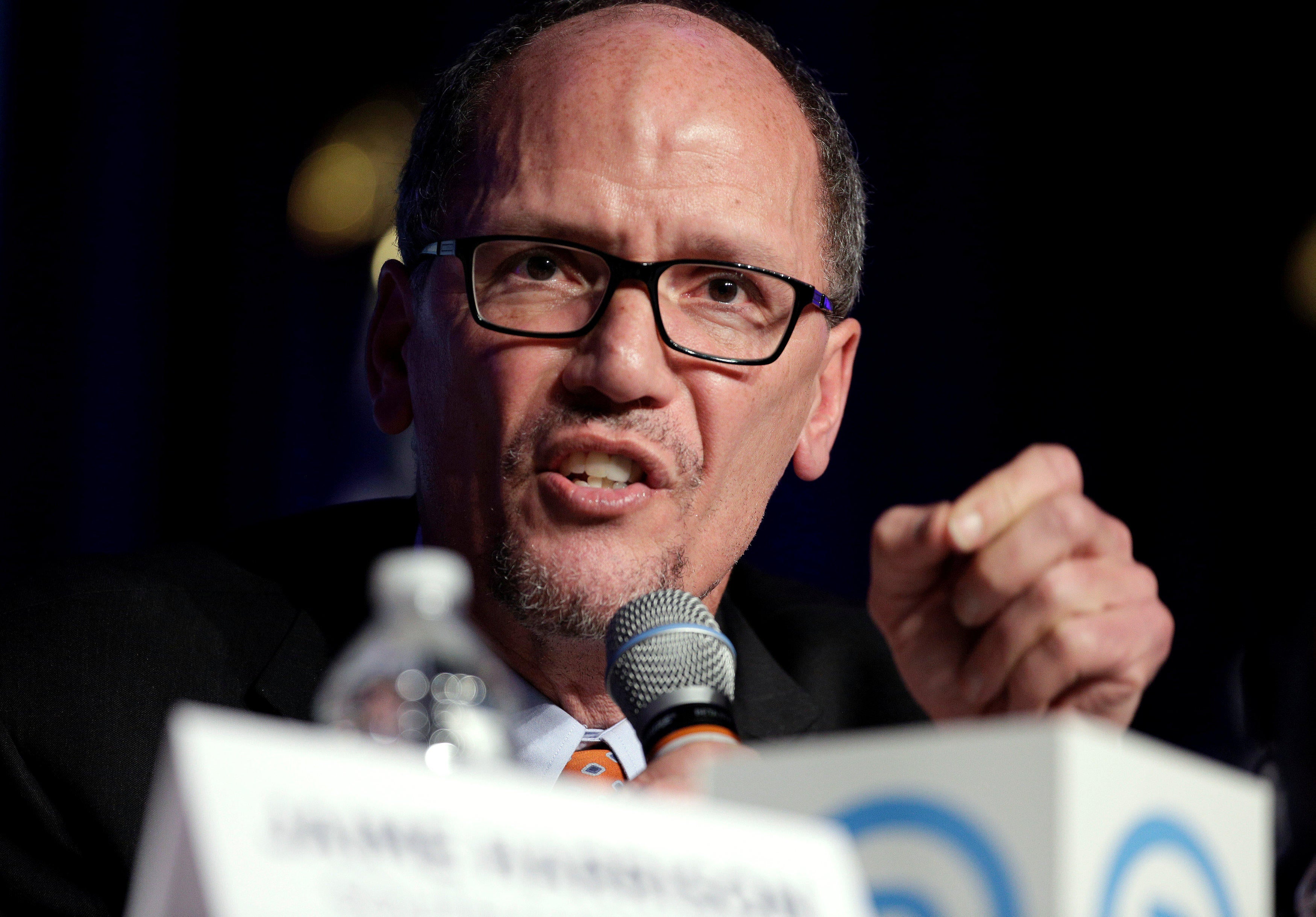 Democrats strip power away from superdelegates
Democrats voted Saturday to reduce the influence of superdelegates in the 2020 presidential election, a move that was intended to rebuild trust in the party among backers of Vermont Sen. Bernie Sanders, but that also angered other party loyalists and minority members who said they were being disenfranchised.
The changes were adopted by voice vote after opponents abandoned an eleventh-hour dash to throw up procedural hurdles, citing the need for unity.
So-called superdelegates – members of the Democratic National Committee, elected officials, and other party elders who are allowed to support any presidential nominee they choose – will now be barred from voting on the first ballot to select the nominee at the 2020 Democratic convention unless a candidate has already earned enough pledged delegates through the state caucus and primary elections to secure the nomination. Superdelegates will only be allowed to weigh in on the first ballot if no candidate has earned a majority of pledged delegates and a second ballot is required to choose a nominee – though no convention has gone to multiple ballots since 1952.
The aim of the reforms, DNC Chairman Tom Perez wrote in a letter to DNC members, was to address a "perceived lack of transparency in our presidential primary process" and "perceptions of undue influence in favor of particular candidates." He was referring to frustrations voiced by those who supported Sanders that the vast majority of superdelegates – who represented about 15 percent of the total delegates – publicly backed then-candidate Hillary Clinton in 2016. They did not ultimately change the outcome of the election, but Clinton needed those delegates to clinch the nomination.
After the bruising primary fight, Democrats put together a commission to study potential changes that could help soothe the wounds in the party. The result was the proposal that passed Saturday.
"It's time to make a clear statement to people who share our values that we trust you and we are going to take some bold measures to earn your trust so you will join our party and join our fight to take back our democracy," Perez told DNC members gathered Saturday morning. In an interview with CBS News political correspondent Ed O'Keefe earlier in the week, he said the change would "return power to the grassroots."
But it wasn't as simple as a Clinton-Sanders divide; many people who backed Clinton in 2016 said they supported the changes. But they did anger some longtime party members and African-American members who said that superdelegates were being disenfranchised.
"Are you so worried about building and gaining the trust of one group at the expense of losing the trust of another?" Karen Carter Peterson, the DNC's vice chair of civic engagement and voter participation, asked her colleagues during a debate over one of the attempts to challenge the proposed rules. "Are you telling me … that I'm going to go to a convention after my 30 years of blood sweat and tears for this party, that you're going to take away my right when I vote, since day one to appease a group of people."
Former DNC chairman Don Fowler, who led the opposition to the changes, told DNC members that 200 African Americans, 100 Latinos and dozens of others from the LGBT community and those who suffer physical or other disabilities would lose their right to vote.
"The Democratic Party has been the engine for conveying the vote to African Americans, to women, to LGBTQ people and all other Americans. We have been the engine to spread democracy," he said ahead of the vote. "Now we're going to turn around and take democracy away from these folks. It's not right and it's not fit for the Democratic Party to do that."
In a dramatic shift before the final vote Saturday morning, Fowler relented from demanding votes on a series of procedural obstacles and allowed the DNC to adopt the changes by acclimation.
"The body has spoken," he said.
Another opponent of the rules change, superdelegate William Owen, said, "I was skeptical of the proposal but I'm a team player and the most important thing we can do is elect Democrats this fall."
Other high-profile African-American members of the DNC, including Vice Chairman Michael Blake, backed the changes. But the divide within the caucus was previewed earlier this month when Rep. Cedric Richmond, the chairman of the Congressional Black Caucus, wrote to Perez to oppose the changes.
The other changes approved Saturday were aimed at increasing transparency in the DNC and making primary voting easier. The DNC will now require states that use a caucus system to allow absentee voting for people who can't participate like shift workers, shift workers, overseas military personnel and those with disabilities. They will also be required to maintain paper ballots to record votes rather than simply letting voters sort themselves into groups.
The DNC is also urging state Democratic parties to use primaries rather than caucuses and to encourage legislation to allow same-day registration and party switching.
Thanks for reading CBS NEWS.
Create your free account or log in
for more features.