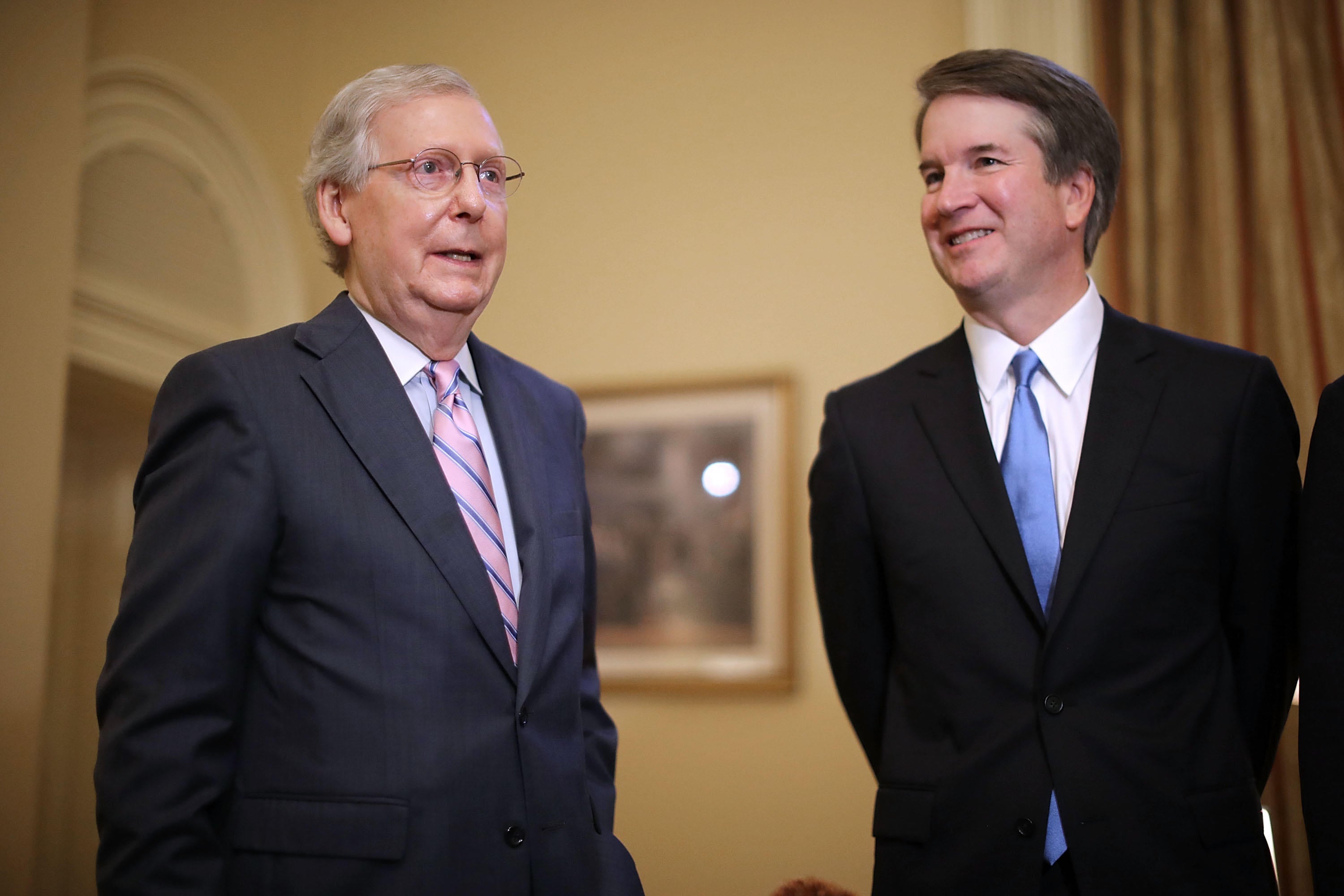 Democrats call for delaying Kavanaugh hearings
A number of Democrats are calling for the Senate to delay the hearings for Judge Brett Kavanaugh's nomination to the Supreme Court. The announcements by several Senate Democrats come the day after former Trump campaign chairman Paul Manafort was found guilty on charges including tax fraud. Also on Tuesday, former Trump lawyer Michael Cohen pleaded guilty to eight counts, including two campaign finance violations involving payments to silence women who allegedly had an affair with President Trump before the 2016 election.
A number of Democrats believe that the president is implicated in the wrongdoing admitted by Cohen. Senate Minority Leader Chuck Schumer said on the Senate floor Wednesday that he believed the hearings should be delayed, in large part because Kavanaugh has previously shown support for the idea that a president cannot be indicted.
"It is unseemly for the president of the United States to be picking a Supreme Court justice who could soon be effectively a juror in a case involving the president himself," Schumer said, in reference to a potential case that could be brought before a Supreme Court if the president refuses to submit to a subpoena in the future. "The doubts about Judge Kavanaugh's fitness for the bench was just magnified by Mr. Cohen's plea agreement. The prospect of the President being implicated in some criminal case is no longer a hypothetical that can be dismissed."
Kavanaugh argued in a 2009 article that "we should not burden a sitting president with civil suits, criminal investigations, or criminal prosecution." A recently released memo from Kavanaugh's time on the Kenneth Starr team investigating Bill Clinton also revealed that he opposed issuing an indictment to a sitting president.
Several Democrats called for the delay of confirmation hearings Wednesday, or said that they would not meet with Kavanaugh at all, a typical courtesy by senators before hearings begin. New Jersey Sen. Cory Booker and California Sen. Kamala Harris, who are both considered to be potential 2020 presidential candidates, had previously raised concerns about Kavanaugh's views on executive privilege.
"As it relates to the Kavanaugh nomination and the hearings that are scheduled to happen in just two weeks, I would suggest that an unindicted co-conspirator to a crime should not be in the business of having the ability to appoint someone to a lifetime position on the highest court in our land, a court which, invariable, would hear the matters that are the subject of this very discussion," Harris told MSNBC Wednesday.
Sens. Mazie Hirono of Hawaii and Ed Markey of Massachusetts canceled their meetings with Kavanaugh Wednesday.
"I have cancelled my meeting with Judge Kavanaugh. @realDonaldTrump, who is an unindicted co-conspirator in a criminal matter, does not deserve the courtesy of a meeting with his nominee—purposely selected to protect, as we say in Hawaii, his own okole," Hirono tweeted Wednesday. "Okole" is a Hawaiian term for backside.
Markey said on Twitter that Kavanaugh's nomination was "tainted."
Sen. Richard Blumenthal of Connecticut and Sen. Jeanne Shaheen of New Hampshire were also among the senators who called for the postponement of confirmation hearings.
Republicans pushed back against the idea that hearings for Kavanaugh should be delayed.
"That's an important position and he's very qualified for it, and there's no reason to hold that up," Republican Sen. Orrin Hatch told CBS News' Nancy Cordes Wednesday.
Democrats have very little recourse as members of the minority in blocking Kavanaugh's confirmation.
Hearings into Kavanaugh's nomination are set to begin Sept. 5.
Thanks for reading CBS NEWS.
Create your free account or log in
for more features.