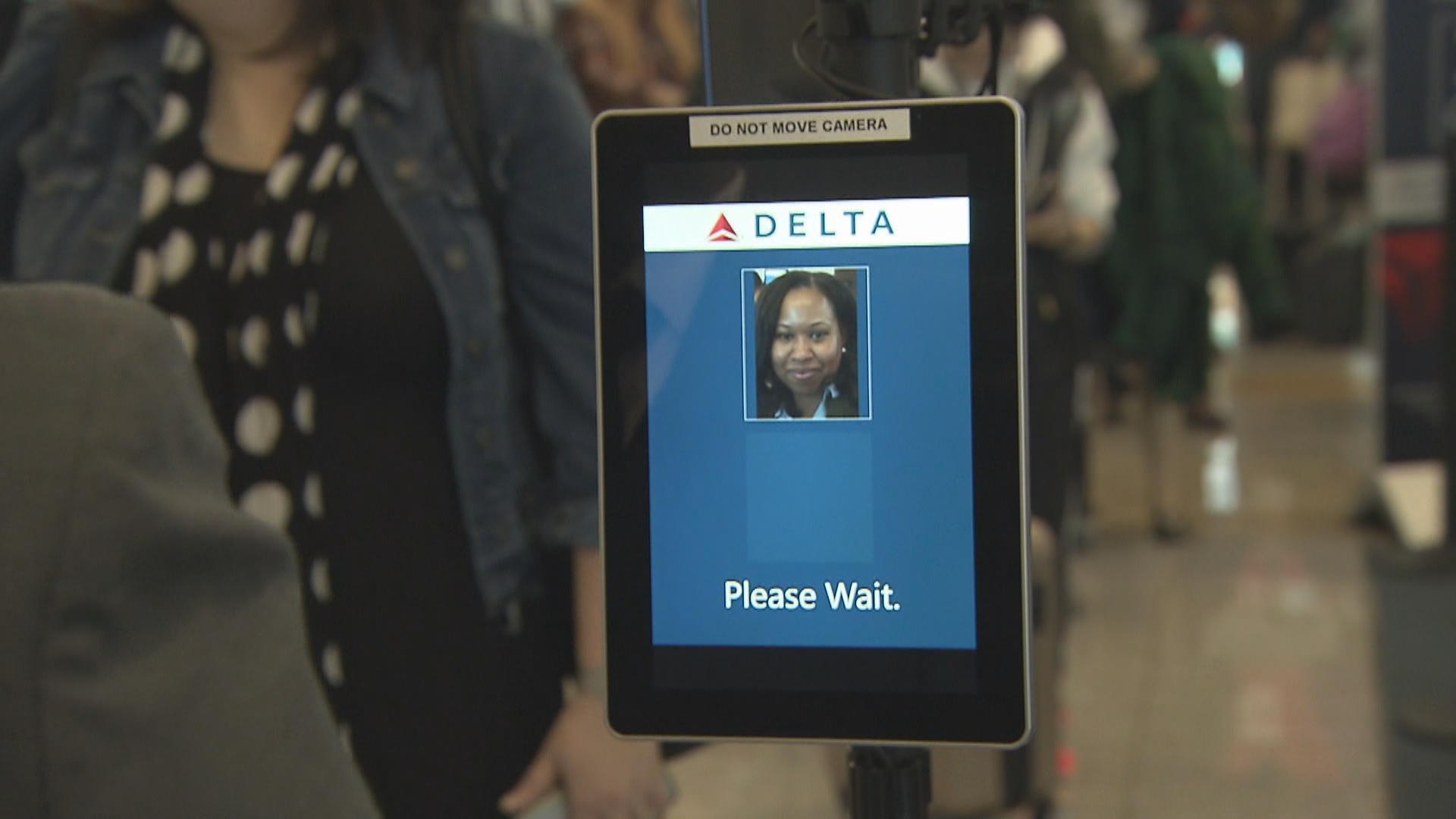 Delta opening America's first facial recognition airport terminal in Atlanta
Some Delta Air Lines passengers will soon go through airport check-in and security just by showing their faces. The nation's first biometric airport terminal launches Saturday in Atlanta.The system will allow passengers to go from curb to gate and onto the plane without showing their passports.

U.S. Customs and Border Protection is currently demonstrating the technology at seven other U.S. airports and the next stop is at another Delta hub, Detroit. According to the airline, when passengers use the facial recognition process, it cuts up to nine minutes out of the boarding process, reports CBS News correspondent Kris Van Cleave.
Starting Saturday, Terminal F will be the nation's first fully biometric airport experience, allowing passengers to use just their face at a kiosk to check bags at the counter, go through security and board flights.
The system takes a picture and compares it against a digital copy of a travelers passport photo that's stored in a secure Customs and Border Protection database of people flying that day. It takes as little as two seconds.

"Initially it's for international flights from U.S. stations...I do see a future where this will be used for domestic flights," said Gil West, Delta's chief operating officer.
The technology is about saving time but it's not without some controversy. Republican Sen. Mike Lee and Democrat Ed Markey have called on Customs and Border Protection to stop expanding the biometric program, partially mandated by Congress, until the agency implements privacy regulations and provides a report to Congress on the viability of biometrics.

"It's a massive threat and I don't say that lightly. What the program is doing is making it commonplace to use your face as a digital ID," said Jeramie Scott, an attorney at the Electronic Privacy Information Center.

John Wagner, deputy executive assistant commissioner at CBP, is the architect of the system. He said U.S. citizens can opt out of having the airline collect their photograph and transmit to CBP. He also said they see a 98 to 99 percent match rate.
As Flight 185 to Shanghai boarded we watched most passengers opt to use the facial recognition system to board. Passenger Alicia Graham said she's not worried about it.
"This is the world we live in…TSA already has it so what's the difference?" Graham said.
Delta says it does not save pictures and is expanding to Detroit next. Customs holds the pictures of U.S. citizens for about 12 hours before they are deleted. CBP is using parts of what you see here at 15 airports and 3 border crossings. The technology. Caught at least 34 people trying to enter the U.S. with someone else's passport.
Thanks for reading CBS NEWS.
Create your free account or log in
for more features.