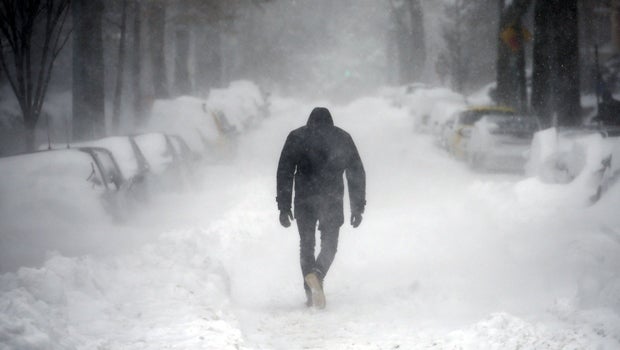 After epic blizzard weekend, a difficult commute awaits
NEW YORK -- After a weekend of sledding, snowboarding and staying put, the blizzard-blanketed Eastern U.S. will confront a Monday commute slowed by slick roads, damaged transit lines and endless mounds of snow.
Authorities cautioned against unnecessary driving, airline schedules were in disarray and commuter trains will be delayed or canceled for many as the work week begins after a storm that dumped near record snows on the densely populated Washington, D.C. to New York City corridor.
Millions of Americans spent Sunday digging out of the snow after the mammoth blizzard sacked the East Coast, whose wide-ranging effects included more than two dozens deaths and mass airline cancellations.
The heaviest snow began falling Friday evening, and tapered off just before midnight Saturday for East Coast states. Millions heeded calls to stay home, enabling road crews to clear snow and ice.
Even after many roads were cleared, cancellations and delays continued Sunday evening.
Here's a look at the storm's impact and what to expect heading into Monday:
___
GETTING AROUND
Airports began returning to normal on Sunday, and airlines intended to resume service at all Eastern airports by Monday. However, 80 flights have been cancelled for then. Travelers were being urged to check with their airlines before heading to Eastern airports.
Travel bans that restricted non-emergency vehicles from streets all across the region were lifted, but mass transit services faced hurdles.
In New York, trains started running out of Grand Central Terminal but service on the Long Island Rail Road -- the nation's busiest commuter rail service -- was still suspended.
Officials for both LIRR and the Metropolitan Transportation Authority said almost all mass transit services will be running in time for the morning rush hour.
The Port Washington, Oyster Bay, Port Jefferson, Ronkonkoma, Huntington, Babylon and Greenport branches will be back in operation effective at 5 a.m. Monday, according to the Metropolitan Transportation Authority, reported CBS New York.
Partial service will also be available on the Montauk branch as far as Speonk, the MTA said.
For all the New Yorkers facing the task of digging their parked cars out from piles of snow, Mayor Bill de Blasio has a message: Don't.
De Blasio says New York City residents should leave their cars where they are if they can. He doesn't want people to put the snow from their vehicles back into the streets while the city is trying to clear up from the blizzard.
The city has suspended some parking rules through Friday so people won't have to move their cars.
In Washington D.C., partial rail and bus service would resume Monday -- for free -- at 7 a.m., officials said.
CBS affiliate WUSA reports that the Metrorail will open with limited underground service on the Red, Orange and Green lines as follows:
Orange Line: Ballston to Eastern Market only
Red Line: Medical Center to Union Station only
Green Line: Fort Totten to Anacostia only
According to Metro, trains will run every 20-25 minutes. Service levels may be upgraded as conditions allow. The system will remain open until midnight. Fares will not be charged on Metrobus on Monday, January 25.
In Philadelphia, where subways ran through the storm, transit officials began restoring bus and trolley services but most commuter trains were canceled Sunday. Officials said they expected those trains to be operating with delays on Monday morning.
On the roadways, a section of the Pennsylvania Turnpike near Pittsburgh where hundreds of vehicles were stranded reopened in both directions Sunday.
Amtrak operated some trains through the busy Northeast Corridor on Sunday and said they will continue operating a modified schedule on Monday.
And traffic was moving again on highways that were shut down by the storm -- including those in Kentucky and Pennsylvania where motorists were stranded overnight.
___
SCHOOL'S OUT FOR WINTER
Many schools canceled classes for Monday, despite the fortuitous weekend timing of the storm. District of Columbia Public School officials said schools would close Monday, as did Baltimore City Schools and the School District of Philadelphia.
Archdiocesan high schools and Catholic elementary schools in Philadelphia will also be closed, CBS Philly reports.
Other students were not so lucky: New York City's nearly 1 million public school students still have classes Monday, despite the record snowfall.
___
WORK WEEK
Federal offices in the Washington area will remain closed on Monday.
The U.S. Office of Personnel Management said Sunday that the cleanup from 2 feet of snow that fell across the region prompted the decision.
The office says emergency personnel and employees who work from home or other remote sites should follow their agency's policy.
The government shut down the offices at noon Friday ahead of the storm, and they remained closed Saturday and Sunday.
___
WHO GOT IT WORST?
Glengary, West Virginia, can boast it took the storm's biggest blow: 42 inches. Several other spots saw more than three feet, according to the National Weather Service: 40.5 inches in Shepherdstown, West Virginia; 39 inches each in Philomont, Virginia, and Jones Springs, West Virginia; 38 inches in both Gainsboro, Virginia, and Redhouse, Maryland; 37 in Clear Spring, Maryland; and 36.9 in Mechanicsburg, Pennsylvania.
Among major cities, New York got 26.8 inches in Central Park. The bulk of that -- 26.6 inches -- fell on Saturday, making that 24-hour period the snowiest on record, according to the NWS. The entire storm was the second-biggest on record for the city, falling just a tenth of an inch short of one from February 2006.
Washington recorded 22.4 inches at the National Zoo. Philadelphia also recorded 22.4 inches -- exactly matching the average snowfall for the entire season.
Elsewhere, Baltimore got 16 inches; Richmond, Virginia, got 11.4; and Boston saw 8.2.
The blizzard also packed some serious winds, gusting up to 75 mph at Delaware's Dewey Beach and Virginia's Langley Air Force Base. Three spots in Massachusetts also tallied winds of 70 mph or more.
The usually bustling New York City looked more like a ghost town over the weekend. With Broadway shows dark, thin crowds shuffled through a different kind of Great White Way, the nickname for a section of the theater district. And Bruce Springsteen canceled Sunday's scheduled show at Madison Square Garden.
In New Jersey, the storm that dumped as much as 3 feet of snow in places, raising floodwaters.
New Jersey Governor Chris Christie said overall his state did well.
"We are looking forward to a regular work week starting tomorrow," he said.
At least 20 deaths have been blamed on the weather nationally. In New York City, three people died while shoveling snow, police said.
Monuments in Washington D.C., that would typically be busy with tourists stood vacant on Sunday. In the morning, the steps of the Lincoln Memorial had not been cleared of snow and looked almost like a ski slope.
Once the snow stopped, the timeline for digging out was unclear, D.C. emergency management director Chris Geldart told CBS News on Sunday.
"That's the big question for everybody right now," Geldart said. "It's a big question for us as well."
___
THE DAMAGE
The blizzard's heavy snow, powerful winds and churning high tides collapsed roofs and inundated homes.
A Pennsylvania church held a cyber-only service on Sunday after its roof collapsed in the storm. Pastor Lee Wiggins says it will take about six months to repair the $1 million in damages sustained by Calvary Fellowship Church in Downingtown.
A historic theater in Virginia billed as "Home of Virginia's Lil' Ole Opry" was a total loss after its roof collapsed on Friday. The Donk's Theater opened in 1947 as a movie house near the Chesapeake Bay and was resurrected as a country music venue after closing in the 70s.
In Delaware, about a dozen people to be evacuated from the low--lying community of Oak Orchard.
A Maryland farmer who thought he was protecting his cows from the elements by moving them inside lost part of his herd when the structure's roof gave way. Douglas Fink said he and his wife were getting ready to go inside the barn to feed the cows when the roof buckled.
Along the mid-Atlantic coast, water swept into some communities in New Jersey and Delaware. Restaurants along the Jersey shore were partially submerged by flood waters on Saturday -- one business owner said the water was waist-deep.
The water in Wildwood, New Jersey, is so high in some places cars still can't get through.
Mayor Ernie Troiano drove CBS News through the neighborhoods hit the hardest. He says this storms tides were higher than Superstorm Sandy.
"This gets to be a real mess in here," he told CBS News' Jericka Duncan. "There's hundreds and hundreds of cars that were caught in these tides."
Restaurant owner Dave Bannon spent Sunday drying out. He said the water was up to a foot during the height of the storm.
At one point, more than 18,000 customers in Ocean County lost power. Most shore towns saw minor to moderate flooding.
Experts say the weekend blizzard along the East Coast could have an economic impact of up to $850 million, with restaurants, theaters and other entertainment venues, and some retailers taking the brunt of the hit.
But one expert says that overall, the impact might be a wash because many businesses will have made extra money from people stocking up in advance on food, shovels and other items.
Chris Christopher, a U.S. macroeconomist at data firm IHS Global Insight, says other spending may just be delayed, like car buying and purchases of winter weather apparel, or shifted around. While retail stores and movie theaters were closed over the weekend, Christopher expects more people shopped online and ordered movies via Netflix or cable on-demand purchases.
___
STORM DEATHS
More than two dozen weather-related deaths -- from car crashes, shoveling snow and carbon monoxide -- were reported by authorities.
Among the dead were a 23-year-old New Jersey woman and her 1-year-old son, who died of carbon monoxide poisoning after snow covered the tailpipe of their car. Passaic police said the woman's 3-year-old daughter was also hospitalized.
A 44-year-old U.S. Capitol Police officer died of a heart attack after shoveling snow in front of his Delaware home on Saturday afternoon.
In Kentucky, a transportation worker died Saturday while plowing snow-covered highways. His plow slid into a ditch.
Authorities say a Pennsylvania man died after a passing snowplow trapped him inside his running car.
The Berks County coroner's office says 56-year-old David Perrotto died Saturday night after he was found inside his car in Muhlenberg Township, about 50 miles northwest of Philadelphia.
Officials say Perrotto was apparently trying to dig out his car. Investigators believe he was either in the car to take a break or trying to pull out of the space when the plow came by and buried the car, blocking the exhaust and preventing him from getting out.
Another person trying to dig out their vehicle found Perrotto's running car.
Thanks for reading CBS NEWS.
Create your free account or log in
for more features.