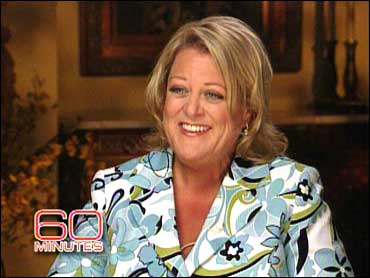 Deborah Voigt: Off The Scales
Ever tried to lose weight? How many times? How many ways?
Well, there's an increasingly popular method which is almost guaranteed to work permanently. It's gastric bypass surgery and it shrinks the size of the stomach so dramatically that, quite simply, you can't eat much.
In 2004, more than 100,000 Americans had the operation. Among them is soprano Deborah Voigt, one of the world's great singers and a diva revered in opera houses from La Scala to the Met.
At the same time, she was an all-American girl who grappled for years with an all-American habit of eating too many heavy meals — and a weight problem that, like her talent, was off the scale.
Correspondent Bob Simon reports.
---

For most of Deborah Voigt's career, she embodied — literally — the old saying that in opera, great voices often come in large packages.

"I don't expect you to answer but I'll ask anyway. How much did you weigh?" Simon asked.

"Well, you're right, I'm not going to answer that. My pat answer is you don't ask a woman how much she weighs or how old she is. I'll tell you that when I started I was a 28, 30 dress size, which is quite large," says Voigt.

She has lost at least 135 pounds and she is down to a size 14. And though she'll never be skinny, the transformation is stunning. Wherever she goes these days, Voigt's fans all say the same thing: that she looks gorgeous.

Voigt is used to getting compliments but, until recently, gorgeous was not among them. And there's still a part of her that just doesn't believe it.

"I look in the mirror and I still see a large person," says Voigt. "I had some publicity pictures taken recently and my first reaction was 'My goodness. Look at that woman. She's so beautiful. She looks fabulous.' And then when I look at it closer and I think, 'Oh, but you know, I'm still a little too big here and I'm still this here.' "

Voigt agrees the mind can be slower than the body. Her body has changed, but she says, "the mind is still playing catch-up. No question."

It was 15 years ago that Voigt's career took off with a stunning Boston performance of Richard Strauss's opera "Ariadne auf Naxos." John Rockwell, an influential music critic, happened to drop by.

"(Rockwell) wrote a review in the New York Times that was something that my mom couldn't have written, it was so magnificent," Voigt says.

Ariadne would become her signature role. Recently, she was scheduled to sing it at London's Royal Opera House in Covent Garden until fate — and weight — intervened.

"I got a call saying that it had been determined by Covent Garden that I was not appropriate because of the costume that Ariadne was meant to wear in this production. And that they were canceling my contract," Voigt says.

Asked what the costume was, Voigt says she hasn't seen it but says, "It has become known as the little black dress."

The opera is usually performed in period costume. But the London director wanted Ariadne in a little black cocktail dress, not really an outfit for Voigt. Instead of changing costumes, the director changed sopranos. He fired Debbie and brought in Anne Schwanewilms, a little known German singer, who filled the bill — and the dress.

Voigt says she was very angry.

"I knew it was about weight. I mean, it was not like I rolled outta bed and went, 'What do you mean they're firing me because I'm too fat? I didn't know I'm too fat,'" she says.

It is said that, for artists, there is no such thing as bad publicity and Voigt agrees that applies to her and the Covent Garden episode.

"It's ironic to me because I've been heavy all my life. And I've fought it all my life," she says.

Voigt grew up outside Chicago in a deeply religious, Southern Baptist family. In church, she discovered the joys of music. At home, she discovered the psychological comforts of food.

"I used food as a way of stuffing down emotional feelings, from the time I was a small person. I was a sedentary child who was interested in music and I spent more time on a piano bench than I did on a bicycle," she says.

When she was 14, the family moved to Southern California, the land of endless sunshine and impossibly perfect bodies.

"It was a pretty big culture shock, I have to admit," Voigt says. "I think 14 is a rough age for anybody. And I think I became more aware of my weight moving from the Midwest to Southern California."

She could take some solace from the fact that the opera world she was heading for was a haven for the large-boned, the zaftig, even the enormous. From turn-of-the-century diva Luisa Tetrazzini, who had a pasta dish named after her, to latter day stars such as Jessye Norman and Jane Eaglen. Voigt followed in their heavy footsteps, and as her career soared, so did her weight.

Voigt says she tried many diets.

"Weight Watchers, Jenny Craig, all great programs," she says. "But my problem was, the more I would lose, the more I would put on, ultimately, in the end."

And even in the tolerant atmosphere of the world's great opera houses, Voigt was not immune to embarrassment over her weight. There was an encounter with the late and great conductor Georg Solti, a man who never minced words.

"I went and I sang for Maestro Solti and afterwards he put his arm around me and he said, 'But I have to ask you, why are you so fat? Is it the food?' " she says.

It sounds terribly ironic that at a time when her career was soaring, she was unhappy because of her weight. "I've been unhappy about my weight all my life," she says.

And so it was that Voigt decided to have gastric bypass surgery, something she had been thinking about well before the dustup over the little black dress.

"I certainly didn't do it because of the Royal Opera House," says Voigt. "I did it because I wasn't feeling well, because my knees were hurting, because I would cross the street and feel as though I wasn't going to be able to catch my breath. Because, 'Oh my lord, I might have to sit in that chair at dinner and there are arms on it. And will I fit into that chair?'"

The three-hour operation at New York's Lenox Hill Hospital was a success.

Voigt says she noticed the weight coming off before she got out of the hospital. "Within a few days I could see in my face that the weight was starting to come off. I think I lost 30 pounds in the first month," she says.

Simon and the 60 Minutes team noticed a steady difference too, in the four months they followed her off and on — from backstage at the Met in New York to the Hollywood Bowl in California. Losing 135 pounds means there's a lot of closet cleaning to be done.

Voigt acknowledges that she has fulfilled the dream of just about every overweight woman, by knocking off the weight. "That's true. I still have to pinch myself a little bit."

The biggest worry about the operation was whether it might affect Voigt's voice. A major test came at a concert in Cincinnati. Voigt and Canadian tenor Ben Heppner were performing Wagner's "Tristan and Isolde," music as demanding as it is glorious. Judging from the curtain calls, Voigt had nothing to worry about.

Conductor James Conlon says that, as far as he's concerned, Voigt is as good as she was and maybe even better.

How is she better?

"You can sustain yourself, you can sustain your breath better. You are, you have less work to do just to move around," says Conlon.

Lunch these days for Debbie involves avocado salad with chicken instead of a cheeseburger. She's learning to deal not only with what she eats, but why she spent so much of her life eating too much.

"And the reasons that can bring it on run the gamut from 'I'm depressed, if I eat something it'll make me feel better.' If I'm happy. If I'm bored," says Voigt. "And so you have to learn how to deal with those sorts of emotions without your drug, which for me was food."

How did she learn that?

"Therapy," she says with a chuckle.

Between engagements, she unwinds at home in Florida, girding herself for the new opera season, which takes her and her constant companion, her dog Steinway, to Berlin, Barcelona, Santa Fe, Moscow, Vienna.

She sings for her supper with a gathering of friends. And the new Debbie Voigt even has a new role to look forward to, one that would have been out of the question in her previous life.

This fall, she'll portray the opera world's most famous sex symbol: Salome, the temptress in Richard Strauss's opera.

"I'm so excited about it. It's such a personal triumph for me to even be considered for this, let alone feel confident enough to accept it," she says.

When it comes to the dance of the seven veils, Voigt says she'll do some version of it.

Fittingly enough, the 60 Minutes crew left Voigt on a shopping trip. In her heavier days, she used to joke that if she ever did sing Salome, it would have to be the Dance of the 77 veils. But all her extra-extra plus sizes are in mothballs now. And her foray into Saks Fifth Avenue in New York netted Debbie a variation on the very thing that got her in trouble with the Royal Opera: a little black dress.

"Very nice," she says. "Look how skinny I look!"

By David Browning
Thanks for reading CBS NEWS.
Create your free account or log in
for more features.