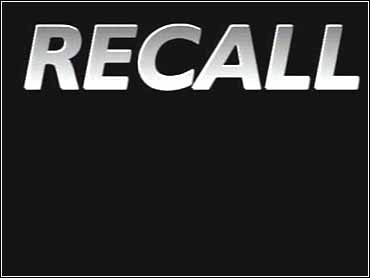 Deaths Spur Cholesterol Drug Recall
A cholesterol-lowering drug taken by 700,000 Americans — Bayer Pharmaceutical's Baycol — was pulled off the market Wednesday because of muscle destruction linked to 31 U.S. deaths and at least nine more fatalities abroad.
Baycol is one of an extraordinarily popular family of drugs called statins that dramatically lower cholesterol and reduce patients' risk of heart attacks. Yet every statin has been linked to very rare reports of the muscle side effect called rhabdomyolysis.
The millions of Americans who take any of five other statins sold here should not panic, Food and Drug Administration physicians said.
Baycol has been linked to significantly more fatal cases than its competitors, said FDA's Dr. John Jenkins. So, he said, there are no plans to strengthen existing warnings or take other action against the other statins — Mevacor, Pravachol, Zocor, Lescol and Lipitor.
Still, people suffering muscle pain who take any of those statins should report it to their physicians, because they may need a lower dose or a change in medication, Jenkins said.
Baycol is the 12th prescription drug taken off the U.S. market for dangerous side effects since 1997.
Rhabdomyolysis is a life-threatening condition in which muscle cells are destroyed and released into the bloodstream. It can cause severe muscle pain, most frequently in the calves and lower back — and occasionally is so severe that patients develop potentially fatal kidney failure.
Concern about Baycol has simmered for months, as British regulators banned a high dose of the drug and U.S. drug agency officials debated similar steps, said Dr. Sidney Wolfe of the consumer advocacy group Public Citizen.
Wednesday, working with FDA, Bayer announced it was stopping sales of Baycol, also called cerivastatin, in every country except Japan.
The move coincided with an earnings warning by Bayer, which cited the recall as well as the weak global economy as a reason why its fiscal 2001 profits will fall short of last year's results and substantially below previous estimates.
Shares of Bayer plunged 8 euros, or 17.6 percent, to 37.35 euros ($32.79) in trading in Frankfurt.
Bayer executives refused to say how many rhabdomyolysis victims they have counted worldwide. But in addition to the 31 American deaths, the FDA has reports of at least nine Baycol-related fatalities abroad.
FDA's Jenkins said he didn't know how many Baycol users have survived a rhabdomyolysis attack. But Wolfe said there have been hundreds of cases.
Baycol users should call their doctor about switching medications — and anyone who experiences muscle pain and is also taking another cholesterol medicine called gemfibrozil should immediately stop the Baycol and report the pain to a doctor, FDA advised.
Symptoms of rhabdomyolysis include muscle pain, weakness, tenderness, fever, dark urine, nausea and vomiting.
Most at risk from Baycol are elderly patients, those who use higher dose, and anyone who uses Baycol together with gemfibrozil. In 12 of the U.S. deaths, patients were taking both of the drugs together.
Bayer executives said they are continuing to sell Baycol in Japan because lower doses are sold there, and gemfibrozil is not on the Japanese market. Public Citizen's Wolfe said his group may write Japanese regulators to urge that Baycol's sale be stopped there, too.
By LAURAN NEERGAARD
©MMI The Associated Press. All Rights Reserved. This material may not be published, broadcast, rewritten, or redistributed
Thanks for reading CBS NEWS.
Create your free account or log in
for more features.