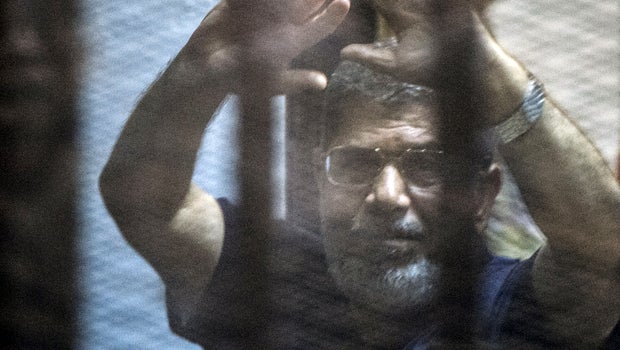 Death sentence against ex-Egyptian president upheld
CAIRO - An Egyptian court upheld a death sentence handed to former President Mohammed Morsi -- the harshest ruling yet against Egypt's first democratically-elected president since he was overthrown by the military in 2013.
The ousted leader and five senior members of the now-banned Muslim Brotherhood, including its Supreme Guide, were sentenced to death by hanging after being convicted on charges of breaking out of prison during the 2011 uprising against former president Hosni Mubarak that eventually brought Morsi to power. At that time, he and other Muslim Brotherhood leaders had been imprisoned by Mubarak's security forces.
The judge sentenced 94 others to death in the same case in absentia.
In a separate ruling, the judge sentenced Morsi and 16 others to life in prison on charges of espionage, claiming that the former president and his top aides had "conspired with foreign powers in order to achieve their satanic goals."
That case, known colloquially in Egypt as the "Espionage Trial", also saw 10 other defendants sentenced to death in absentia, among them a 28 year-old Oxford University student who worked in Morsi's press office and a public policy professor at the American University in Cairo.
Ever since Morsi was ousted by then-Defense Minister Abdelfattah Al-Sisi -- who has since gone on to become Egypt's strongman president -- his supporters and members of the Muslim Brotherhood have been subject to a heavy crackdown by security forces.
One of the most active and enthusiastic government institutions to participate in that crackdown has been the judiciary, known for its staunch anti-Islamist views and abhorrence of the Muslim Brotherhood.
Over the last two years, Egyptian judges have sentenced hundreds to death in mass trials that have been roundly criticized by human rights groups and the international community.
Inside the courtroom, Morsi appeared defiant, waving his hands aloft from within the courtroom defendants' cage once the verdict was read out.
His co-defendants' chants of "down with military rule" were just barely audible through the soundproof glass that encased their cage.
The sentences will be automatically appealed.
Thanks for reading CBS NEWS.
Create your free account or log in
for more features.