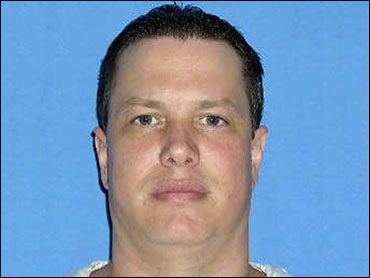 A convicted double-murderer who spent three days on the run after slipping away from a Houston jail was recaptured some 200 miles away - drunk and talking on a pay phone.
Police acting on a tip Sunday found Charles Victor Thompson, 35, standing outside a liquor store in Shreveport, La., said Harris County Sheriff's Lt. John Martin.
"You know who I am," Thompson told officers when asked his name. Asked again, he identified himself as Charles Thompson, Martin said. Police said Thompson was too drunk to be interrogated Sunday night.
The arrest ended a massive manhunt for Thompson, who was convicted in 1999 for the shooting deaths a year earlier of his ex-girlfriend, Dennise Hayslip, 39, and her new boyfriend, Darren Keith Cain, 30.
"He never should have got out," Martin said. "To have him back in custody again, this is where he belongs. He was convicted of capital murder. He was twice sentenced to death. There is no scenario under which he should be free roaming around on the street."
Shreveport city Jail Supervisor Barry Newton said Thompson had been booked on charges of being a fugitive from the U.S. Marshal's Office and a fugitive from Harris County. He was scheduled to appear before a magistrate Monday in Shreveport.
Thompson was sentenced to death Oct. 28 and was being held in the county jail until he could be transferred to a prison in Livingston, about 75 miles to the northeast.
Thompson escaped from custody Thursday using a smuggled set of clothes and a fake identification badge to get past guards. His escape resulted from "multiple errors" by jail personnel, Martin has said.
Marshals designated Thompson a federal fugitive in order to use its resources to find him and offered a $10,000 reward for his capture. Jurors and victims' relatives feared for their safety.
When he was arrested, Thompson had a bicycle, but it was unclear how he got to Shreveport, Martin said. Authorities did not know who he was talking to on the phone.
Even though Thompson's arrest is very important, it is only a small part of the ongoing investigation into how he managed to escape the county jail, said Steve Tiller with the U.S. Marshals Service.
On Thursday afternoon, Thompson was taken to a room in the jail for a meeting with his attorney. The visitor, however, was not Thompson's attorney of record, Terrence Gaiser, although investigators have determined the other person was an attorney, Martin said. His name has not been released because he is considered a witness.
After the attorney left, Thompson was alone in the room and he managed to remove his handcuffs and his bright orange prison jumpsuit and put on a dark blue shirt, khaki pants and white tennis shoes. Authorities believe those were the clothes Thompson wore during his sentencing and say he somehow smuggled them back to his cell.
Wearing his new outfit, Thompson left the prisoner's booth in the visiting room and waved a fake ID badge that wasn't scrutinized as he passed at least four jail employees at work stations. Thompson was eventually let into the jail's visitor's lobby and from there he walked out of the building and into the street.
"There's no way Chuck had the brainpower for this," said John Donaghy, whose sister Thompson was convicted of killing. "He's not the sharpest pencil in the box."
Donaghy said he and his family felt a sense of relief when they learned of the capture. The family has spent the past few days hiding in hotels and staying with friends in other parts of the state.
"My family can now go back to a normal living. They have been totally disrupted," he said.
Authorities think somebody helped him escape, Martin said. "We do think that people helped him if for no other reason than we found his clothes back behind another jail facility," he said.
Donaghy said he expected Thompson would have been caught in Mexico, not Louisiana.
"I figured he had enough common sense to stay hidden for a while," he said. "It's just ridiculous that he got out."
Thanks for reading CBS NEWS.
Create your free account or log in
for more features.