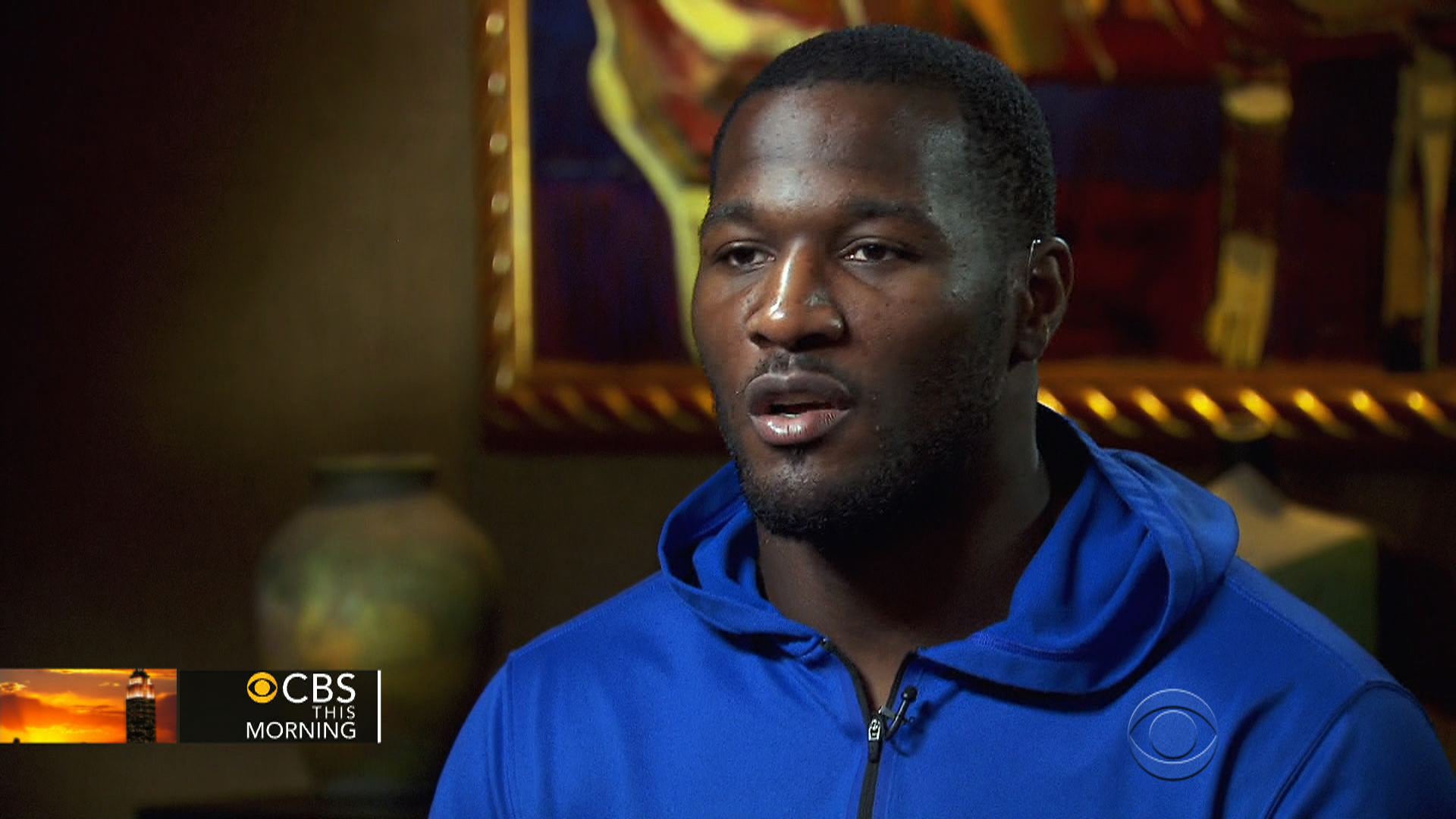 NFL's Derrick Coleman, who is deaf, inspires on and off the field
A television commercial starring Seattle Seahawk's fullback Derrick Coleman is the latest Internet sensation. Coleman is the only athlete in NFL history to play offense, despite the fact he is legally deaf.

Now, he's getting ready to break one more barrier -- the Super Bowl.
When the Seahawks take on the San Francisco 49ers this weekend, no one will be paying better attention than Coleman.
"I have to be aware," he told CBS News' Bill Whitaker. "I have to be focused more than everybody else."
Diagnosed with profound hearing loss, Coleman relies on lip-reading and his own unique way of communicating with the quarterback.
"He knows to look at me if he makes an audible at the line of scrimmage," said Coleman. "He knows just tell everybody and just turn back at me one more time and he'll tell me the play."
It's the way he's always played the game.
He told Whitaker that he's "capable of doing what everybody else can do," despite his hearing loss.
"You can't use your problem as an excuse," he said. "Because you use an excuse, you're not going to get to your dream. "
He was taught that philosophy at an early age. To really know Coleman's story you have to meet the parents -- his mother, May Hamlin and father, Derrick Coleman, Sr.
"You feel that uncertainty, that fear as a fear as a parent, you know, that, is my child going to be OK," said Coleman, Sr..
His mother told Whitaker that Coleman was "definitely teased, he was bullied" and kids would call him "four-ears."
"My mom always said people who make fun of you and are trying bring you down - they're already down. They're trying to bring you to their level," said Coleman.
These days Coleman wears a skullcap to keep his hearing aids in place under his helmet, but as a kid, he had to improvise.
"I took a pair of my pantyhose and I cut the pantyhose and tied the top of it and I said, 'Let's see if this works and if this holds them in,' and lo and behold, it worked," said Hamlin.
Coleman said that a lot of people tell him his football career started with pantyhose and he says that he responds by saying, "Everybody has their story and that just happened to be mine."
By the time he reached high school in southern California, it was Coleman's athletic ability, not his disability, that garnered attention.
"I thought 'Wow this kid, he can play football,'" said his father. "I would be running up and down the field right alongside with him, so at that point you start to feel it, you're like - he has something."
Despite his college stats - he rushed for 1,700 yards and scored 19 touchdowns for the University of Los Angeles - he was passed over in the NFL draft.
He was later invited to try out for the Seahawks.
"A bad thing happened, I didn't get drafted. Well, there's an opportunity right after that to go prove to them - prove them wrong that they should have drafted me," Coleman said. "They should have gotten me."
Coleman told Whitaker that he's "proving it now," but he still has a "long way to go."
Coleman is featured in a new Duracell commercial that has racked up over 4 million views in only five days.
Seahawks coach Pete Carroll said the ad is inspiring and he's already seen Coleman's positive impact on others.
"I've seen Derrick talk to kids before that have the same kind of issues ... and he's an extraordinary model," said Carroll. "And he's got a great message."
Coleman told Whitaker that the Super Bowl is "within reach."
"That's why we're going to work hard all week," he said. "That's the Vince Lombardi trophy that I could touch right there you know - not many people get a chance to do that."
Thanks for reading CBS NEWS.
Create your free account or log in
for more features.