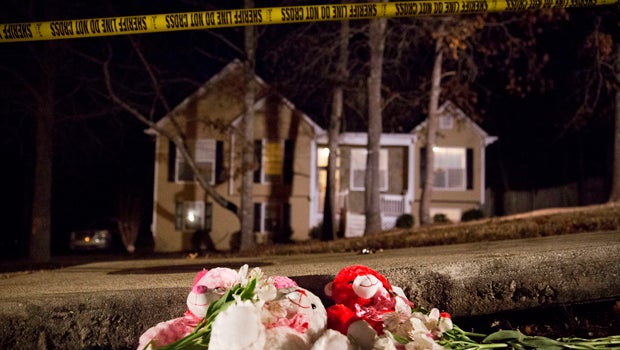 Deadly shooting in Georgia with children among victims
DOUGLAS COUNTY, Ga. -- At least five people, including children, were killed in a shooting west of Atlanta Saturday afternoon, authorities said.
Lt. Glenn Daniel of the Douglas County Sheriff's Office said a man came to a house and shot his ex-wife and several children.
CBS affiliate WGCL-TV in Atlanta reported the shooting happened on Willow Tree Circle in the Amber Forest subdivision. Daniel said officers received a 911 reporting the gunfire at 3 p.m.
Daniel said that some neighbors apparently heard or saw the shooting and came outside to assist the victims until rescuers arrived. Some victims appeared to have been shot inside the residence while others were apparently shot outside.
A seven-year-old child was one of the people killed, WGCL reported. Daniel told the station two children were among the wounded. The youngest victim was described as a toddler.
The shooter is believed to have died by a self-inflicted gunshot wound, Daniel said. Police were still working Saturday to identify the victims and confirm their relationships, he said.
"I've never seen this many victims in one shooting in my 38-year career," Chief Deputy Stan Copeland told WGCL.
Daniel said he did not immediately know when the couple divorced or whether the family had prior contact with police.
"I've been in law enforcement out here 20 years and this is the worst I've ever seen," Daniel said.
Investigators have not released the names of the suspect or the victims because their family members have not yet been notified. The motive of the shooting was not immediately clear.
Investigators obtained a warrant to enter the home, now surrounded by crime scene tape, on Saturday so they could collect and examine evidence from the crime scene.
"It's just shocking. As a parent, you don't want to think that a mother would lose her child," neighbor Geraldine Price told WGCL. "It's just shocking all together and it's sad."
"It's very devastating," said Shelton Price. "Nothing ever really happens here."
Kenya Beyah, who lives about four doors down from the home where the shooting began, left flowers at the scene Saturday evening. She didn't know the family but said she saw kids playing outside from time to time, she said.
Thanks for reading CBS NEWS.
Create your free account or log in
for more features.