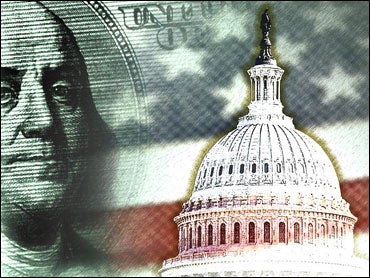 D.C.'s Biggest Earmarkers? Check The List
Sen. Claire McCaskill of Missouri has set out to cure Congress of what she calls a bad habit.
"I am one of 12 U.S. senators who've not requested earmarks," she said. "One of only two Democrats."
From the teapot museum to wine budgets, earmarks are pet projects that get special funding from individual members of Congress - often without a public vote or scrutiny - and are attached to budget bills that have to be passed.
Earmarking wins members of Congress votes at home without costing them anything. After all, they're using your tax dollars, CBS News correspondent Sharyl Attkisson reports for Follow the Money.
Members of Congress could earmark anonymously, giving them political cover. But now, brand new rules force them to put their names on their earmarks.
So CBS News set out to find the biggest spenders.
Ryan Alexander's watchdog group, Taxpayers for Common Sense, crunched the numbers.
---

---
"We absolutely know more this year than we've ever known before about who's making the requests and for what," Alexander said.

According to the group, powerful party leaders are front and center.

Among House Democrats: Speaker Nancy Pelosi has earmarked more than $87 million this year. John Murtha: $151 million.

Murtha's earmarks include $2.4 million to a company that's reportedly under federal investigation for diverting public funds.

The stakes are even bigger in the Senate where the lead Democrat Harry Reid handed out $335 million in earmarks. Robert Byrd: $429 million.

But the very top dogs are Republicans: No. 1 in the House is Bill Young. He's had $161 million dollars in earmarks. And this year's King of Earmarks is Sen. Thad Cochran. A whopping $773 million in earmarks, plus an extra $480 million dollars for an alternate jet engine the military doesn't want - but could provide jobs in certain Congressional districts.

What about Ted Stevens, Don Young, Jerry Lewis, and Alan Mollohan - lawmakers who are currently under federal investigation for their spending practices?

Even facing possible criminal probes, they were still free to steer a combined total of more than a half billion dollars to their projects.

"It is definitely troubling to see people who are being questioned for their ethics directing the most taxpayer dollars through the earmarking process," Alexander said.
---

Couric & Co: Crunching the Numbers

---
Not that the groups funded by earmarks are complaining. Just the lonely few like Sen. Claire McCaskill.

"If they had the light of day and were vetted, they would never go into the budget," McCaskill said.

She's hoping to win votes the unconventional way, by pledging not to bring home the bacon.

Member Name
Earmark Total**

Sen. Thad Cochran, R-Miss.
$773,598,178

Sen. Ted Stevens, R-Alaska
$501,882,500

Sen. Robert Byrd, D-W.Va.
$429,516,946

Sen. Daniel Inouye, D-Hawaii
$404,193,701

Sen. Richard Durbin, D-Ill.
$383,167,294

Sen. Harry Reid, D-Nev.
$335,717,010

Sen. Tom Harkin, D-Iowa
$288,674,244

Sen. Patty Murray, D-Wash.
$247,162,574

Sen. Arlen Specter, R-Pa.
$215,912,850

Sen. Mitch McConnell, R-Ky.
$177,793,375

Member Name
Earmark Total**

Rep. C.W. "Bill" Young, R-Fla.
$161,149,000

Rep. John Murtha, D-Pa.
$151,057,000

Rep. Jerry Lewis, R-Calif.
$136,845,000

Rep. Steny Hoyer, D-Md.
$96,405,146

Rep. Pete Visclosky, D-Ind.
$90,924,000

Rep. David Obey, D-Wis.
$90,124,500

Rep. Norm Dicks, D-Wash.
$89,611,000

Rep. Nancy Pelosi, D-Calif.
$87,096,000

Rep. Dave Hobson, R-Ohio
$79,801,500

Rep. Roy Blunt, R-Miss.
$40,712,040
---
Source: Taxpayers For Common Sense (TCS)
* TCS does not track earmark data for all members of Congress. In this case, the group analyzed data for the known biggest spenders.
** Fiscal Year 2008

Thanks for reading CBS NEWS.
Create your free account or log in
for more features.