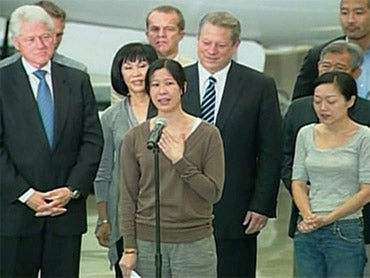 D.C. August: Casual Tone but Breaking News
Background and analysis by CBS News State Department reporter Charles Wolfson.

---

You know it is August in Foggy Bottom when the State Department spokesman comes to the podium to take a verbal jab at a head of government and the subject has nothing to do with foreign policy. Okay, the leader in question is the current numero uno thorn in Washington's side South of the border, but still it was a clear sign the calendar said August.

This week Philip J. Crowley, the Assistant Secretary of State for Public Affairs, and the department's "self-appointed ambassador-at-large for golf" did just that. Oh, the jab was about golf. Yes, golf. No, it wasn't about anti-American statements Chavez has made or nationalizing any American company. It clearly was about golf.

"I wish to protest the unwarranted attack by Venezuelan President Hugo Chavez on the game of golf," Crowley said, reading from a carefully crafted statement. Taking note that the season's final major tournament, the PGA, was getting underway and that Tiger Woods, "arguably the greatest golfer of all time whose heritage literally spans continents," was the favorite to win, Crowley said "the suggestion by Mr. Chavez that golf, a truly global sport, is bourgeois is a mulligan. And once again, Mr. Chavez, one of the hemisphere's most divisive figures, finds himself out of bounds." Thus the word "mulligan" enters the diplomatic vocabulary. (If you don't want to look it up ask former President Bill Clinton for the definition.).

After another tongue-in-cheek poke in Chavez' ribs about baseball ("…if he keeps on closing down media outlets, how do you get ball scores?") the spokesman and the assembled reporters did get down to the daily business at hand - Secretary of State Hillary Rodham Clinton's ongoing trip to Africa, Iraq, Syria, Russia and North Korea were among the subjects discussed.

Okay, so this is one way we know it is August.

But we also know it is August because even as summer's heat and humidity seize Foggy Bottom, we always seem to have unexpected news events to cover just as people scatter on their summer vacations.

The first week of August this year saw former president Clinton make a surprise trip to North Korea to secure the release of two American journalists being held there. Secretary Clinton went on an 11-day trip to Africa where she spent a lot of time meeting leaders in seven countries across the continent while putting a strong spotlight on helping Africa's women.

Unfortunately, the secretary made more headlines back home for her reaction to a questioner who wanted to know how her husband felt about China's increased influence in Africa. Obviously irritated, she quickly pointed out that "my husband is not the secretary of state, I am." When it was later discovered to be a 'lost in translation' moment and the questioner really meant what President Obama thought, Clinton quickly patched things up with the Congolese student who had born the brunt of her sharply worded answer. But by the standards of past headlines in August these are not the biggest of stories.

Spokesman Crowley has noted August to be "the most dangerous month of the year" when it comes to breaking news.

Last year Russia invaded Georgia. In 1998 two American embassies in Africa were bombed by terrorists in August. The previous year Princess Diana was killed in a car crash in Paris in August. In 1990 it was Iraq's invasion of Kuwait followed by America's Operation Desert Storm to counter Saddam Hussein's moves that took place in August. In 1964 Congress passed the Gulf of Tonkin resolution opening the way for a full scale military offensive in Vietnam and of course it was August of 1945 which saw the end of World War II after two atomic bombs were dropped on Japan.

So, journalists, diplomats and political leaders can try to vacation this month although all too often, especially in the age of blackberries and cell phones, the time off is likely to be punctuated by breaking news stories causing shrill ring tones or vibrations to disturb one's chosen form of relaxation. And if you hear or see golf and international politics mentioned in the same briefing beware: it is August.
Thanks for reading CBS NEWS.
Create your free account or log in
for more features.