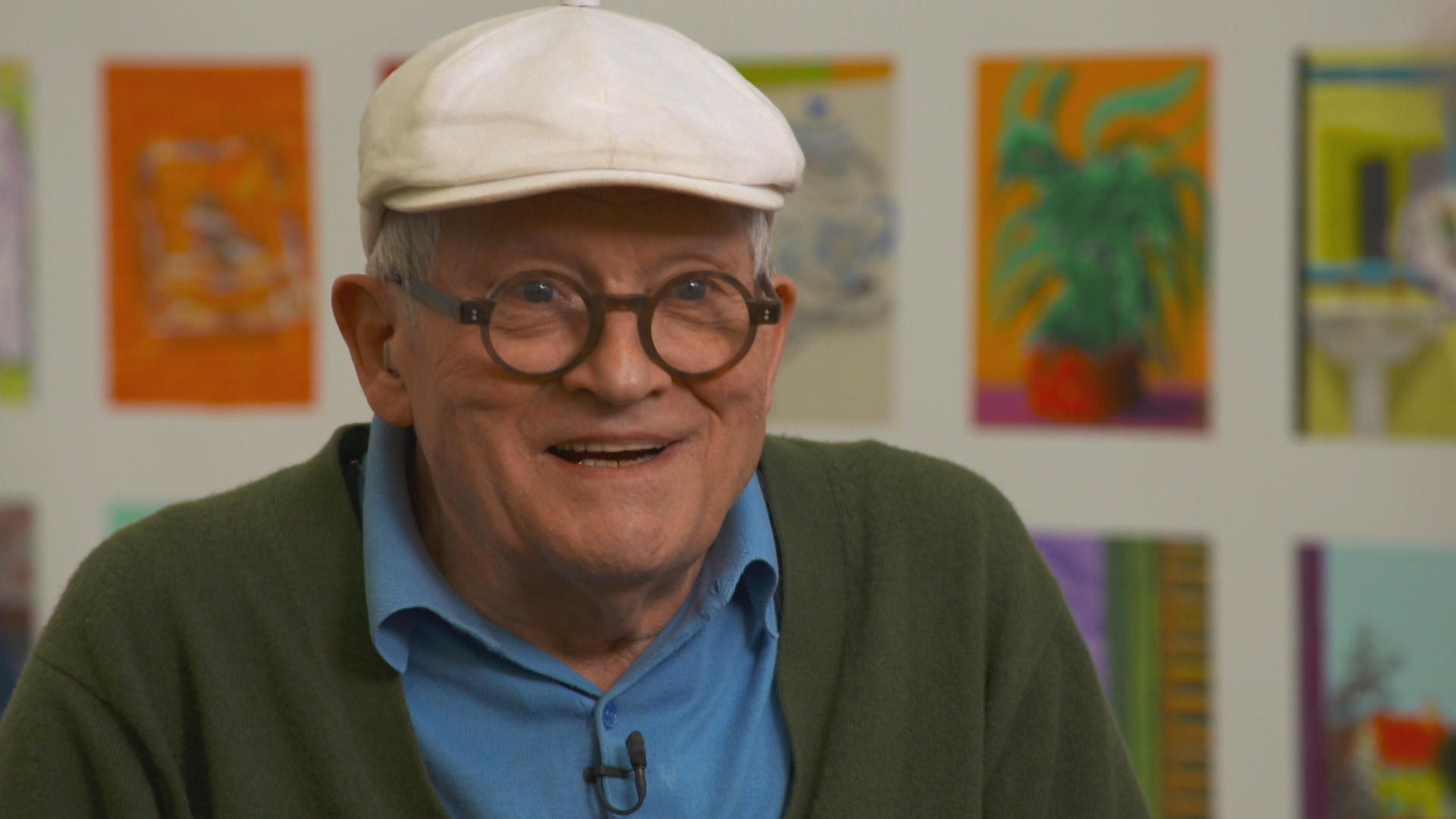 David Hockney's famous paintings reincarnated in giant new book
Perhaps the most popular British artist of his time, David Hockney is known for his versatile body of work and vibrant palette. Born in England, Hockney made his mark in America. "CBS This Morning: Saturday" co-host Anthony Mason visited the renowned artist at his studio in Los Angeles.

David Hockney's sketch pad these days is his iPad, and his vibrant drawings flower onscreen.
"The great thing about the iPad is everything is just here, literally at your fingertips," Hockney said. "It's a marvelous thing, graphically."

"Well, I can see how you're captivated by this toy," said Mason.

"If you like drawing, it's a great thing," Hockney said.
For the 79-year-old artist, it's just the latest chapter in a celebrated career, laid out in an epic new book that represents 64 years of work.
The sumo-sized "David Hockney: A Bigger Book" (Taschen) weighs in at around 70 pounds -- so big, it comes with its own stand.
"When you see your whole life laid out on this kind of scale, what do you see?" Mason asked.
"Well, I'm quite impressed, actually," Hockney laughed. "I must say I didn't look back a lot. I mean, when you're painting, it's now. It's just now."
Then, back in the 1930s and '40s, Hockney grew up in the industrial city of Bradford in Northern England. He knew early on what he wanted to do. "When I was eight or nine, I wanted to be an artist," Hockney said. "You don't realize at the time how lucky you are if you know what you want to do in life. But I did."
"You've described the place you grew up in as kind of 'dingy,'" Mason said.
"Dingy!" Hockney said, laughing. "Well, it was gothic gloom."
"So where did your sense of color come from?" Mason asked.
"Well, probably California. The moment I came here, the color took off."
He first moved to Los Angeles in 1964 when he was 27.
"What brought you to California then?" Mason asked.
"Laurel and Hardy movies. I'd always noticed the shadows in them, so I knew that was a sunny place," Hockney said. "I got excited by California, and I still am."
His paintings of life there would become emblematic of West Coast culture.
"And your fascination with pools really began because of California?"

"Yes, I mean, it's always an interesting thing: How do you paint water? How do you paint something transparent?"
He painted "A Bigger Splash," an eight-foot square canvas, in 1967.
Another of Hockney's most familiar images, "Beverly Hills Housewife," was painted in 1966. It set a record for a Hockney painting at auction when it sold for nearly $8 million in 2009.
Mason asked, "Why do you think you've been so popular over the years?"

"I like to think it might be the space in the pictures. You don't know why things become memorable, why pictures become memorable. If there was a formula for them, there'd be a lot more of them, wouldn't there?"
"A Bigger Book" also includes Hockney's photography and the landscapes of his native Yorkshire. Hockney returned to England to paint nearly a decade ago. They include his epic painting, "Bigger Trees Near Warter" from 2007.
The artwork, comprised of 50 canvases, each measuring three-by-four-feet, "took up the whole wall of the Royal Academy," Hockney said.
The book also features some of his new adventures with the iPad, including his sketch of the Eiffel Tower from his hotel room balcony in Paris that lights up.
For Hockney, the iPad offers speed, and other assets: "You don't have to clean up," he laughed.
He's been slowed a bit by hearing loss and a bad cigarette habit –-- his studio floor is stained with burns -- but Hockney remains irrepressible.
"You just go on and on until you fall over," he admitted.
"Is that your plan?" Mason asked.
"I'm still a smoker. I mean, I just go on and one day I'll fall over, yeah. But I don't mind."
"A Bigger Book," published by Taschen, is a limited edition of 10,000 copies, all signed by the artist. Hockney, who turns 80 next year, will also be celebrated with a major retrospective at the Tate in London, from February 9 to May 29, 2017.

Thanks for reading CBS NEWS.
Create your free account or log in
for more features.