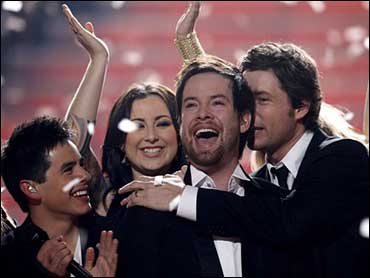 David Cook Wins "American Idol"
A record 97.5 million votes have been tallied, and America has chosen its new "Idol": David Cook.
Despite all the hype, the contest between the 25-year-old former bartender and his opponent David Archuleta wasn't even close.
The split between the two contestants was 56 percent for Cook and 44 percent for Archuleta.
---

Photos: Scenes From The "American Idol" Finale

---
That wasn't the outcome that judge Simon Cowell had predicted after Tuesday night's performance. Cowell had said that Archuleta, 17, had won the night by a knockout and that Cook should have chosen a showstopper to sing as his last song of the night.
---

Photos: On The Red Carpet

---
But what a difference a day makes.
---

Photos: "American Idol" Season 7 Finalists

---
Just before the winner was announced, Cowell said that he had reviewed a tape of Tuesday's show and decided the competition wasn't quite as clear cut as he thought.

"I think I was verging on disrespectful with you and I don't think you deserve that," he said in apology to Cook. "For the first time ever I don't really care who wins, you both did terrific."

Cook and Archuleta were especially terrific when they sang a duet of Chad Kroeger's "Hero" early in the two-hour finale Wednesday. Their voices blended perfectly and it was more than apparent that they'd become good friends during the competition.

In fact, as soon as he was named the winner, Cook gave Archuleta a big bear hug, then encouraged the audience to acknowledge the younger singer with applause.

After that, Cook acknowledged his younger brother Andrew, saying, "It's all your fault."

It was Andrew who had convinced David to audition with him for "American Idol." Throughout the season, David played a guitar with the initials "A.C.," representing Andrew as well as their older brother Adam, who is suffering from brain cancer.

"The ride here has been pretty nuts," Cook said to a roomful of reporters backstage. "You couldn't write this - or maybe you can."

Watchers had complained all season that, while the talent was solid this year, the entertainment quotient dropped - and ratings had too, for a season average of about 8 percent. But the final contest turned that tide, with viewership for Tuesday's show up 3 percent over last year, the network said Wednesday.

That provoked a frenzy of audience votes cast by phone and text, up by more than 23 million over last year's tally.

While Archuleta was showered with praise by the judges all season, online bookies and observers kept the faith with Cook. DialIdol.com, which tracks busy signals on the separate phone lines dedicated to each contestant, projected him the winner correctly Wednesday morning.

By strict "Idol" standards, being rebellious turned out to be worth the gamble for Cook, whose hip and scruffy style and ability to work the camera with a soulful gaze also proved to have overwhelming appeal. He had a knack for finding alternative arrangements to pop tunes, but he also knew when to play it straight - as he did with a ballad from "Phantom Of The Opera" during Andrew Lloyd Weber week.

Archuleta was the prodigy who consistently dazzled the show's judges with soulful ballads and thrilled screaming young fans. He only stumbled outside his comfort zone, such as when he attempted R&B singer Chris Brown's more uptempo "With You."

He would have been the youngest "Idol" ever if he'd won, beating last year's winner Jordin Sparks by mere days.

"I just can't believe I made it this far. I didn't think I would make it past the first round, for Pete's sake," Archuleta said.

Asked about his plans, the teenager said he will try to keep education in the mix because of the uncertainty for anyone of a lasting music career.

"People can have a few years of performing" then have to turn to something else, he said.

During the show, viewers got songs from runners-up including Syesha Mercado, who dueted with Seal on his song "Waiting for You," and a solo of "Hallelujah" by dreadlocked Jason Castro.

Other "Idol" contestant and name-brand pairings: Cook with ZZ Top, Archuleta with OneRepublic, Donna Summer with the top six female finalists, Bryan Adams with the top six male singers and Brooke White with Graham Nash.

"Brooke looks so much better than Crosby," Nash quipped backstage, referring to bandmate David Crosby.

Last year's "American Idol" winner, Jordin Sparks, sang "One Step At A Time" and season 4's winner, Carrie Underwood, performed her saucy "Last Name."

The Jonas Brothers also got the stage to themselves for a performance. George Michael wrapped up the night, and was joined onstage by all 12 finalists for a medley of his hits.

The evening also included its share of promotional plugs, aside from the guest performers promoting their tours or new singles.

Mike Meyers was on hand for an awkward skit with the Davids to promote his film "Love Guru."

Jack Black, Ben Stiller and Robert Downey, Jr. appeared as wannabe Pips superimposed on a 1970s variety show clip of Gladys Knight singing "Midnight Train To Georgia." Although it wasn't specifically mentioned, the three comedians appear together in the upcoming comedy "Tropic Thunder."

Archuleta and Cook each appeared in commercials for the game Guitar Hero. The 30-second spots spoofed the trouser-less Tom Cruise air guitar scene from the movie "Risky Business."

Each David was given a Ford Escape Hybrid and Cook announced that he's going to Disney World - a tie-in for the new "American Idol" attraction scheduled to open there next year.

Cook told reporters after the show that it was an honor to share the stage with Archuleta, who Cook said has more talent at 17 "than I know what to do with at 25."

What does Cook think the "Idol" win will bring him?

"I actually walked into this with no expectations and I'm walking out of it with no expectations. This show is a springboard," he said, "but it's still a crapshoot."
Thanks for reading CBS NEWS.
Create your free account or log in
for more features.